Do you know what customers want from your company?
And by customers, I mean the people who buy goods or services from you, regardless of what you call them – customers, clients, patients, applicants, students, or anything else.
Davidson, a brand and communications agency, answered the question: "Beyond intuitive design, customers are looking for brands that encourage them to be the best versions of themselves – like a good friend. Consumers are looking for brand relationships that feel less robotic and more real – regardless of whether they are purchasing a fast-moving consumer good or a luxury good."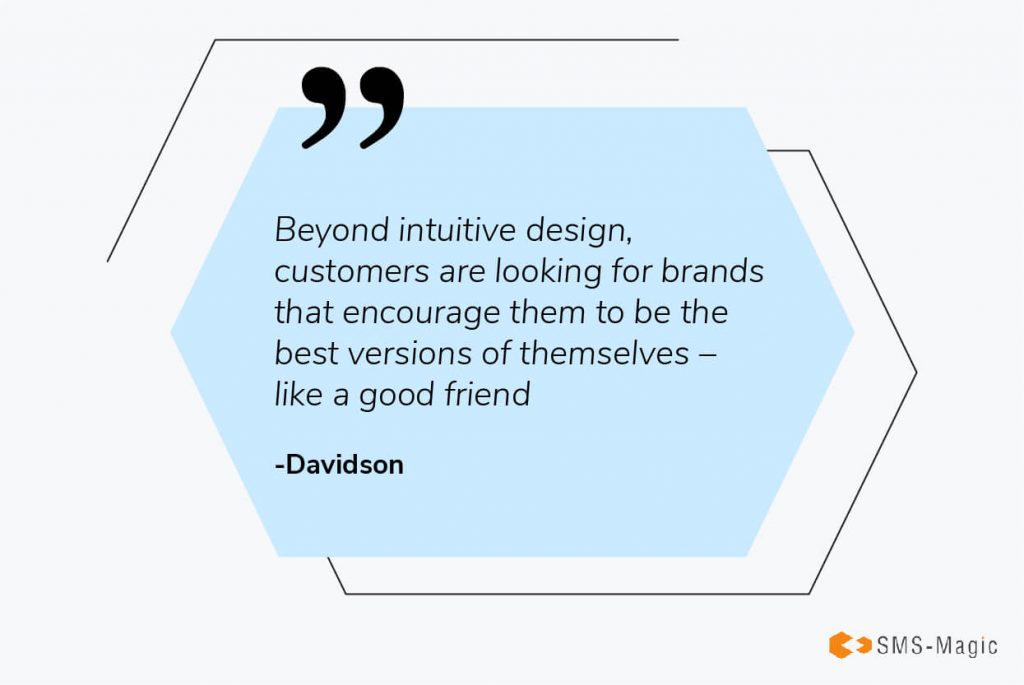 So what does your compliance with the Telephone Consumer Protection Act (TCPA) have to do with meeting customer expectations?
Everything.
Being a "good friend" to your customers starts with how you reach out to them. It's simply rude to start sending unsolicited texts to potential customers. You wouldn't approach a new friend that way – you'd demonstrate much more respect for them. And in this case, it's also the law.
The TCPA was created to combat unsolicited phone calls. Through the years, however, it has expanded to include new technologies like text messaging. It contains specific restrictions and penalties that companies ignore at their peril. The fines can be as much as $1,500 per message sent. In one of the first class-action lawsuits concerning texting, Papa John's settled the case against it for $16.5 million in 2013.
Here's how you can better serve your customers by complying with the TCPA:
Obtain Express Written Consent
You must have express written consent before your company can legally send text messages to anyone. That means more than just asking for their phone number. It doesn't matter who it is – an existing customer, a former client, a trade-show lead, or someone on a purchased marketing list. Before that first message goes out, your customer must say it's okay.
That generally means the first contact must made by a different type of communication – email, direct mail, in person, and point-of-purchase materials are some of the most common. You can ask your customer to send a key word to a specific phone number, like sending CHEESE to a pizza company to start texts and get a discount coupon. You could ask customers to fill in their phone numbers on your website. You could also have customers sign up in person at meetings or trade shows.
With any of these methods, however, you must include information about your texting program. Your call to action must meet TCPA requirements before you are legally out of the woods.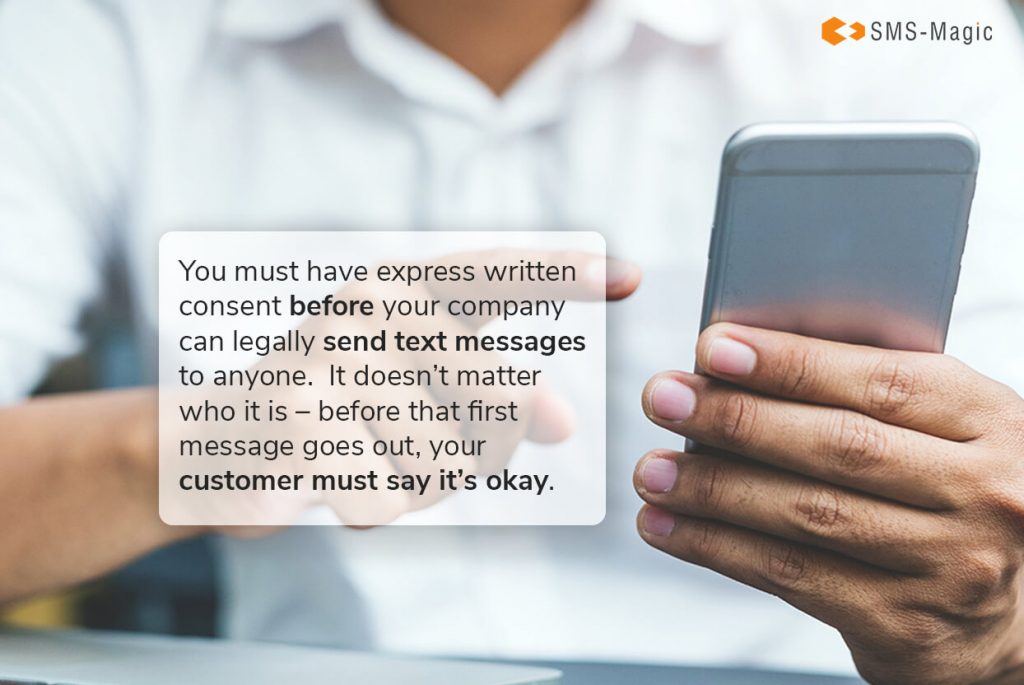 How to Structure Calls to Action
Your call to action is any message that encourages your customer to sign up for texting and it can contain an offer like a coupon or discount.
Here are the items you need in every CTA:
Automated Marketing Messages
Your customers must agree to receive automated marketing messages from you. Your CTA needs to be very clear about what they are allowing. Your CTA should also explain that customers don't have to agree to receive text messages to be able to make purchases from you.
What Can Customers Expect to Receive?
Tell customers what you'll be sending them. Be upfront about coupons, discounts, newsletters or anything else you have planned in your campaign.
How Often Will Message Arrive?
Explain the frequency of messages. Can they expect weekly messages or is this a one-time contact? Estimate the number of messages you intend to send during a given time period.
Message and Data Rates
Remind customers that they might be charged to receive SMS messages. Most plans include free unlimited texting, but some plans include charges. The wireless carriers require you to put your recipients on notice.
What, Who, When, Why, How?
Either provide a list of terms and conditions for your offer or include a link to more information. Tell the customer the following:
The company's identity, the brand name or program.
How to reach customer service with questions.
What your customer is saying "yes" to with details of the product or service.
How to opt out. For example, "Reply STOP to unsubscribe." Make it prominent.
Privacy Policy
Make sure you include your company's privacy policy or provide a link to it. If you don't already have a policy, you'll need to draft one.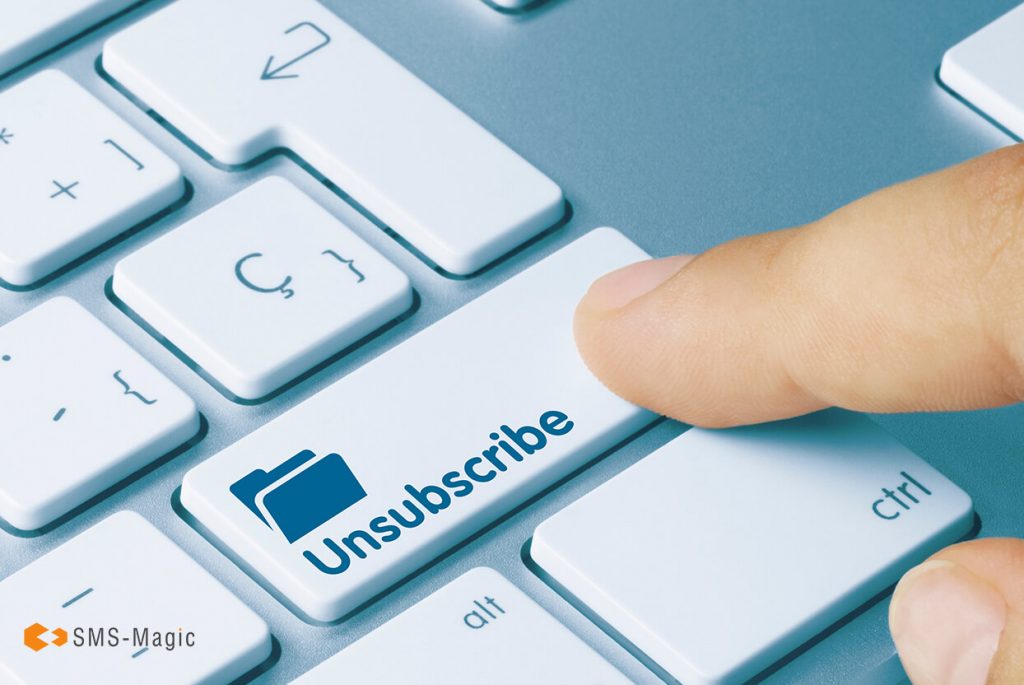 Keeping Track of Who Opted In and Who Opted Out
Our customers use messaging in a wide variety of applications in a wide variety of industries. No matter what industry you're in – banking, higher education, hospitality, finance or others – SMS-Magic can make compliance a breeze. We'll help you keep up with customer permissions as they opt-in (and perhaps opt-out) of your messaging campaigns.
SMS-Magic is designed to track opt-in and opt-out requests so that you send only to the customers who have specifically asked you to. Our back-end systems are structured so that we can display individual requests, and we can prove you've complied with customer requests. You won't have to worry about regulators asking to see your records. We use on-going processes to collect and store information about distribution and can share it with regulators, if necessary.
Does SMS-Magic sound like the answer you've been looking for? We hope so!
Contact us to set up a demo or to start your free trial. Let us show you why your compliance worries will disappear with SMS-Magic!