Text messaging isn't new to insurance agents, but it's understandable that some agents are hesitant to make messaging part of their client outreach – even when they hear about the great results other agents are seeing. We get it. You have nagging questions about how you can add messaging in your day-to-day routine. Don't worry; we have the answers.
First, let's talk about how messaging can help you sell more insurance, serve your customers better and make your work life a little easier. The bottom line is that you can't serve customers you can't reach. Emails, phone calls and voice mail are tried-and-true communication channels, but you can spend hours begging your customers and prospective customers to respond to them, instead of spending time selling or serving.
Most of us have smart phones with built-in texting capabilities, and we carry our phones everywhere. Because of the nature of texting, we open 98% of our messages within three minutes of receipt, and we respond to 40% of them. We only open 20% of our emails, and you already know how hard it is to get a customer on the phone. When asked, 90% of us said we'd prefer to communicate with businesses via text.
What those statistics mean to you is that you can send reminders, have one-on-one conversations or schedule automated messages – and your customers will read your messages and respond faster than with any other channel. They get great service, and you have more time to work on your business.
To help you decide if messaging can make a positive impact on your business, here are the top 5 questions insurance agents ask – and the answers:
1.What should I do before I start texting?
You've probably heard about the regulations governing messaging. The regulations will apply when you want to send bulk marketing messages, and you'll need to get permission from your clients or prospects to text them. Asking them to "opt-in" can become part of your emails, awareness and branding campaigns, applications or quotes. Even if you're only texting one-on-one, it's best to have written permission, but it's easy to get. To make record-keeping easier, SMS-Magic keeps track of customers who have opted in to texting, and more importantly, it tracks who has opted out, so you won't send them any more marketing texts.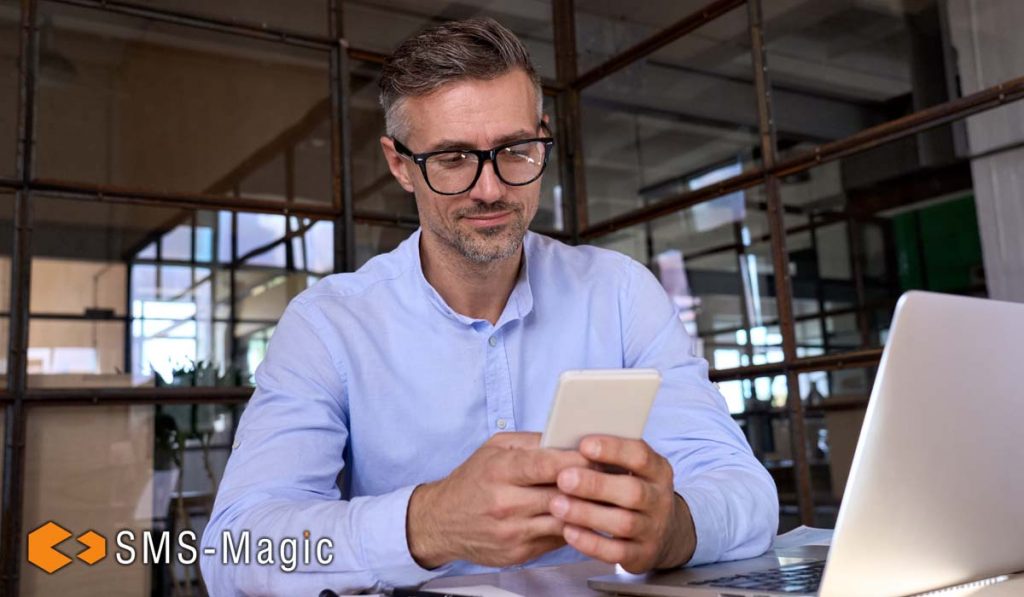 2. Can I use my personal mobile phone?
The SMS-Magic mobile app allows you to use your own smart phone but doesn't require you to use your own phone number. We don't recommend that you send business texts from a personal phone number. You should set up texting for your office and connect it to your database, especially if you're using Salesforce or Zoho. SMS-Magic can also connect to many office-management systems. With a mobile app, when you're not at your desk, you can message your clients as if you were using your laptop, and yet you still maintain your privacy.
3. How can I handle times when I'm out of the office?
If you're on vacation, sick or out of the area, you probably want some time away from work. Wouldn't it be great if colleagues could field a client's question via text and have all your previous conversations at their fingertips? It's more than possible with messaging platforms like SMS-Magic. Once the messaging system is integrated with your database, texts are routed to the appropriate agent and the conversation is stored in the client's record. Anyone with access to the system can read the background and respond. Your client gets great service, and you can disconnect from work knowing your colleagues have your back.
4. What types of messages can I send?
Texting gives you and your clients an easy way to share information. One agency serving a high volume of contractors, for example, encourages clients to use text to request COI's. It's easy to take a picture of a business card that has all the relevant contact information and text it to the agent. The agent can respond with a text or email containing the COI. Or a client might send a photo of a VIN by text to add a new vehicle to an existing policy. Another company uses texts to check in with prospective clients they've quoted but who haven't responded. Text is a great way to send reminders for almost anything, including auto renewals and appointments.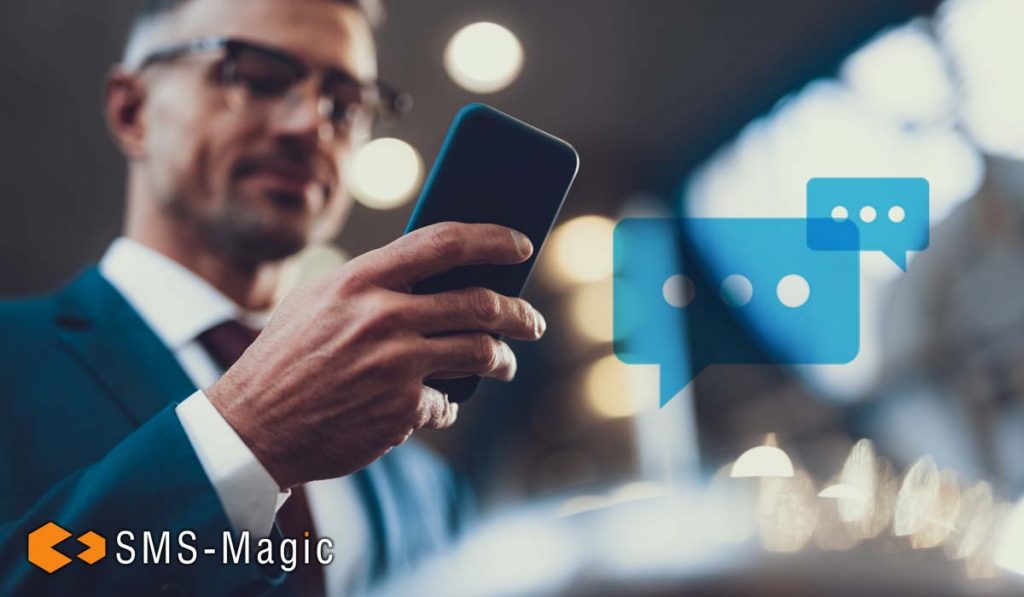 5. Do I have to send all the texts myself?
Messaging is a great way to connect with clients, but sometimes you need the system to send automated messages immediately. When a client opts in to texting, for example, they need an immediate response to their request. With messaging solutions like SMS-Magic, you can set up pre-written automated messages that are triggered by certain actions like opting in or asking for more information. Your client gets an immediate response, and you don't have to monitor text traffic 24/7.
Although messaging has been around for a while, it still seems more relevant to today's consumers than email. Messaging platforms like SMS-Magic make it easier to conduct business by removing the repetitive chores that eat up your day. Messages are personal and relevant. And your customers love them.
SMS-Magic integrates with many office management systems, so ask us about your system. We'd be happy to talk about your needs. If you're ready to start, set up a demo of SMS-Magic today!