Before you send a business text message to anyone, you must have their express written consent to do so. It doesn't matter who it is – an existing customer, a former client, a trade-show lead, or someone on a purchased marketing list. Before that first message goes out, your customer must say it's okay.
That rule is courtesy of the Telephone Consumer Protection Act, a law enacted in 1991 to govern phone calls and then updated to include texts and emails. TCPA seeks to protect consumers from receiving unwanted marketing solicitations, and its fines and penalties help ensure businesses take it seriously. The fines can be as much as $1,500 per message sent. In one of the first class-action lawsuits concerning texting, Papa John's settled the case against it for $16.5 million in 2013.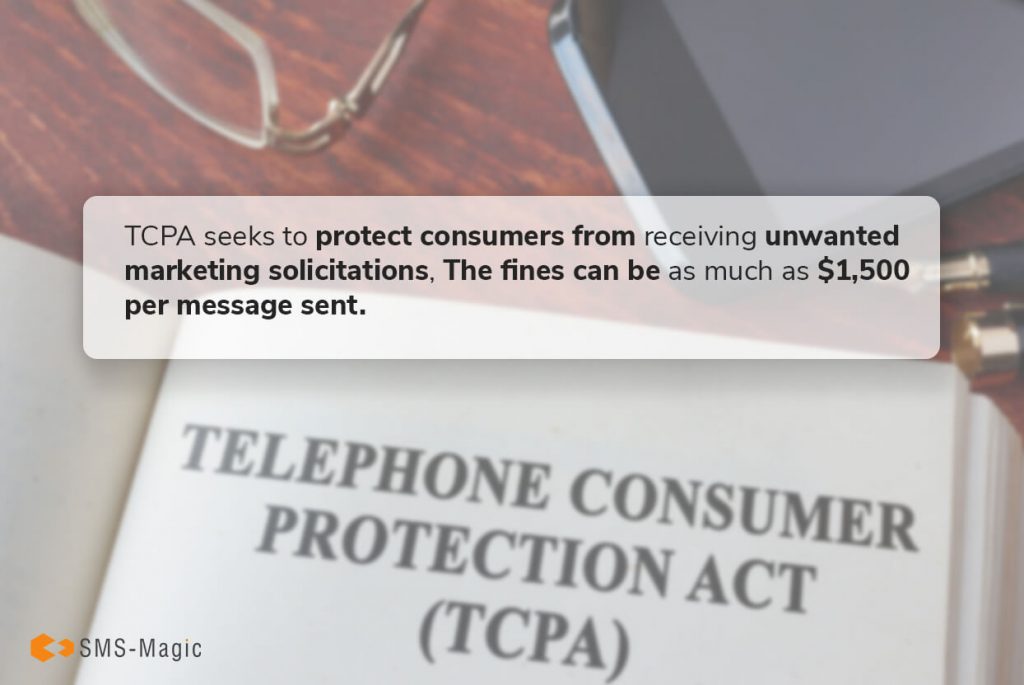 Fortunately, with a little planning and a savvy text messaging partner like SMS-Magic, you can gain consent, reach out to your customers legally, and keep the necessary records to defend any actions against you. And most importantly, you can establish a relationship with your customers that lets them know you're not going to fill up their inboxes with unwanted messages.
What Does the TCPA Require?
TCPA guidelines require that you must:
Receive consent before any message can be sent.
Mention your company name
State the coupon or value proposition
Mention the frequency of messages that will be sent monthly
Disclose possible carrier costs and fees
Give an option to ask for help and opt out of future texts
How Can You Approach Customers to Gain Consent?
Remember: You can't text until you have permission. So don't even think about buying a list of phone numbers and starting without consent. But if you play by the rules, where can you solicit customers for your text marketing campaign?
In a recent blog post, we provided a list of 20 ways to attract new customers to your texting campaigns and there are many more. As you design your campaigns to grow your text marketing list, you can include the initial TCPA information your customer needs in a small text block on the emails, trade show materials, business cards, product packaging, or other marketing materials. Here's an example of how you can structure that text for a fictitious pizza restaurant:
Headline: Want Great Pizza Deals Sent Directly to Your Phone?
Subhead: Text CHEESE to 999999 to Start Receiving Weekly Offers
Graphics: Include your logo or other graphic
Small text: Message and data rates may apply. Max 5 msgs/mo. Consent not required to buy goods/svcs. Terms and conditions at pizzastore.com/terms. Privacy policy at pizzastore.com/privacy. For help, text HELP to 555111. To opt-out, text STOP to 555111.
If your company requires additional legal text for offers such as "May not be combined with other offers" or "Limited time only," you can include the necessary text in the small text block. Notice that you can provide the web address for terms and conditions and your privacy policy. If your customers have questions, you've given them a resource for answers. You've even provided information about opting out before they need it.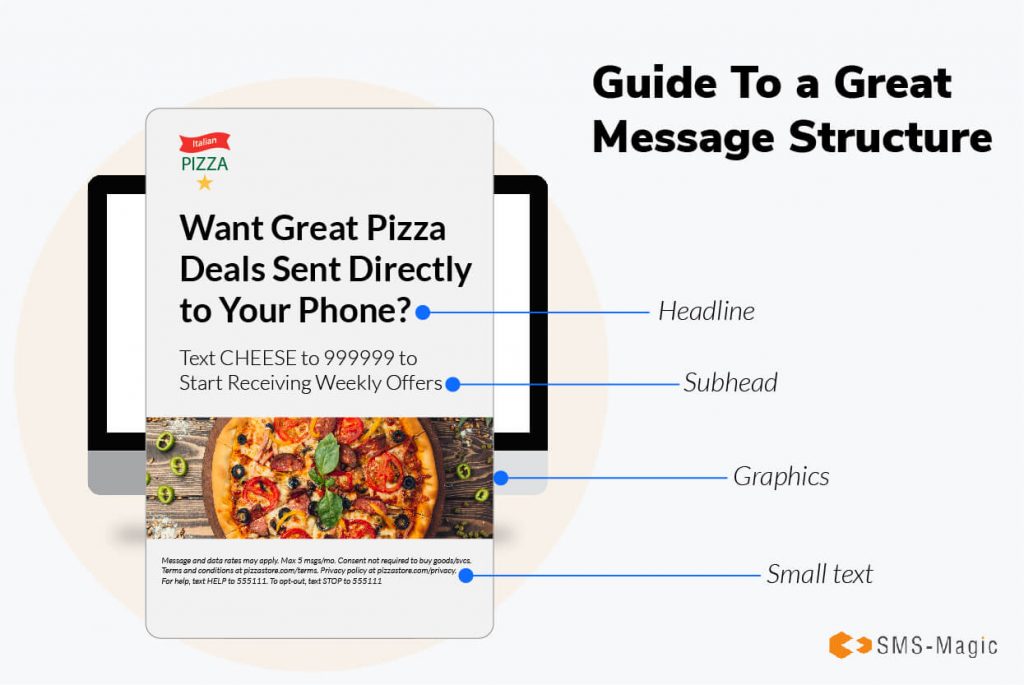 Consider Using a Double Opt-In
Let's assume your customer has opted into receiving text messages from your company with the offer we've just discussed above. They've texted CHEESE to your short code. Now what happens?
Simple. You automatically send them a confirmation text immediately. In that first message, you can provide some valuable information to them and keep yourself legal.
Here's an example of the confirmation text:
Please reply YES to receive updates from the Pizza Store. Std. msg&data rates apply. Max 5 msgs/month. Reply HELP for help, STOP to cancel.
You've repeated your company's name and asked your customers to confirm that they want to receive texts from you. You've provided a reminder about possible texting charges. You've told them how many messages to expect, and you've given them the tools to ask for help or stop the messages. And you've done all of this in seconds without disturbing your customer.
Extend an Offer
Of course, you can offer a special deal, coupon, discount or promotion with either the first touch or the confirmation text. Often, this type of extra incentive will prompt customers to opt in right away by providing a sense of urgency.
In the first example above, the Pizza Store could have offered an immediate discount with the promise of more to come via text messages throughout the month. Adding an incentive would only require a slight rewrite of the copy.
Be careful, however, how you word your incentive. Don't use a vague statement like "Text us to receive a 10% discount." Instead, be clear about what the customer must do to earn the discount. This is better: "Get 10% off when you join our SMS text list."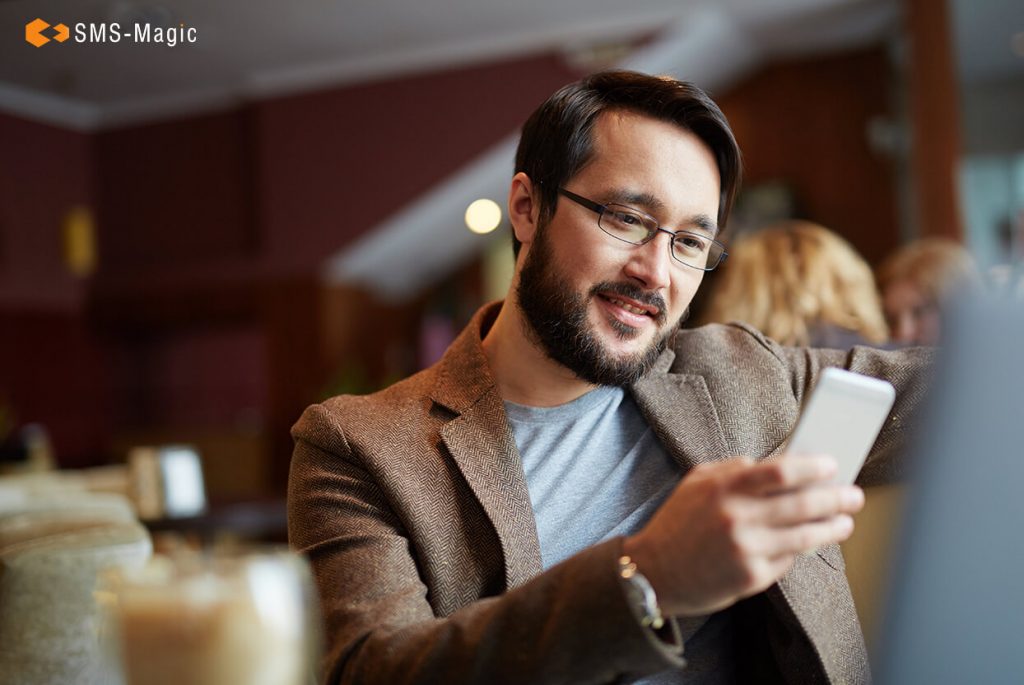 Test, Test, Test
Your text campaigns will require thoughtful planning, and it will be easy to figure out what's working and what's not. Texts are immediate. You won't have to wait long to determine if your appeals are successful or not. Adjustments are easy to make when you have data driving your decisions.
So, plan some A/B testing with email appeals for your text messaging lists. You can determine which email subject lines and body copy prompt the most customers to opt in. And as you build your text messaging lists, you can do similar testing to see what campaigns produce the best results. The beauty of text messaging campaigns is their immediacy.
Keeping Track of Who Opted In and Who Opted Out
You'll also need to keep track of who has opted in and who has opted out, as well as who is already in the system to keep one person from opting in multiple times. SMS-Magic can make compliance a breeze, particularly if you have tied your text messaging campaigns into your CRM. No matter what industry you're in – banking, higher education, hospitality, finance or others, we'll help you keep up with customer permissions as they opt-in (and perhaps opt-out) of your messaging campaigns.
SMS-Magic is designed to track opt-in and opt-out requests so that you send only to the customers who have specifically asked you to. Our back-end systems are structured so that we can display individual requests, and we can prove you've complied with customer requests. You won't have to worry about regulators asking to see your records. We use on-going processes to collect and store information about distribution and can share it with regulators, if necessary.
Does SMS-Magic sound like the answer you've been looking for? We hope so!
Contact us to set up a demo or to start your free trial. Let us show you how SMS-Magic can help you build and automate your text messaging lists!