Install & Configure SMS Magic in Bigin
1. Installation Steps
To install the SMS Magic Converse App in Bigin, follow the steps mentioned below:
Open the Bigin URL and Sign In using valid credentials: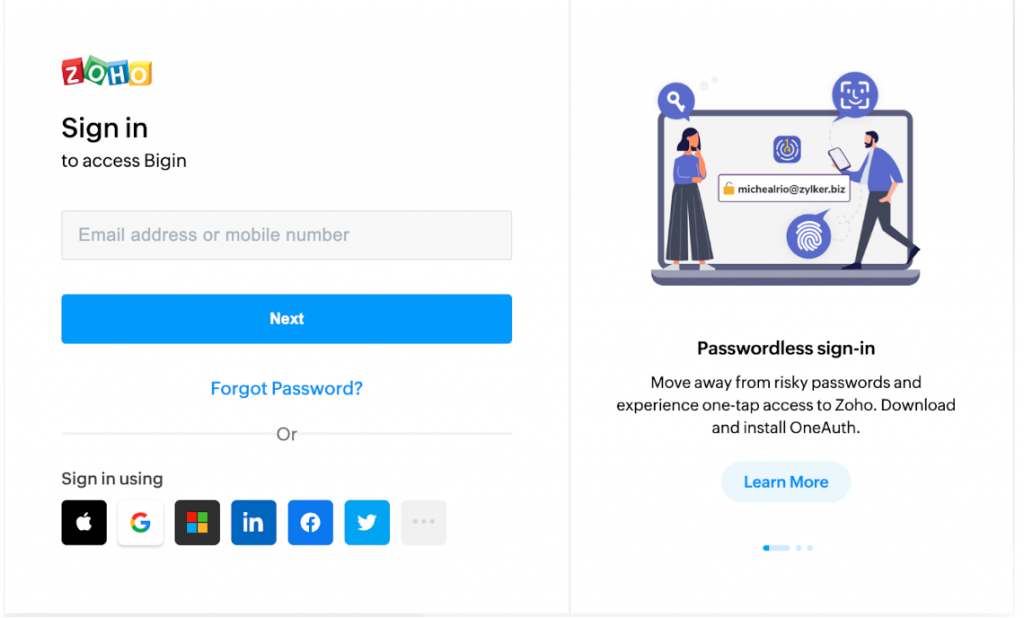 Enter your username and password to proceed to the following home page of Bigin: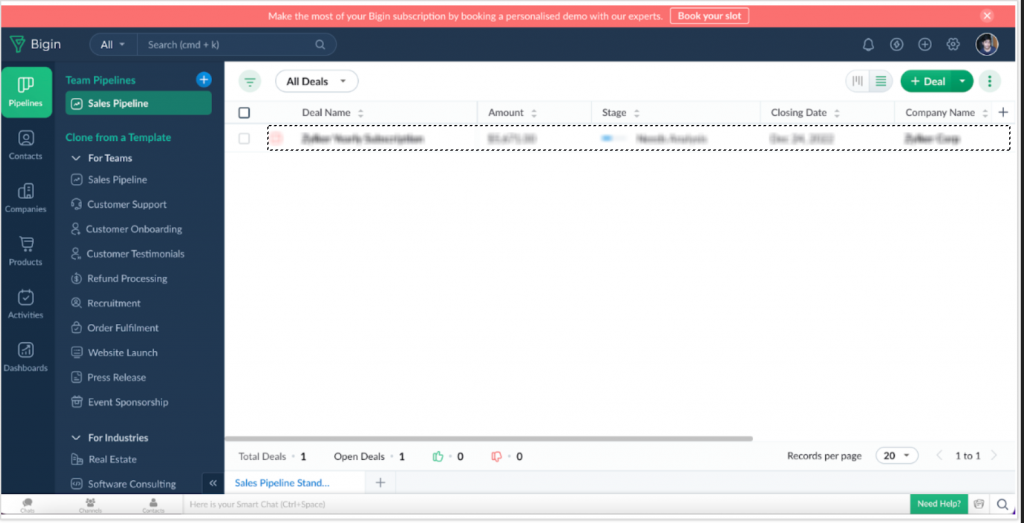 Go to the 'Settings' section in the top right corner, near your profile. The following page will appear: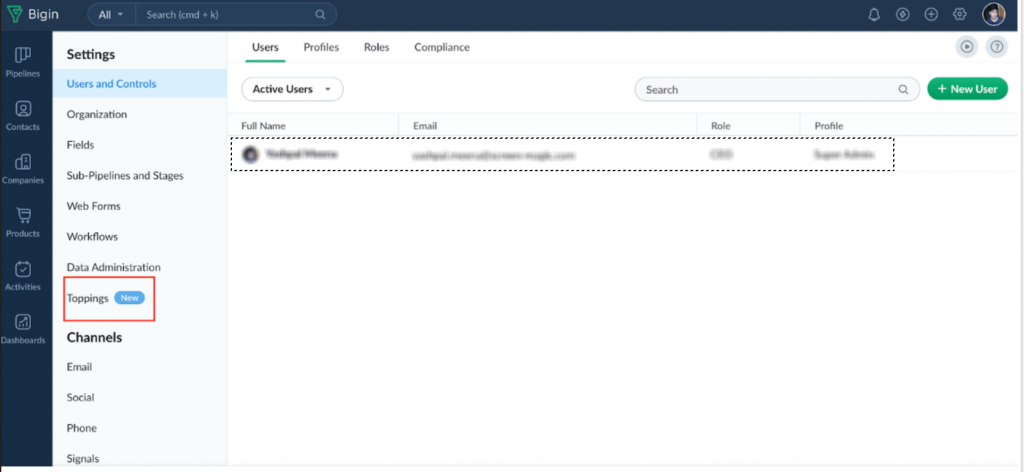 Click on the 'Toppings' tab, as highlighted on the left side in the image above. The following page will appear: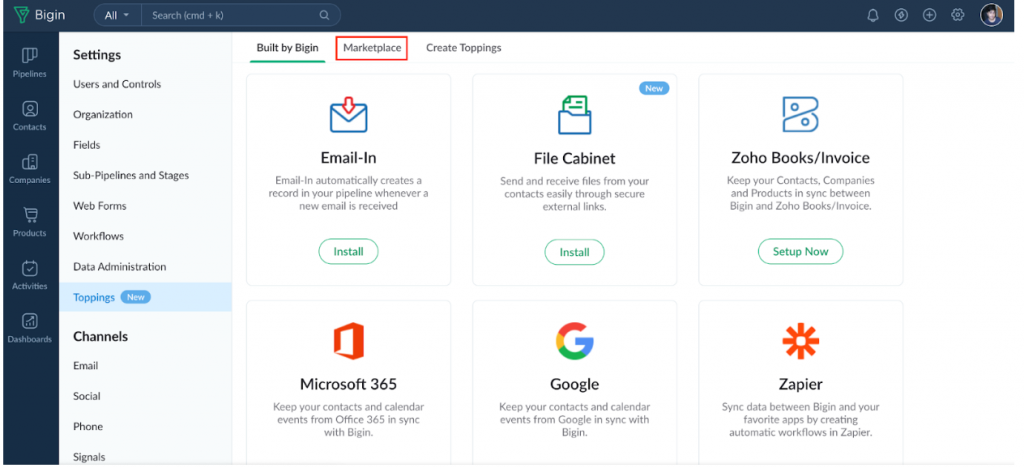 Here, you will be able to see all the toppings (apps) that are built by Bigin. To see the toppings listed in Marketplace, click on the 'Marketplace' tab. The following page will appear: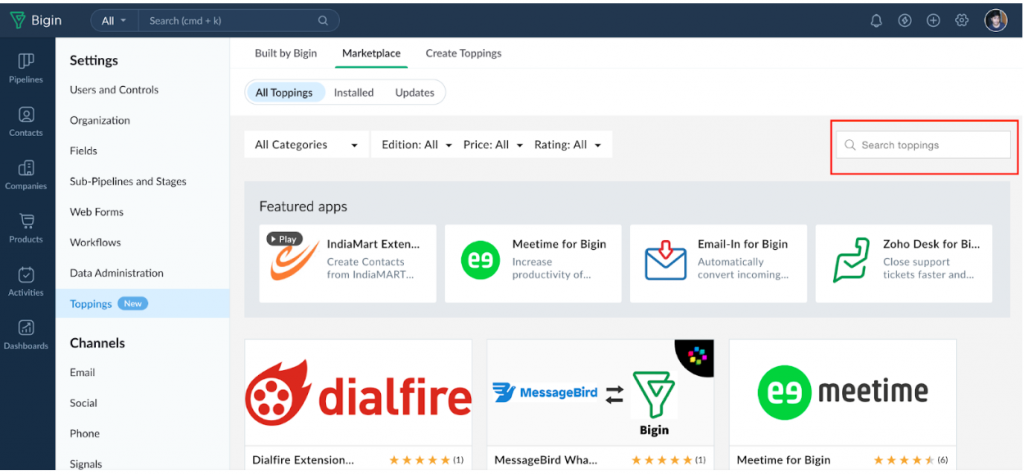 Here, you can see all the toppings that are listed in Bigin, toppings that are already installed, and those for which updates are available.
Search for SMS Magic Converse in the Search bar
Click on the 'Install' button to start the installation process of the SMS Magic Converse package
Check the Terms of Service and authorization checkboxes and click on the 'Install Now' button to proceed.
Complete all installation steps as per the sequence to proceed
2. Configuration Steps
Once the installation is complete, SMS Magic Converse will be listed in the 'Installed' tab under the 'Marketplace' section, as shown in the image below: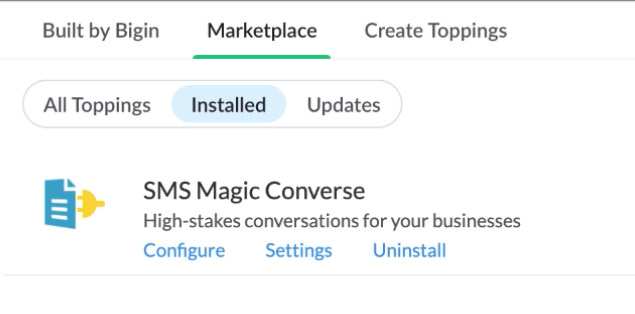 Click on 'Configure' to configure the SMS Magic Converse package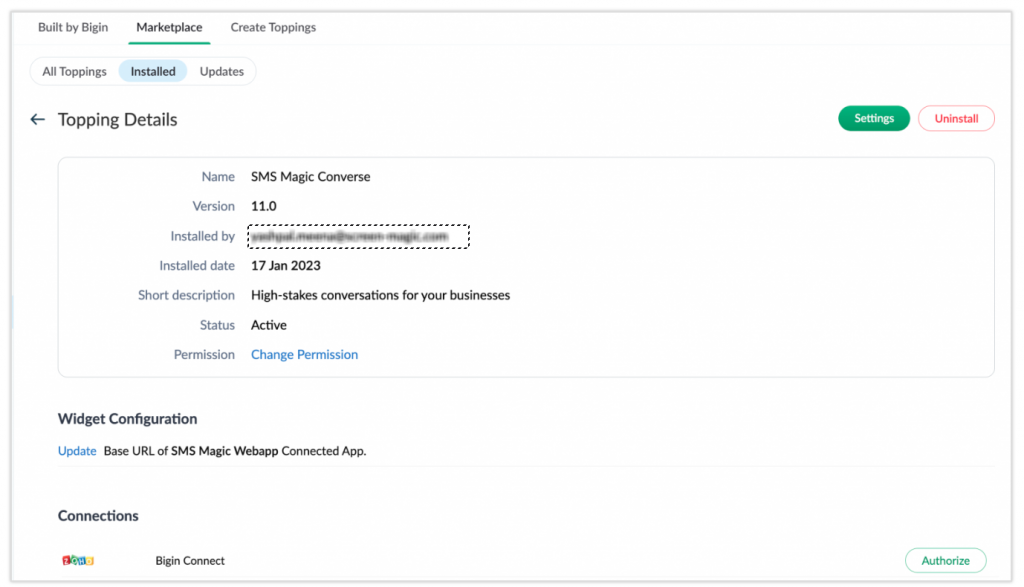 Click on the 'Authorize' button to proceed: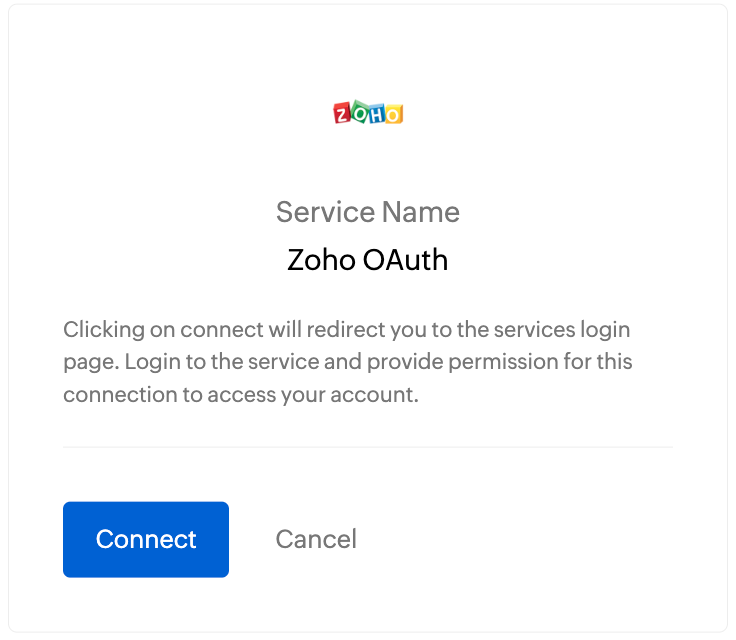 Click on the 'Connect' button to proceed to the services login page and provide permission for this connection to access your account.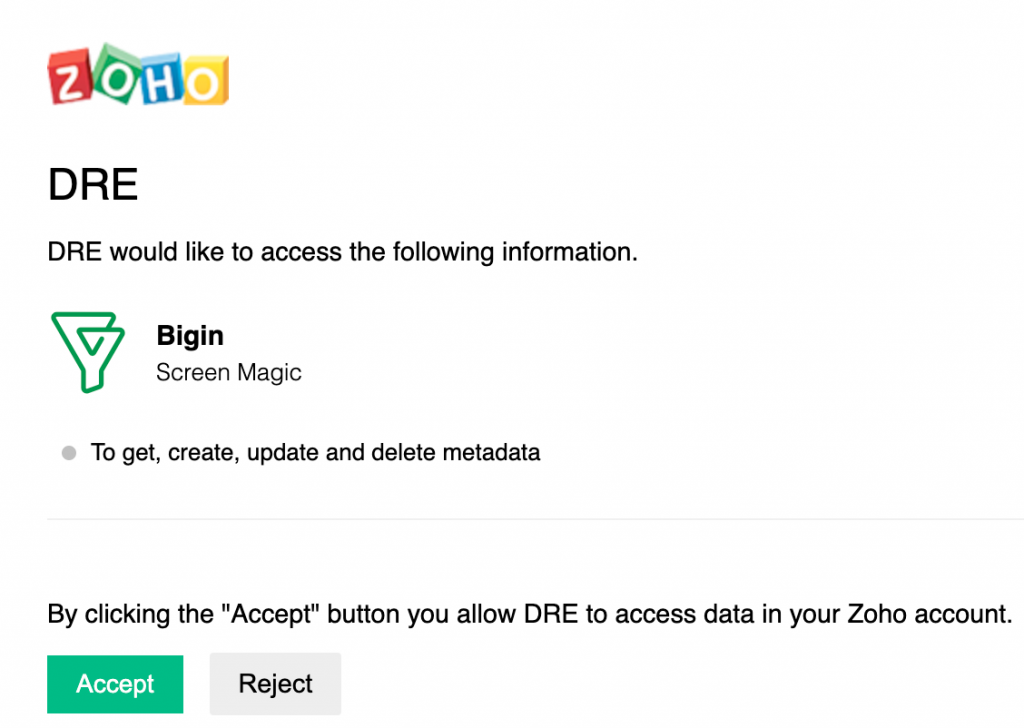 Click on the 'Accept' button to allow access to your data in your account. The following page will appear: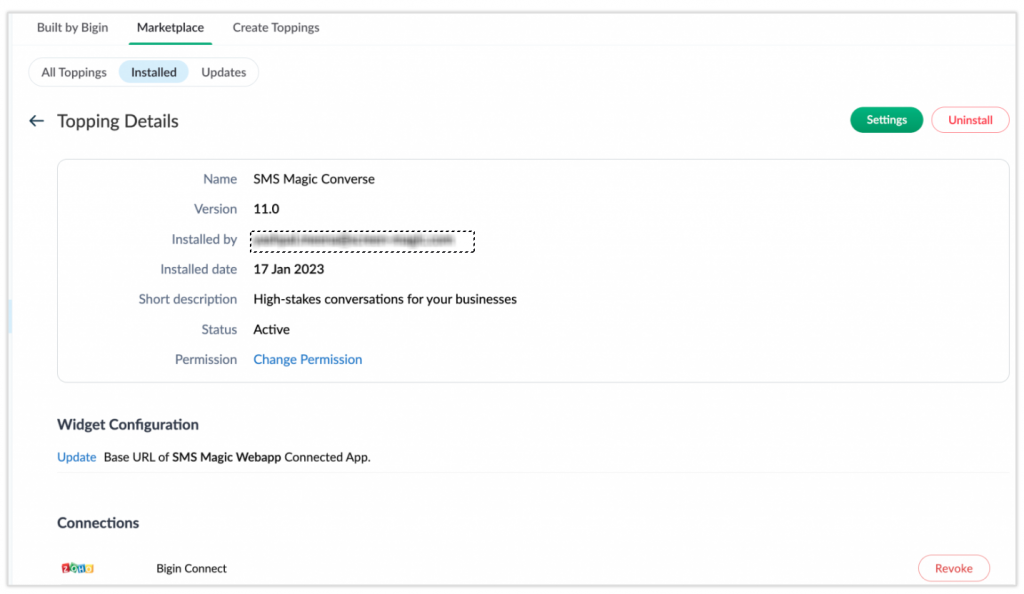 Click on the 'Settings' button to proceed: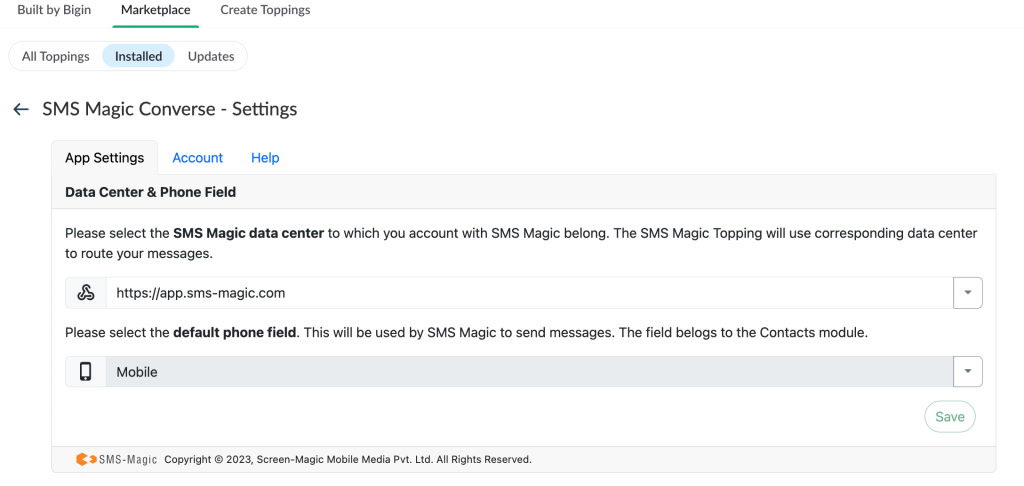 The Settings section is divided into two parameters, one is the Data Center URL and the other one is the Default Phone Field. Users can select different data center URLs as per their requirements. By default, the US data center URL will be selected: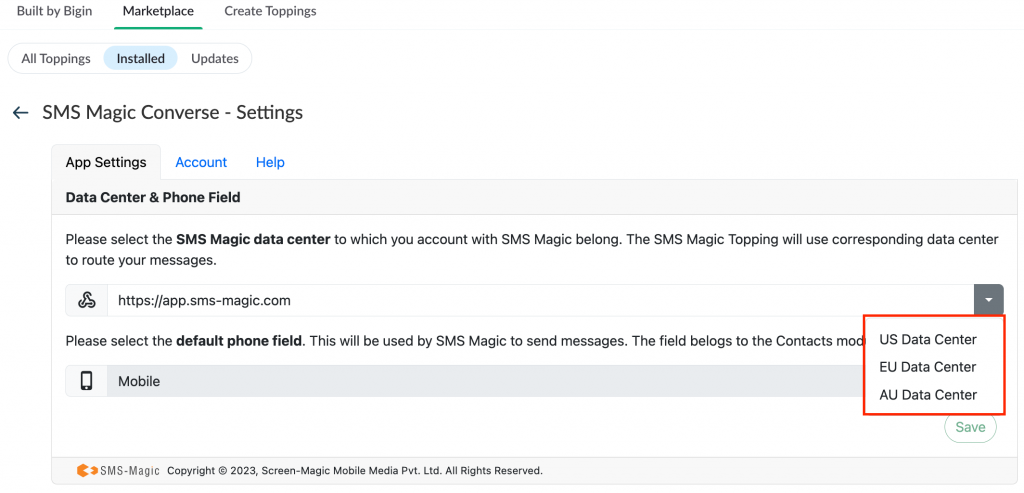 The default phone field will be used by SMS Magic to send messages. This field belongs to the Contacts module. You can go to the Account section to check if it is connected and also view the API key which will be used as the open API.

If your account is not connected to the SMS Magic account, it will show the following message. In this case, you will have to sign up using the trial sign-up page.


In the Help section, you will find the help documents, videos, and any material that helps you to understand the Bigin Topping.