You can manage your conversations and take a few actions as per your need for one or more conversations.
Conversation Window
This is a chat interface to communicate easily with a customer. You can see the outgoing and the incoming messages in a selected conversation. Follow the below steps to open the conversation window for a conversation and start chatting.
Click on the conversation in My Inbox/Sent Messages/Team Inbox you wish to view or send a message. You can identify the conversations with a particular customer by their name on the conversation and the module their record belongs to in Zoho CRM.
You can view the outgoing and incoming messages in this conversation so far separated with Date and Time
You can type in your message in the compose box, at the bottom of the Conversation Window and Send the message
You can use Media files and Emoticons while composing the message
You can use saved Message Templates of type Conversation. You can search from the available list of templates.
You can see the status of the sent messages update on the window. The status can be interpreted as-

Single tick – Message Sent successfully
Double tick – Message Delivered
Blue Double tick (for WhatsApp) – Message Read by the recipient
Red Triangle Icon – Message not sent
Clock Icon – Message is queued. This can be because of the network traffic or when you try sending a message outside the set Business Hours.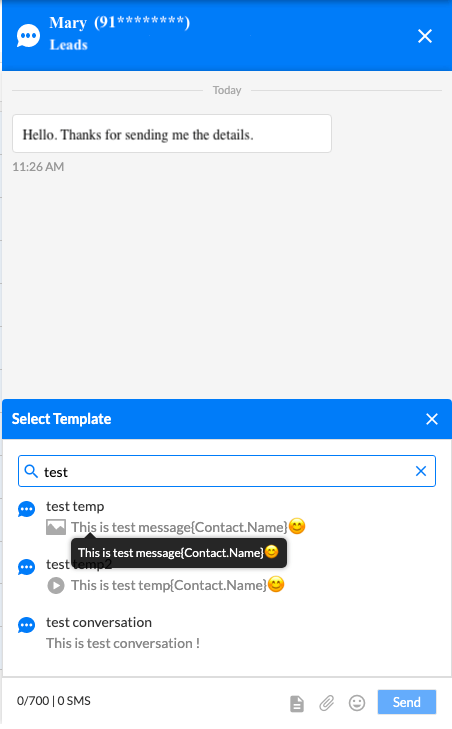 Conversation over SMS Channel
For having a conversation with your customers via the SMS channel, you can send text or media messages over the SMS channel to your customer.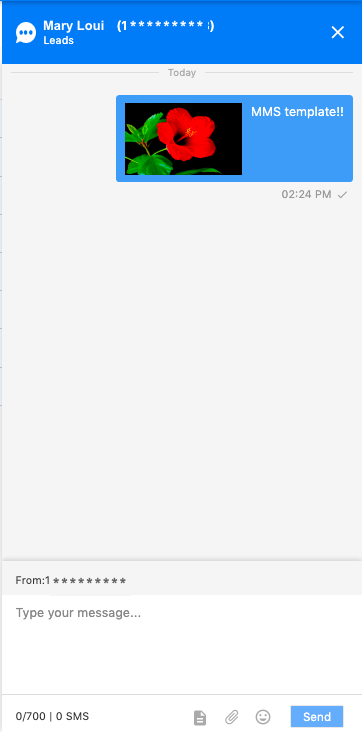 Conversation over WhatsApp Channel
For conversing with your customers via WhatsApp channel, during an Active Customer Care Window, you can send text or media messages over WhatsApp to your customer. You can select WhatsApp registered or non-registered templates to send the messages.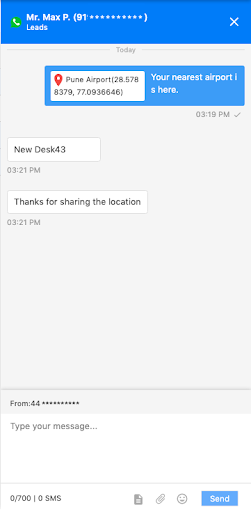 In case, your Customer Care Window is closed, you will not be able to send a custom message. You can only send a WhatsApp registered template.
Search for Conversations
You can type in Name or Mobile Number to search a conversation in My Inbox and Sent Messages. Hit Enter or click on the Search Icon to begin the search.
Read/Unread Conversation/s
You can mark your conversations as Read/Unread in My Inbox and Sent Messages. Select one or more conversations to mark them as Read/Unread.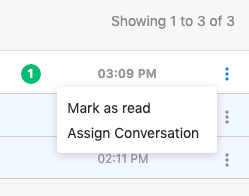 Admin Users can read the conversations in Team Inboxes without affecting the read status of the conversations for the Standard User's Inbox.
Admin users can manually read/unread a conversation in the Team Inbox to change the status of the conversation in the Standard User's Inbox. A confirmation dialog appears as shown below.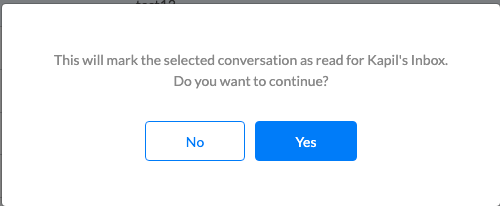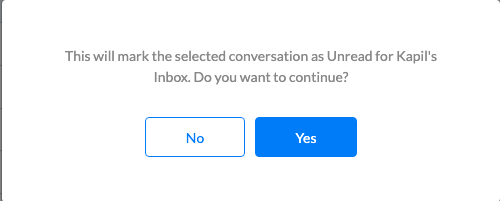 Assign Conversation/s
Admin Users can assign one or more conversations from My Inbox and from Inboxes of Standard users to any other standard user.
You can select the standard user you want to assign the conversation to from the dropdown in the Assign Conversation dialog box.
Once the conversation is assigned, it will be moved to the assigned user's Inbox, thus transferring the ownership of the conversation to the assigned user. The assigned conversation/s will be marked unread in the User's Inbox so that the user can easily identify the new conversations in their Inbox. A notification of the assignment will also be visible to the standard user on the browser tab when Converse Desk is open.
Limitations:
If a Zoho CRM record is newly created, it might not immediately show up in the Auto-Search while sending a message through New Message Window
If a Zoho CRM record is updated, it will not get updated on Converse Desk
If a Zoho CRM record is created/updated just a few minutes before you receive a message initiated by your customer, the Customer Record Lookup in Zoho CRM will not be successful. This is because the latest update is not sent over by Zoho in API response immediately. These conversations will show the mobile number of the customer instead of their name.
Glossary:
Customer Care Window – A WhatsApp messaging session starts when a user sends your business a message and lasts for 24 hours in the most recently received messages window. This active window is the Customer Care Window. You can send regular text messages or media messages (i.e., any non-template messages) in this 24-hour active window.
Registered WhatsApp Template – Registered WhatsApp Template messages are pre-approved message templates called MTMs for outbound notifications such as delivery alerts and appointment reminders. They cannot be used for marketing. You must use a WhatsApp Template Message if more than 24 hours have elapsed since the user last responded to you. Any other type of message will fail.