After you install the SMS-Magic mobile app on an Android or iOS device, sign in to the application using valid credentials and start conversing seamlessly. To sign in to the SMS-Magic mobile app, users can use their Salesforce, Zoho, or Email credentials.
Here you need to use your Zoho credentials to sign in to the app and start conversing with your customers by sending SMS messages manually or through templates.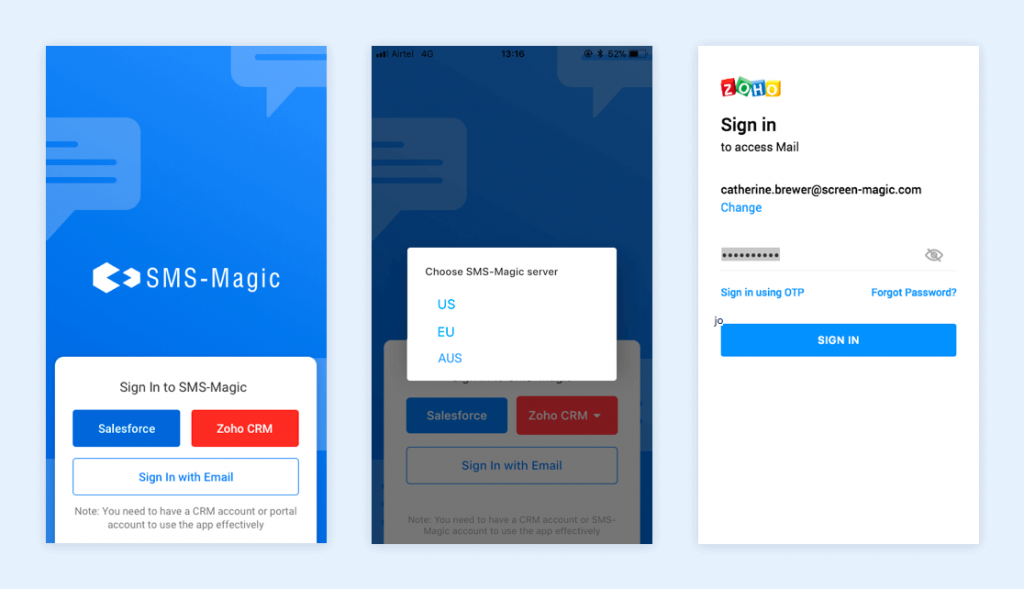 Click on the 'Zoho CRM' option. The user will have to first select either the U.S., EU, or AUS SMS-Magic server.
Enter your email address or mobile number in the next step and click on the 'Next' button to proceed
Enter the password in the 'Enter Password' field
Click on the eye icon to view the entered password
Click on the 'SIGN IN' button to proceed
In the next step, you will have to accept the server access request. Click on the 'Accept' button to proceed. By clicking on the accept button you allow the SMS-Magic EU server to access the data on your Zoho account.
Once the user is logged in to the mobile app using Zoho credentials, they will first have to configure modules from the available list. Here, users will have to select the modules which they want to use for messaging. Click on the checkbox beside modules such as leads, contacts, accounts, deals, activities, products, quotes, sales orders, purchase orders, invoices, campaigns, meetings, calls, tasks, notes, etc. Select the required modules and click on the 'Save' button. You can hold and drag the modules to reorder their priority. The selected modules will be present in the 'Zoho Modules' section in the mobile app.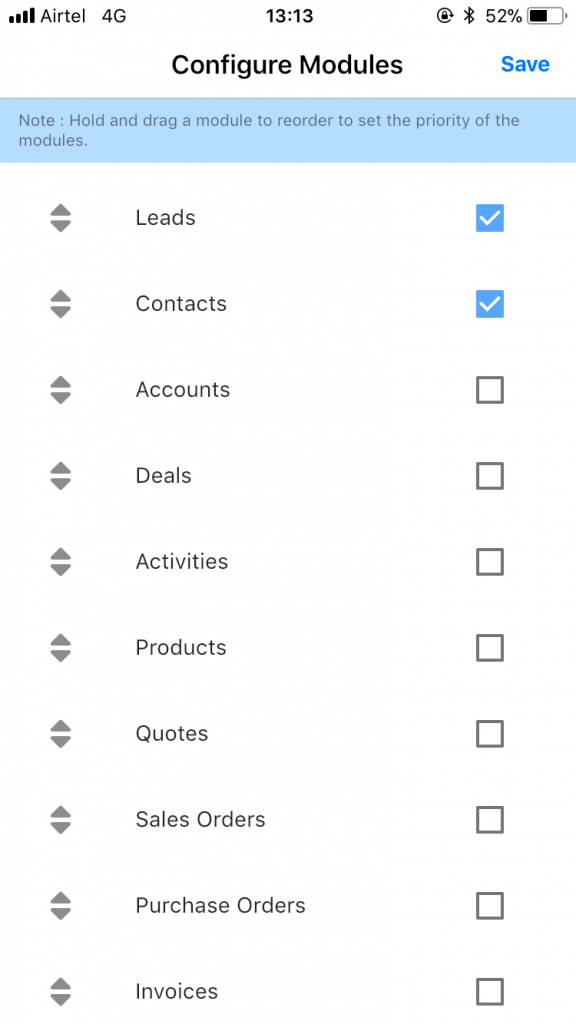 *Note: To log in to the SMS-Magic app on a mobile phone the user needs to have a SMS-Magic Zoho license