Kick the tires. Turn on the radio. Test the top speed. Put SMS-Magic through its paces, all without spending a cent. Take test drive.
We're offering new customers a 7-day, free trial with SMS-Magic. If you've been thinking about starting conversational messaging in your customer outreach, now is the time to discover what SMS-Magic can offer. With the free trial, you'll have a hands-on experience with SMS-Magic and its capabilities, and we'll be there if you have any questions.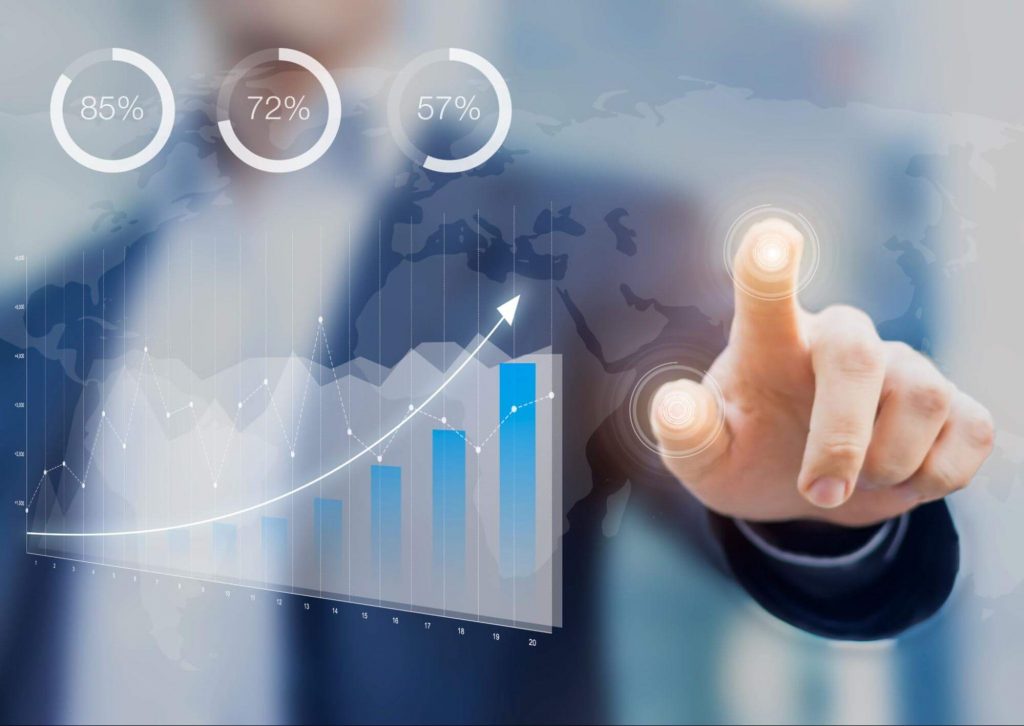 Messaging is the most effective channel to reach your customers exactly where they are. Around the world, 3.8 billion of us have smartphones, and we carry them with us most of the time. Some of us even sleep with them. We open texts and other messages 98 percent of the time, and 60 percent of us do it within five minutes of receiving them. Email can't even start to compare. We only open 20 percent of our emails.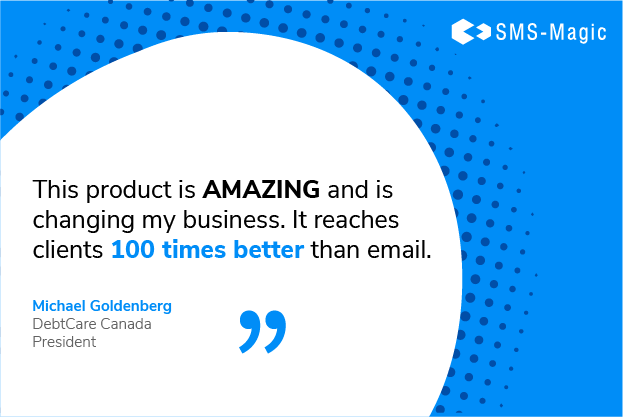 As Michael Goldenberg, president of Debtcare Canada, wrote to us, "This product is AMAZING and is changing my business. It reaches clients 100 times better than email."
SMS-Magic can transform your sales, marketing and service responses. With personalized conversations, sales teams can drive leads, respond faster and increase revenue. With rep guidance, reps can handle large volumes of prospect conversations to close deals faster. Our clients report 40 percent more conversions and a 25 percent faster sales cycle, allowing them to move more opportunities through the pipeline.
Marketing results are equally as good with 70 percent response rates, 90 percent read rates and 50 percent higher ROI with SMS-Magic. Using dashboards and reporting capabilities, you can easily detect, diagnose and resolve any lagging performance areas.
Today's buying decisions are wrapped around a customer's experience and nowhere is that more evident than in customer service. We've found that 66 percent of customers will pay more for a product with a mobile messaging channel and 68 percent prefer messaging over phone or email. With SMS-Magic, your customer service teams can respond quickly, resolve issues faster, and communicate more effectively, increasing productivity and NPS ratings. Your reps can handle six times more messaging responses for every phone call.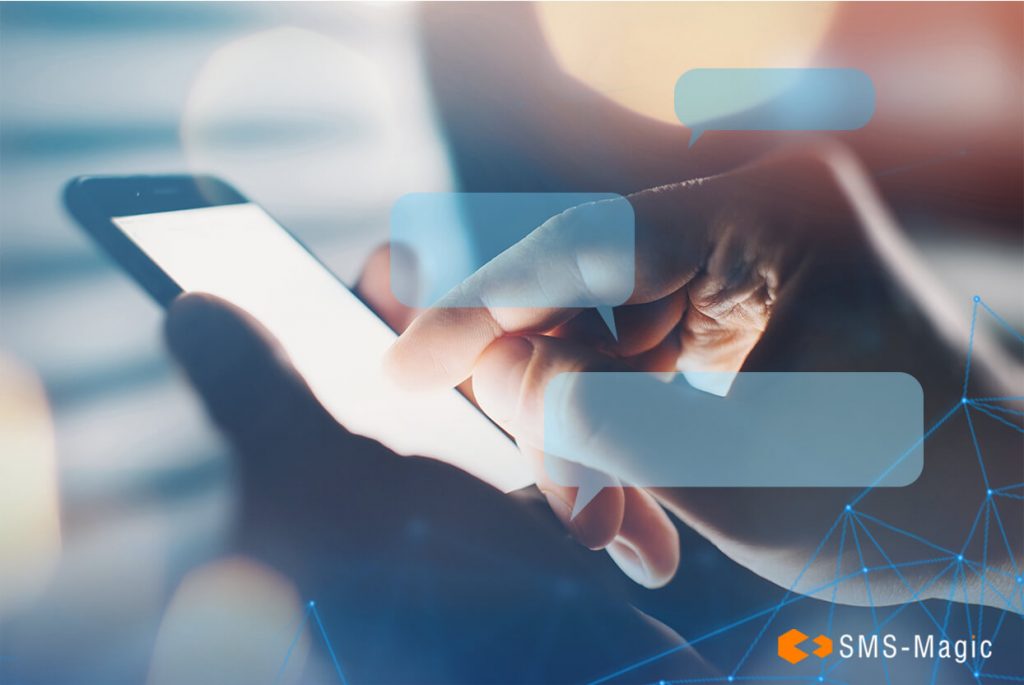 In the U.S., almost half of users prefer using the native SMS feature on their smartphones, like iMessage and Android. Around the world, however, users favor messaging apps like WhatsApp, and Facebook Messenger. SMS-Magic can handle messages from all these platforms and will allow you to run campaigns in them while helping you comply with various regulations. There's no need to use several services to achieve what SMS-Magic already can do.
We are a Salesforce Partner and are rated the #1 messaging app on the Salesforce AppExchange. SMS-Magic is a customizable platform with clickable configuration, intelligent routing, delivery and plug-n-play integrations.
Our global team of 200+ is ready to assist you as you discover how conversational messaging can dramatically increase your interaction with your customers. So what are you waiting for?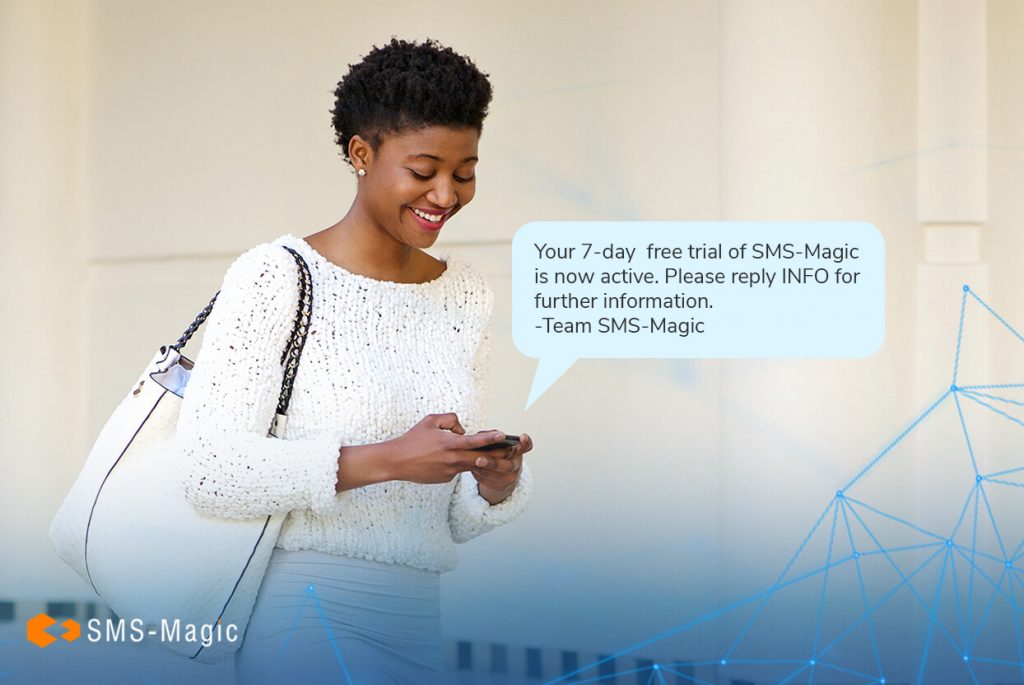 Sign up for a free trial. It's easy, and you'll get full access to SMS-Magic capabilities and free support.
Still have questions? We're happy to chat. Just click to sign up, then click chat and we'll be there!