With the onset of GDPR, the way marketers are allowed to capture and use prospect data changes dramatically. This means we must compel our prospects to opt-in to let us communicate with them via our text messaging programs and using short code.
Text messaging already gets a 6x response rate over emails. Which means that when you use text messaging to compel opt-ins, you're highly likely to get more compliant opt-ins than with any other form of communication.
The question then becomes, "How do I compel my audiences to opt-in?" Here are three ideas.
1. Give them something relevant using short code in return for their opt-in to text messaging.
Offering discounts and coupons is a tried and true approach for product and service-oriented companies. You see these discounts in coupon flyers and envelopes mailed out en masse, in advertisements via direct mail, as well as in online digital ads and emailed offers.
Steps to using promotional offers to drive opt-ins:
Have your IT admin create a Keyword Response tied to a specific promotion conversation
Add that keyword to your short or long code in SMS-Magic Converse
Promote that keyword and short code, along with the offer, in all of your print, digital and event marketing promotions
Deliver the offer automatically when someone texts the keyword to that short or long code
Be sure you're using a compliant opt-in approach to the text opt-in, before you have any type of conversation with the prospect. Also, be sure to follow-up after the opt-in is complete to actually send them the offer via text message. SMS-Magic allows you to automate offer delivery based on keyword responses.
You'll also want to message them to let them know that you'll be sending other offers and informational content via messaging conversations.
Here's an example of how this works in higher education:
Your students are digital natives. Using messaging to recruit them gives you the advantage over other institutions. Here's how you can use SMS-Magic Converse to quickly reach out to students, get their consent, and then move on to recruiting them.
Promote your school. A web page, promotion or email campaign uses the offer of a Virtual Event to compel a text opt-in from a student using the keyword SCHOOL. The Compliant Opt-in App manages their confirmation automatically.
Fulfill your promotion. Following confirmation, an automatic message delivers the event information and registration which was offered as part of the opt-in promotion, using a Single Message App.
Promote a student event: An Event Announcement is triggered through our Event App, offering registration for an Open House. After the student registers, a confirmation is sent, followed by a series of promotions for the event. A message in the event nurture offers the option for the student to SCHEDULE a meeting with admissions at the event, or ask to chat with someone (HELP).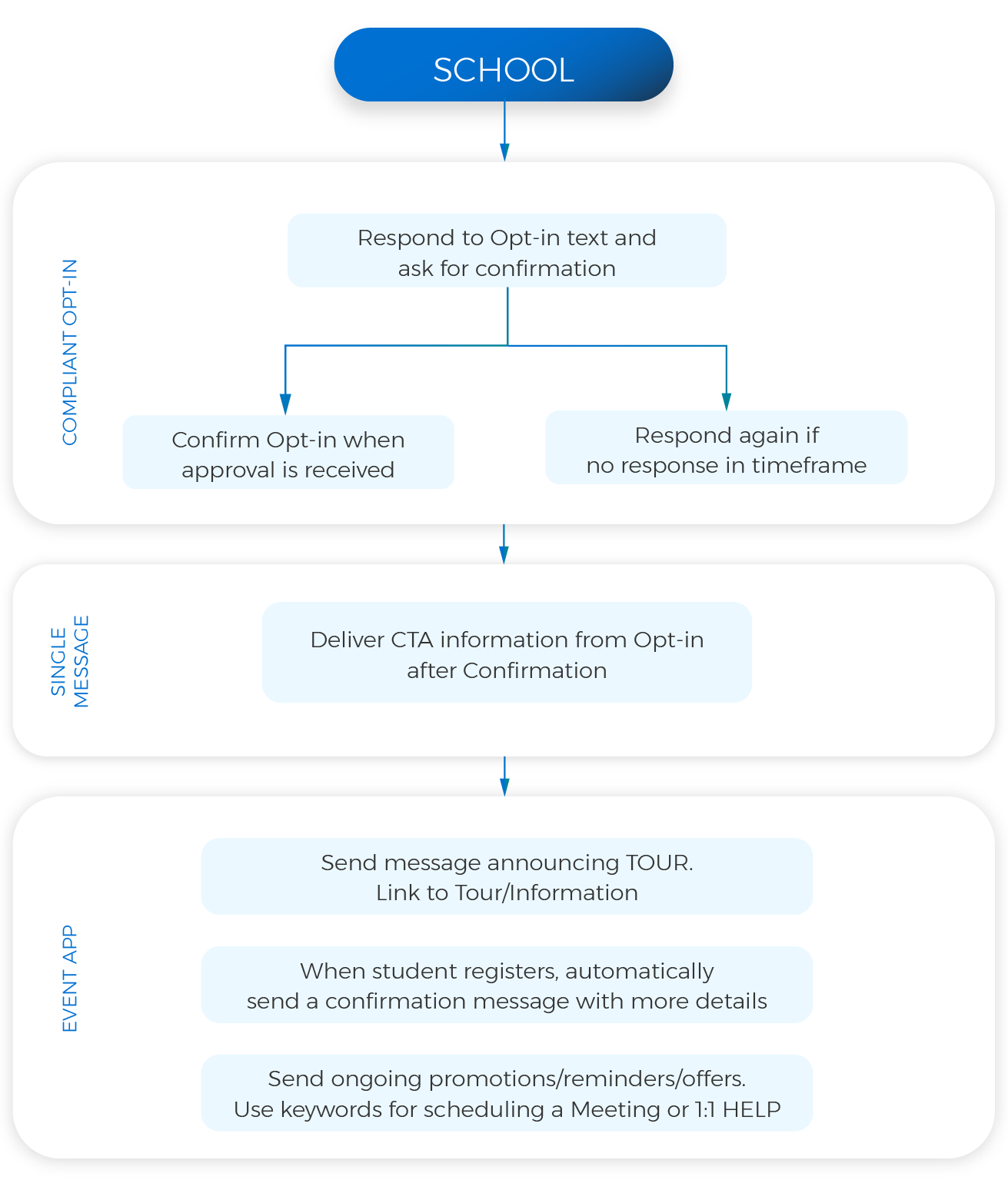 2. Make it easy for new clients to contact you.
Let's say you're in real estate, financial services, or some other service-oriented industry. The key to getting new clients is to promote yourself and your business, right?
In every promotion, whether it be a Home for Sale sign, an advertisement, a Yellow Pages listing, or Chamber of Commerce registration, include a keyword and short or long code to make it easy for new prospects to connect with you.
For multiple options/services, you can use different keywords with the same short or long codes to delineate which service a prospect is interested in discussing.

For example, different houses for sale could use the numbers in their address as the keywords. In this way, you can immediately know what the prospect is interested in exploring, then trigger an automatic set of messages (after a compliant opt-in) to give them more information that's highly relevant to their interest.

If your business is more focused, say landscaping, you can use one keyword for all of your opt-ins.
You can also combine the concept of a discount or offer with your business promotions. For example, offer a discount on services when someone opts-in to your conversation about relevant topics to your business.
It's important to note, these nurturing conversations should be relevant and information-based, not self-promoting. Self-promotion is a fast way to get prospects to opt-out of your messaging conversations.
3. Include keywords in your emails or other communications.
The best communication strategy blends all your channel options. So, use your email communications to get people to opt-in to your messaging programs.
Since most people prefer messaging over any other form of communication, why not give them what they want?
Try these simple tricks to promote your text messaging opt-in:
Customer update emails: In your next customer update email, offer special insights into a topic that's relevant to your customer base. Use text messaging to deliver those insights. Which means the customers need to opt-in to get them.

You can use this technique when you're announcing new products or updates, new services, or new partnerships. If your customers want the juicy information, they'll get it through texting. Texting is intuitive; we all text. Your customers prefer it so you're serving them by moving to more text messaging conversations.

Lead nurturing: In your lead nurture emails, promote a text alternative with a simple opt-in. Again, offer something special like unique information and insights, a free trial or discount coupon for everyone who successfully opts-in to your messaging conversation.
You can also include a keyword and short cord in your IVR messages so that when people call your company, they get a quick option to reach out and converse with someone, quickly, without waiting on hold.
The Bottom Line
Text messaging offers a compelling way to interactively converse with your audience. Since people read and respond to text messages far more than they do emails, gaining opt-ins to text messaging programs results in getting the consent marketers need to be able to continue to communicate with prospects and customers—especially once GDPR comes into effect.
Using the above techniques will enable you to promote your offerings and services, while you also gain the consent you need for ongoing text messaging conversations.