Everyone is busy this time of year, so it's a good thing messaging makes promoting products and services quick and easy! Whether you're offering a seasonal discount on a product or offering a free financial consultation for a limited time, messaging can help you reach your customers, even when they're distracted during the holidays.
Inspired by a favorite holiday song, we've collected 12 holiday-themed marketing strategies to boost seasonal sales this year, no matter what industry you're in. Pick and choose from these suggestions, complete with text marketing examples that are friendly, fun and effective.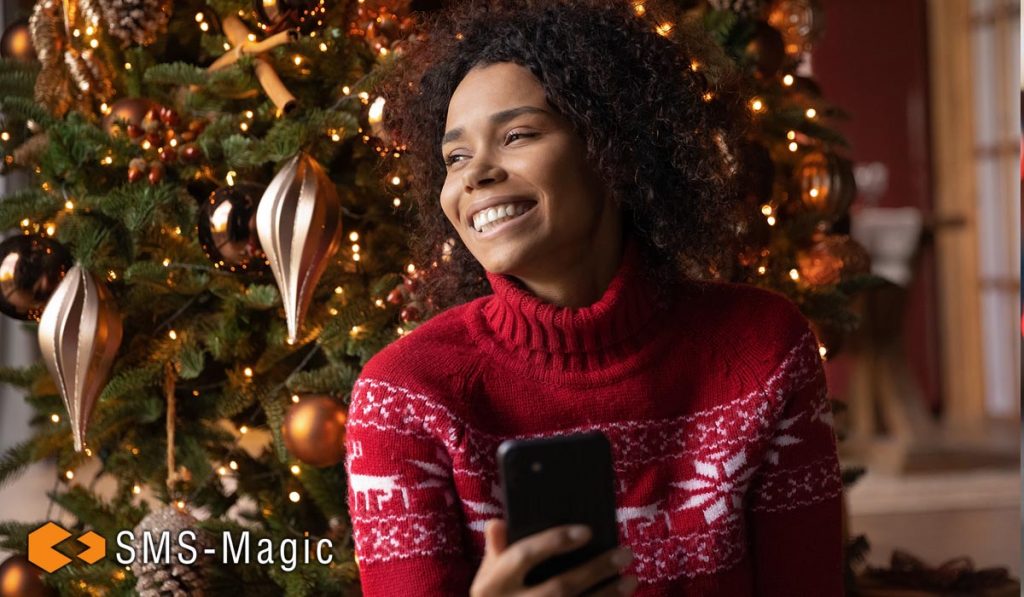 12 Drummers running limited-time flash sale campaigns
Create a small window of time when you'll slash prices on some of your most popular items or products. Worried about losing money with big discounts? Limit the number of items along with your timeframe.
Psst…Hey Gina, our 48h holiday flash sale Starts NOW! Use code Gold48 and enjoy 35% off select items. Ho-Ho-Go! http://tmc.co/12445
11 Pipers promoting attention-grabbing holiday offers or events
Personalized, holiday-themed messages are a quick and inexpensive way to grab your customer's attention. Use warmth and cheer in your seasonal messages to advertise a special holiday sale, open house or client party. For real estate agents, relocation buyers may use the holidays to plan a house-hunting visit or locals will use their time off to look at potential houses. Here's an example of how to promote an open house this season:
Happy Holidays! Stop by for warm drinks, treats and a special gift at our holiday open house on 11/15 See you there! RealEstateCA
10 Lords-a-leaping for free gifts with purchase
Do you have a special gift to offer customers when they make purchases? Free gifts not only attract customers, they benefit your business too. By making this free gift contingent on customers spending a target amount, you can see an increase in your average order.
TechFamz: Hey Rob, get a Free software upgrade with any $xxx purchase during the month of December: http://Tef.co/12345 Text STOP to opt out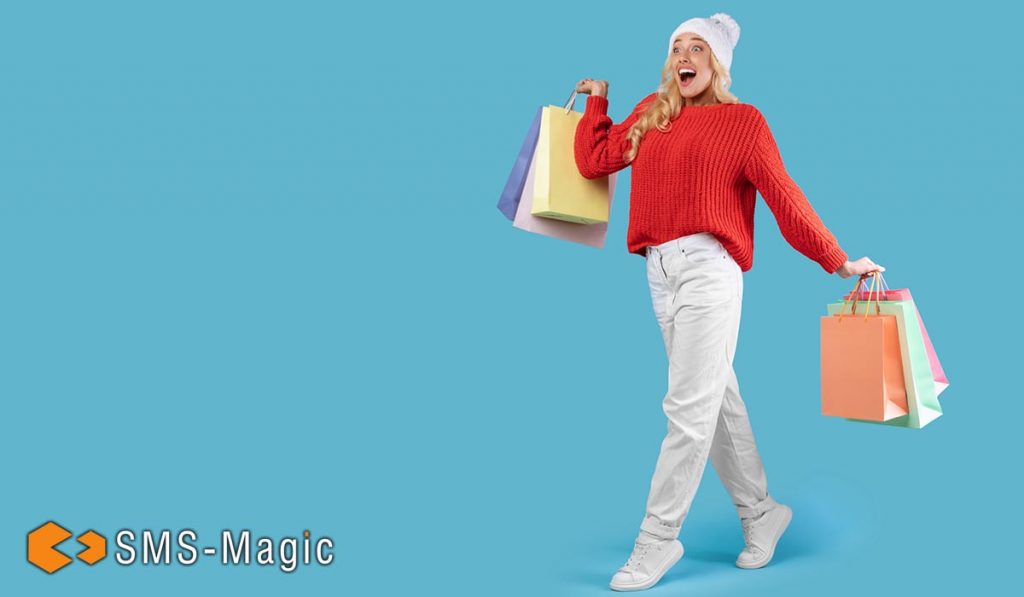 9 Ladies creating festive holiday bundles
Who doesn't love a theme? When you attract business with emotion-stirring, holiday-themed bundles, you're sure to stuff lots of stockings, packages, and bags.
Hey, Terani! Holiday dinners for the win with our festive feast bundles. Cookbooks, cookware, & delicious goodies for every home! http://abc.co/12345
8 Maids triggering cart abandonment flows
This time of year comes with a slew of promotional messages that can easily distract customers from finishing purchases. But you can cut through the marketing chaos with cart and browsing abandonment messages. These triggered automated messages should create a sense of urgency, encouraging customers to act so they don't miss out on your fabulous holiday offers.
Use Get15 code at checkout and load up your cart full of gifts for your loved ones with a 15% discount Happy Holidays! Save Now
7 Swans a-swimming toward a BOGO offer
Messages promoting buy-one-get-one offers are a simple way to draw shoppers to your products and services.
Santa is coming to town early this year with BOGO add-on services Get yours now at: http://smsbogo/12345
6 Geese a-laying down gift shopping and shipping deadlines
Timely delivery is crucial during the holidays. With a solid holiday messaging strategy around shipment deadlines, you can ensure your customers' gifts get here, there and everywhere in time.
Get your gifts in time for the holidays. Order by 12.20 and get your gifts in time with 2-day shipping! http://bit.ly/AV456
5 Golden rings around visually appealing holiday graphics
Visually appealing holiday images and GIFs are the perfect complements to any offer. Some promotions are designed to work with stunning holiday graphics. If plain text isn't quite enough to make an impact, use multimedia messaging (MMS) instead. With MMS, you can include the graphics in the message, including images, videos and GIFs. You can also link to images and videos from SMS messages.
4 Calling birds sending out alerts for upcoming sales
Now that you've created holiday-themed sales, you should also set up a campaign to remind your customers the deal is coming, going on now, almost over and even extended.
Afraid you've missed our best deals? Don't worry, save 20% on select items all week long. http://SMSluv.12345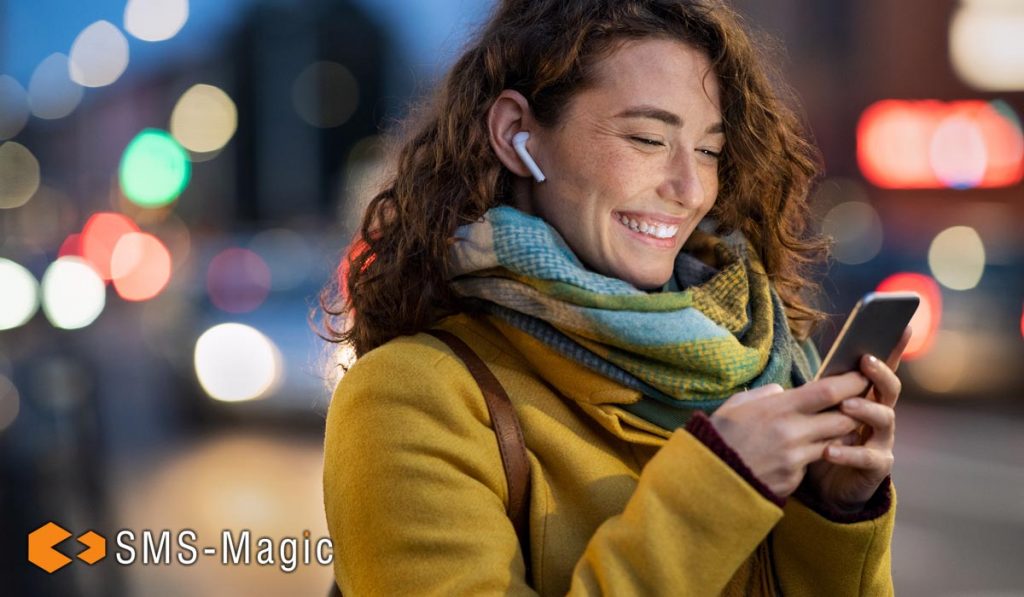 3 French hens creating hype with messaging campaign flows
Creative messaging campaign flows can build hype around new releases, promotions, seasonal gifts and holiday offers. Unveiling snippets of info about your upcoming reveal or new product can get people excited and ready to click and buy.
Stay tuned, stocking stuffers. The new 202# ultimate holiday travel deal is coming soon. Limited stays available. One sale 11.28
2 Turtle doves promoting friendly self-love purchases
Holiday deals are appealing for both gifting and self-care. This holiday, encourage your customers to give the gift of self-care by spending a little time, and money, on themselves.
Cami, you've been a good elf all season. It's time to take care of you with 15% off your entire order at http://SMSsl/goodelf
1 And a partridge in a pear tree with loyalty discounts and cross-sell opportunities
Once SMS-Magic integrates with the CRM, you can use messaging to power your segmented marketing campaigns. Have frequent shoppers or clients? Show them love by sending them a loyalty discount message. How about customers who haven't bought anything in a while or a job contract that is nearly up for employees you have placed? Check in with them during the holidays and create a cross-sell in the process.
Try this for a product cross-selling opportunity for frequent buyers:
[Kate], you're on our nice list! Here's a holiday treat just for you– 50% off our [xyz product add-on] in Jan. Book now: [URL]
Here's a staffing and recruiting discount idea for your loyal clients:
Hey Keri, how is your new locum job going? We're here for what's next for you in 202#. Join job search premiere at 15% off this December. http://NewP/12345
No matter how you package your special holiday offers, discounts, bundles, or upgrades, messaging can help get the word out faster than calling birds or turtle doves. And with 98% of messages opened within three minutes of receipt, it's the perfect time to add a messaging channel to your digital marketing strategy.
Ready to give messaging a try in time for the holidays? Contact SMS-Magic for a demo today!