It would be an understatement to say the world changed drastically in 2020. Businesses who were not already using digital tools to connect with customers were forced to adopt new ways of communicating. If they ignored the need for new communication channels they would not survive.
In order to continue generating revenue, companies must have the infrastructure to support the massive shift to a completely digitized world. Messaging continues to prove to be one of the most important and effective ways to communicate with customers and leads.
Your audience is more comfortable than ever communicating with businesses via messaging. And not just text messaging! You can chat with them on other platforms as well including WhatsApp and Facebook Messenger. The more willing you are to try new communication channels for your business, the more revenue you'll see.
With emerging marketing channels and tools, it is time for businesses to shift their traditional marketing channels to the new multichannel technologies.
4 Tips to Build a Powerful Multichannel Messaging Strategy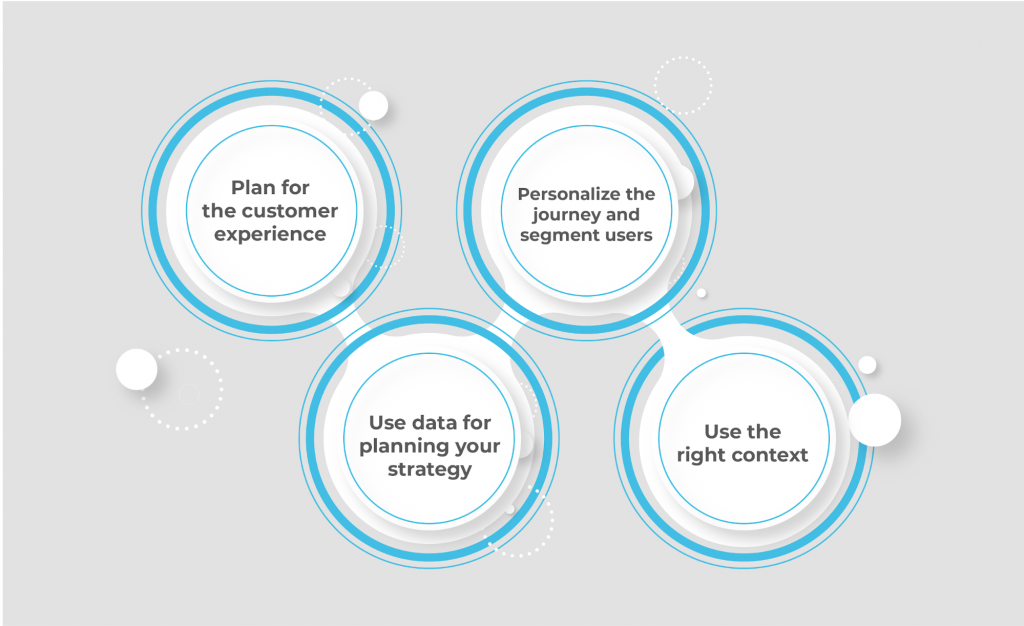 Multichannel messaging will continue to grow in popularity. Finding the right communication rhythm to engage with your customers is important. So how do you actually build a powerful multichannel messaging strategy? Here are 4 tips:
Plan for the customer experience – Understanding your customers preferred channels, their behavior across channels, and creating a plan on how the messaging experience should flow on all touchpoints is imperative. The better you understand their behaviors and patterns, the more organic your messaging campaigns will feel.
Use data for planning your strategy – With CRM data, online customer search behavior, and social listening data, you will be able to understand customer behavior. Using this, you can strategize solutions to address all their challenges and questions. You'll better anticipate their needs and be prepared with answers and solutions to quickly help.
Personalize the journey and segment users – Once you evaluate the available data, you will be able to segment users into categories based on their behavior patterns. This helps you personalize the journey for every kind of customer you encounter. Personalization is becoming increasingly important, so using segmentation can help you build more targeted campaigns for your audience.
Use the right context – One of the most critical parts of multichannel messaging is to get the context right. Sending wrong messages at the wrong time to the wrong audience will turn customers away So, assure that the context that you send is accurate and is relevant for the end-users. Also, make sure that you are sending the messages at the right time when your customers are active on the channels that you select.
The Potential of Multichannel Messaging
Today, there is no one way or one channel to communicate with each other. People start their chat with a Facebook message, switch to WhatsApp, and end their conversation via Instagram or a text message. Meeting your audience on their preferred channel will lead to increased customer engagement and revenue.
Multichannel messaging will continue to engage customers this year:
Text messages have a 98% open-rate
85% of leads prefer text messaging to cold calls
As people use their mobiles frequently, message marketing yields more sales
Millennials check their mobile phone 50 times a day on average
Emails get spammed and the inbox gets cluttered with hundreds of daily emails. So, mobile messages are more convenient.
Short text messages that can be read within 5 seconds have a high success rate
Customers prefer to receive instant updates through messaging rather than emails
Personalization will be the Backbone of Effective Messaging Campaigns
To run successful campaigns, your messages have to be personalized. More and more companies are adopting multichannel messaging, so finding ways to not get lost in the noise or annoy customers will be key. For this reason, most brands are drifting away from traditional sales and bulk marketing messages and are focusing on personalization. Your audience will appreciate the extra time and effort you've put into personalizing their communication and you'll create loyal and engaged customers.
We're Here to Help
We know it can feel overwhelming to learn and test out new communication channels. We've helped thousands of companies get started on their multichannel messaging efforts and we'd be happy to help you take the next steps.
Reach out and we'd be happy to give you a personal tour and share examples from our clients!