A recent survey of small- and medium-sized enterprises (SMEs) revealed an interesting statistic – more than 43% of SMEs are looking to improve their revenue growth by focusing primarily on customer experience and retention.
Keeping this goal of an improved customer experience in mind, SMEs can employ texting as an easy-to-implement way to enhance customer retention and brand recall – throughout the customer lifecycle. Texting is effective because it is ubiquitous, affordable and sure to drive results.
To see this in action, let's see how Ian's Investment Advisory Service (IIAS), an imaginary financial planning service, can leverage texting to improve customer relationships.
IIAS has a great lead generation engine which generates multiple online enquiries everyday, but Ian, the chief financial planner and owner of IIAS, is unable to respond to most of them. His telesales representatives try to qualify each lead with phone calls but are consistently unable to make a connection. They also email these leads, but most of these emails go unopened and unanswered.
This is because his telesales representatives try to qualify each lead by attempting to call them. They also email these leads, but most of these emails go unopened and unanswered.
SMS & texting for lead qualification
Instead of attempting to qualify each lead with phone calls, IIAS could leverage texting capabilities within Zoho CRM to send messages to both leads and customers. To begin the engagement, IIAS can use a template to send qualifying questions to leads. Based on the responses he receives, Ian can segment these leads further and schedule campaigns based on their unique requirements. He also has an option to automate this process, so that a text is sent out as soon as a salesperson enters a new lead in Zoho CRM.
Hi! Please text 1 to set your financial goals, 2 to rate your risk appetite or 3 to make an appointment with Ian's Investment Advisory Services. Thanks – Ian at IIAS
Once Ian gets a reply from a lead, he can better gauge the lead quality. Texting can help IIAS move more prospects along the sales funnel. He can also set up a text marketing drip campaign for lead nurturing, sending helpful information at predetermined intervals. The content should be information and tips to help prospects better understand financial planning. Such texts can go out every two weeks and serve as excellent reminders to enhance top-of-the-mind recall.
Texting for relationship building
As an extension of the lead nurturing approach above, IIAS can also text financial news to leads and customers, keeping them engaged. Because many potential clients are intimidated by financial planning, Ian can divide his content marketing into bite-sized messages for easy digestion. He also can offer a free text message subscription that explains financial concepts to prospective clients. These services may serve as hooks – helping IIAS to generate more opportunities.
Texting for transaction alerts & event reminders
Sending transaction confirmations to customers can reassure them that their money has reached the intended destination and is being invested the way they want. These messages can serve as a confidence building tools among IIAS's customers.
Additionally, IIAS can proactively text clients their portfolio performance, check with the ones who haven't been active for a while and remind some of them to check their email, in case they have not responded to an important piece of communication.
IIAS can also organize seminars and workshops to catch up with leads and customers face to face. By texting reminders to potential attendees a day before the event can help IIAS improve attendance. And texting makes it easy for satisfied clients to refer their friends, which helps Ian grow his business.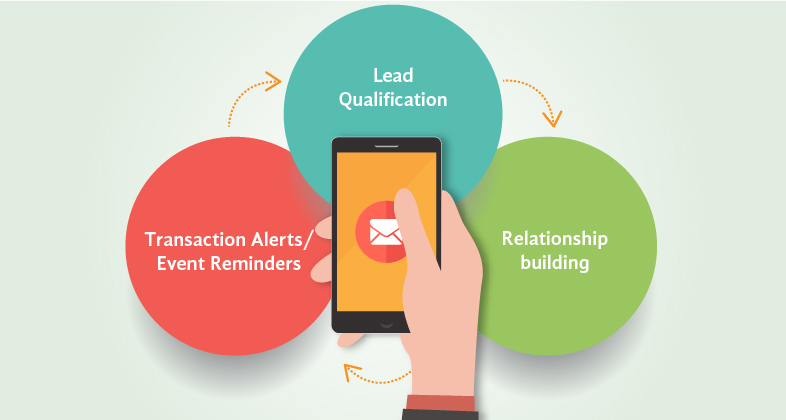 Key takeaways
SMS messages enable businesses to retain a personal touch, which is crucial for small- and medium-sized enterprises. Texting leads and customers via your CRM can ensure you improve their customer experience and retain them for a long time. It is an affordable way to generate new leads and referrals as well as to build strong relationships with customers, which helps businesses meet their revenue goals.
Get started with texting on Zoho here.