Once a buyer opts into your SMS text messaging program, you know that you have their attention. This is your opportunity to use the best real estate text messages to build a meaningful, trusting relationship with your leads by guiding them through the home buying process.
You know that home buyers, particularly first-time buyers, can come at you with a lot of questions. As you move through the buying process from inquiry to show to sale, they come at an increasingly furious pace and with escalating urgency. Using conversational text messaging can help you keep up with it all, serve more clients, and build better relationships with all of them.
Here are some examples of how real estate agents use text messaging to guide home buyers through the purchase process.
Use the Best Real Estate Text Messages to Respond to Initial Inquiries
Simply responding to basic inquiries about your property listings can monopolize your time. Fortunately, you can easily automate your most popular buyer questions and reduce the time it takes to respond to them. Your replies will be faster and your buyers are sure to appreciate it. Here's how you get the conversation started with a basic inquiry.
To get a virtual tour and open house dates, text 220MainSt to 55512
When the buyer sends the text, the SMS platform triggers an automated response based on the keyword "220MainSt"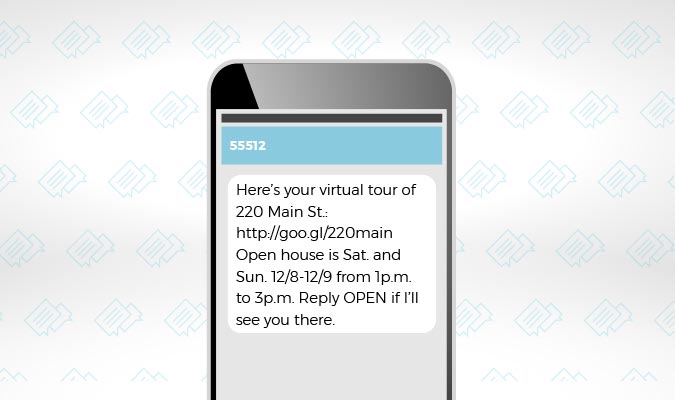 When the buyer replies, your pre-set workflows can also confirm and send them additional details about the house like amenities, special features, information about schools and more to pique their interest. For example: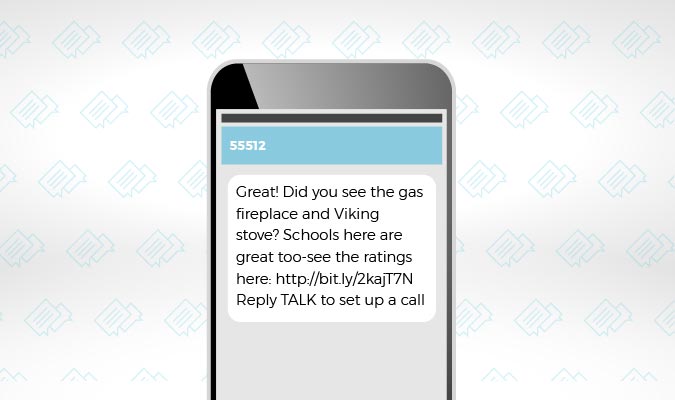 The top reason why buyers choose and give referrals to agents is response time, according to a recent CAR survey[1]. The more responsive you are, the more likely it is that you'll get the sale, and the more likely it is that you'll be recommended to others.
Answering your buyer's questions quickly with the best real estate text messages not only helps you build a trusting relationship, it allows you to build detailed profiles of all your clients.
Build Your Buyer's Profile
The more you know about your buyer, the faster you can help them find the right home. You can gather all the information you need with texts simply by asking the buyer a series of questions. The answers are then added to your database, allowing you to automatically send your buyers listings, updates, and information that will help speed the time to closing.
You can start building the profile as soon as a buyer asks for information about a property.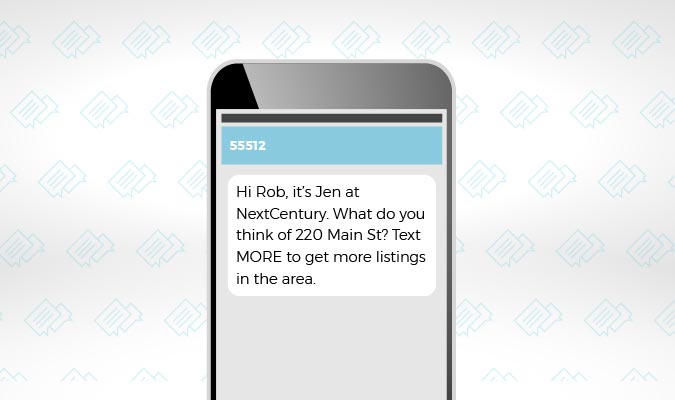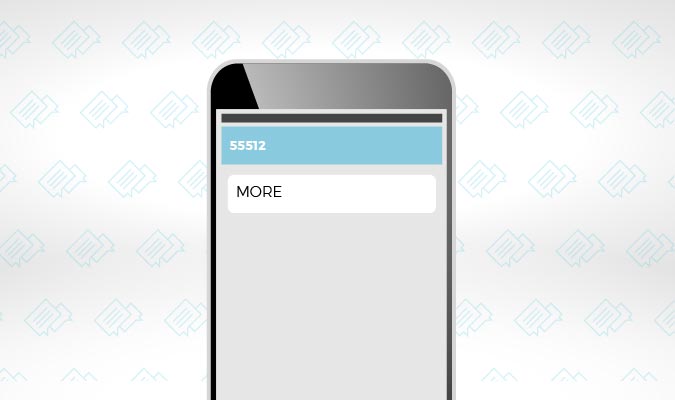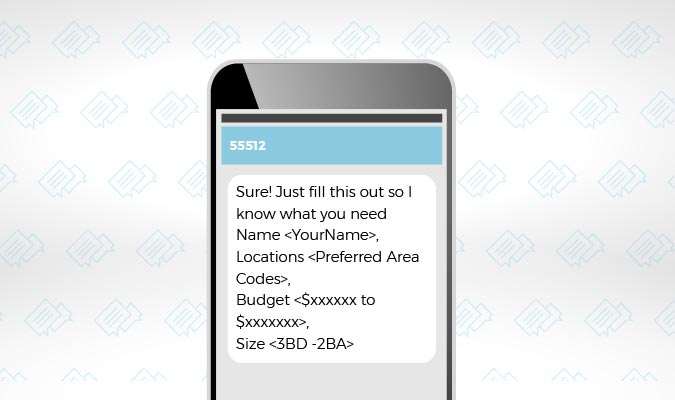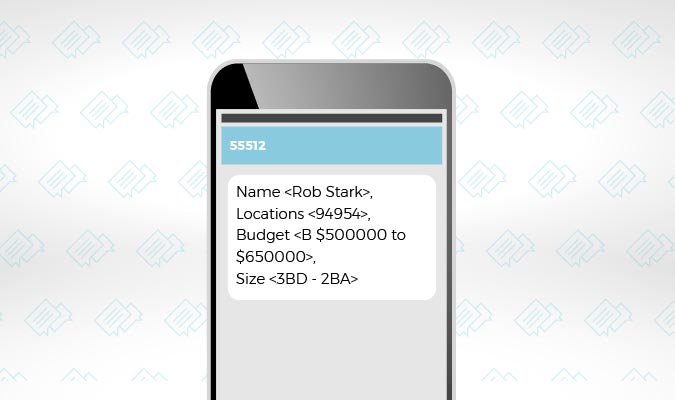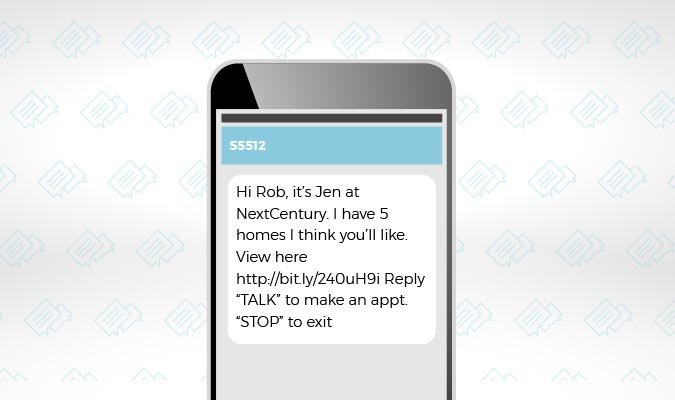 Schedule Showings and Meetings
Your appointments take up a big chunk of your day. To make the most of your valuable time, you can schedule and confirm appointments by text, automatically send reminders, and make rescheduling easy for both you and your clients. Allowing buyers to schedule and reschedule by text will help keep you on top of everything and reduce the no-shows that can waste so much of your time.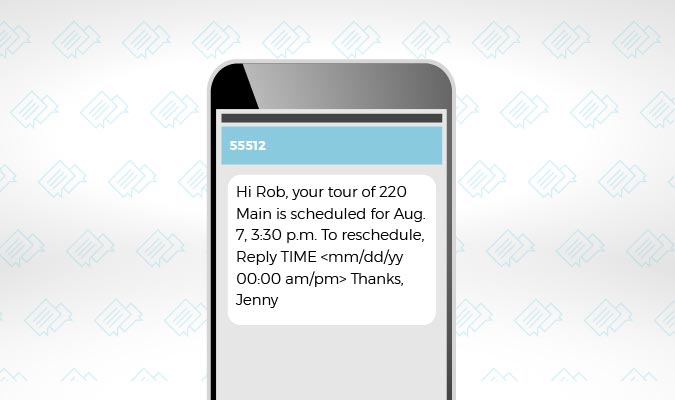 An hour before your appointment, you can send a reminder and give an opportunity to reschedule: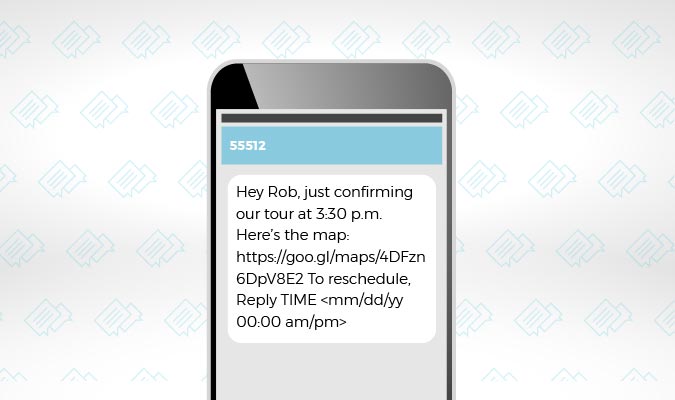 Send Property Alerts and Updates
You can get ahead of many questions just by sending automated alerts and updates to buyers about properties they are interested in. A few examples of this include:
Price changes
Offer submission deadlines
Status changes (in-contract, pending, sold)
New similar properties on the market
Interest rate changes
Guiding your buyers through the buying process with the best real estate text messages lets you be there for them every step of the way while saving you time. It helps you talk to buyers on their terms and keep them engaged until the day the keys are in their hands (and the commission check is in yours!)
In the next post, we'll cover conversational text messaging best practices for real estate agents to maximize the impact of your messaging.
[1] Home Buyer Survey
https://www.car.org/marketdata/surveys/buyer/