We all know that converting a sale is hard in today's noisy market. SMS-Magic's conversational SMS messages help you rise above that noise to ensure that your sales team is the first to respond and that you continue to respond in a relevant and high-value fashion. Those are just two reasons you can close 40% more sales by using text messaging.
Here are some examples of how conversational text messaging will help you convert more sales.
Respond immediately to a new prospect via SMS messages.
SMS-Magic will trigger a message or alert the minute your prospect takes action to engage with your business. The system will immediately prompt your sales reps to respond with a 1:1 message, while sharing any and all previous conversations so that your rep knows what is relevant to that specific lead.
Once Sally is alerted, she can quickly respond to begin a 1:1 conversation.
SMS-Magic can also begin that conversation for Sally, should you choose that approach. Here's how.
Automate a fast first response.
SMS-Magic will automatically send an immediate SMS message to that new prospect, introducing your sales agent and offering any relevant information that relates to the prospect's specific request.
Get relevant quickly.
If you have a previous conversation history within SMS-Magic, you can explore more deeply what's relevant to your prospect by asking them a question or sending them a survey.
If you haven't conversed with them before, you can ask your prospect what they're most interested in as part of your first text messaging conversation. You can even make it simple for them by offering a few keywords to text to tell you what's most relevant to them.
Immediately respond with relevance.
When your prospect responds, SMS-Magic automated workflows will send relevant information, based on their keyword. You can begin to educate and nurture them as a prospect quickly. Or a sales agent can respond personally to their specific area of interest.
When the prospect clicks on the video link, a second message is automatically triggered.
When a prospect replies with a keyword or question, their rep is immediately alerted by SMS-Magic to seamlessly begin a 1:1 conversation.
Never lose track of the conversation.
SMS-Magic stores every conversational message within your CRM. Any user with permission to access a CRM record can review every interaction with your prospect, whether it's from marketing, another sales team member or anyone else in the organization, as well as the prospect's responses.
You can also use conversational histories to share prospects' backgrounds with your sales team members. Everyone involved with a prospect or account stays up-to-date with the latest prospect or client conversations. You'll always know the history of every single prospect.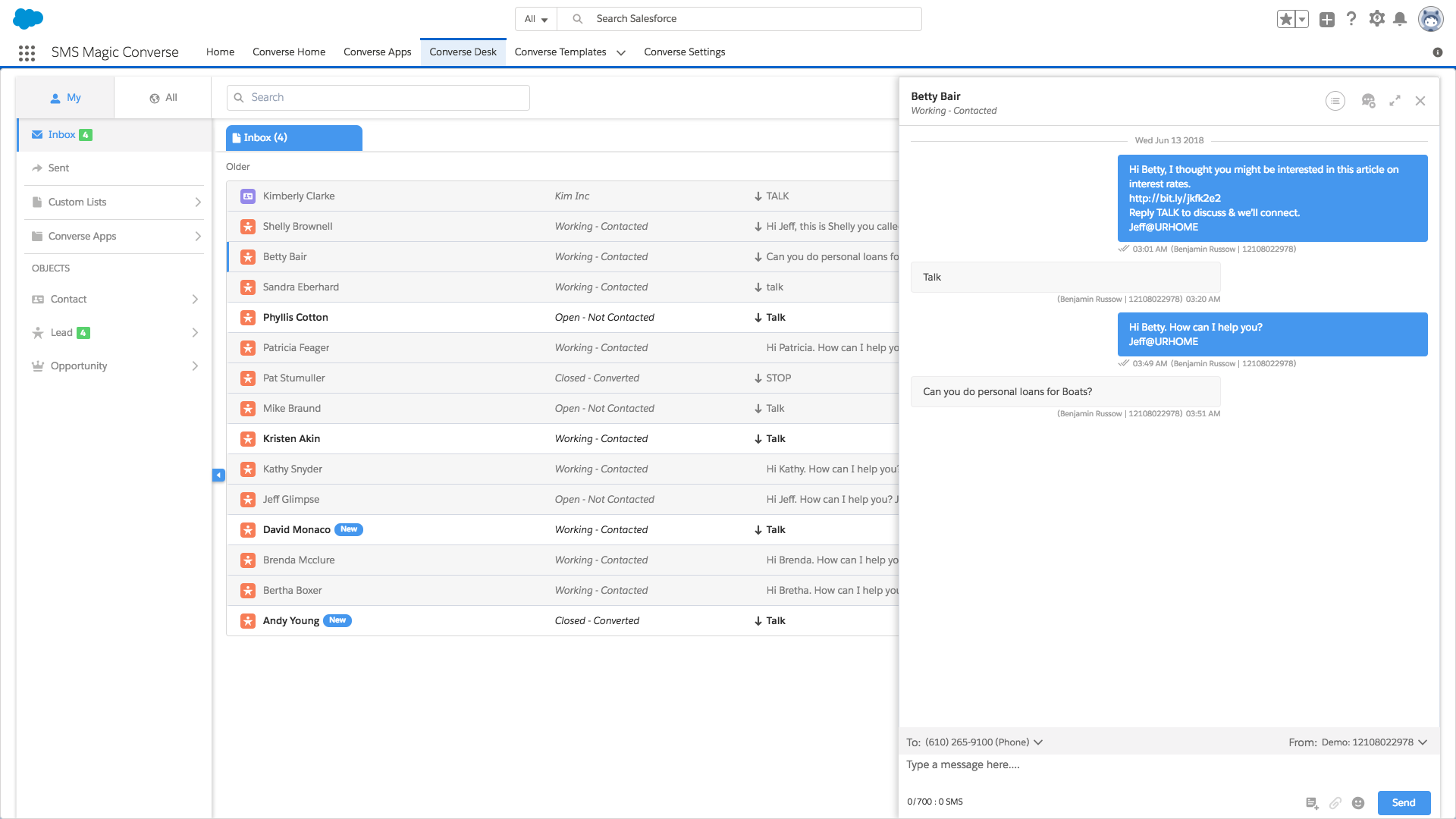 The Bottom Line
SMS-Magic conversational SMS messages will empower your sales teams to convert more sales. You'll also create powerful buyer relationships that keep your customers coming back for more. Specifically:
You'll be the first to respond to prospects' needs.
You'll respond with relevance, vs competitors who respond with generic information.
You'll be able to quickly shift to a 1:1 conversation with sales reps when the time is right.
You'll serve prospects better thanks to the deep history of conversations provided to every member of the team.
You'll close more business, more consistently, and faster than ever before.