Customer experience is a rising priority at most companies—whether B2C or B2B. Customers have growing expectations that once they reach out, companies will respond quickly. Business professionals expect even faster response than do consumers. One way to deliver on this expectation is to allow inbound prospects and customers to opt-in to receive SMS messages in response to their inquiries.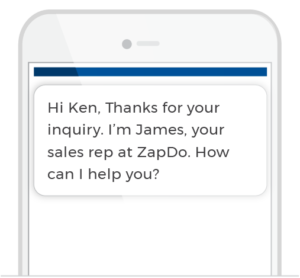 Salesperson:
Once they select messaging as their preference when completing your website contact form, a messaging automation platform triggers an automated response introducing your salesperson and requesting more information to get the conversation started.
Your prospect can then reply with the information that will help James to respond in the context of the customer's needs. The prospect's reply message is routed to James, automatically alerting him to the sales conversation so that he can respond personally.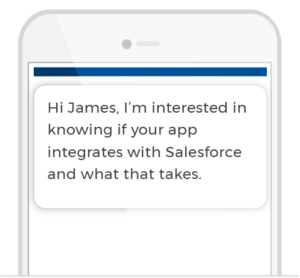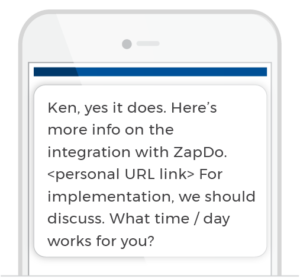 Prospect:
Salesperson: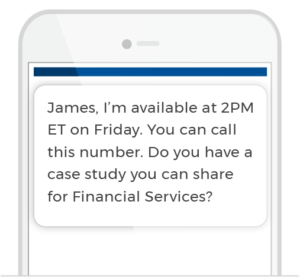 Prospect:
And the conversation moves on, putting your salesperson immediately in touch with your buyer and providing your buyer with the information he needs to move forward, given where he is in his consideration process. James sends Ken a confirmation for the call scheduled on Friday and a link to the appropriate case study. As you can see, messaging increases sales responsiveness. The above conversation could take place in as little as 10 to 15 minutes where that initial email might have sat languishing for days, buried in Ken's inbox.
Taking the Risk Out of SMS Messages for Business
Texting is considered a personal communication channel. The last thing anyone wants is to be spammed by SMS messages. By putting your prospects and customers in control and letting them opt-in for messaging communications, you remove the awkwardness or intrusion of an unexpected communication by responding as they've requested. This is not only a regulation, but it's respectful.
Even better, your messaging automation platform will archive every message sent and received providing a conversational history that can be referred to over time to ensure continued relevance in the messages that get sent.
While the text messages are more informal—given the channel—they maintain the air of professionalism that should be present in a business conversation. Once James has had the call with Ken on Friday, he can continue to message him with relevant follow-up information based on what he learns during that conversation.
Speeding Up the Buying Process is Appreciated
A majority of buyers wish they could get through their decision making processes faster. The complexity of products, more people involved, and more concern about risk is adding unwanted time or even increasing "no decision" outcomes as buyers choose to keep the status quo they know.
Texting is immediate and when targeted to a buyer's needs, it's an extremely competent means of jumpstarting a conversation and exchanging information quickly. Whether your prospect is on the road or in the office, he will see and respond to your message much faster than if your communication landed in his overloaded email inbox.
By incorporating SMS messages as an available channel for inbound prospect and customer inquiries, salespeople can get into more conversations and move prospects along faster—on their terms and by meeting their expectations.