Can a relationship last if it's one way? Relationships deepen when both people get to know each other better and it takes an ongoing conversation to create the levels of engagement needed to convert prospects into customers. Especially, in the case of your nurturing program. If a lead is not opening an email, it's time to think of something else. SMS messages enhance nurturing because it's more personal and has a greater chance of engaging your audience. While adding another channel to a marketing mix can be more challenging, the payoff is higher. Texting can also integrate with your CRM and marketing automation solution, reducing your workload.
Here are four common mistakes marketers make while nurturing leads.
Marketers quit too soon
A relationship needs to be ongoing, but some marketers give up early. You need to shift from a campaign mentality to a customer journey approach.
Send the same content
Marketers often blast their audience with the same content over and over. Track your communication and tweak it if it's not getting results. Besides turning off prospects, you risk being classified as spam.
A retail company that saw low open rates for emails, decided to use newsjacking in the next communication to those prospects via a text. It used the line 'Winter is coming' from Game of Thrones, as the new season of this TV show was on air. The line was a good fit for advertising the company's winter wear collection. It saw much higher levels of engagement for that campaign.
Use only one channel
Besides trying different content, you should also try various communication channels. That will help you identify the channel your prospect prefers and means they'll be more likely to engage. Once you've done that, remember to sync all your communications with the prospect on one platform. This will help you customize your conversation with your buyer. This will increase chances of them continuing to respond to you. Using multiple channels increases your response rate by 37% [1] according to a study.
Send the same content to all
Same content, same channel, to all prospects completes the Unholy Trinity of Marketer Mistakes. A prospect is more likely to respond if you send relevant communication that matches their expectations for each channel. Otherwise, they'll tune you out, as many spouses do!
Marketing automation can help you apply segmentation and personalize information for different members of your audience. Seventy-three percent of consumers surveyed in an Accenture study said that they would rather buy from retailers who used personal information [2] to make their shopping experience more relevant.
What marketers should do with SMS Messages
Now that we've seen what marketers are doing wrong, let's talk about how they can leverage the data and tools that are available to them, to increase engagement.
Segment and personalize
Segmentation can help you deliver relevant communication to your audience. Targeted messages can increase engagement significantly, compared to a single communication blast. You can segment leads by source, function, level of product interest, activity, for instance.
Use your CRM to know your customer and use that knowledge in your communication. Just a few tweaks to a content piece can personalize it by industry or lead source, getting you better results.
A software company used progressive profiling to get prospects to fill in their company name, website URL and mobile number to access a resource. It then texted them, offering a limited period free analysis of their website, naming the prospect, company and URL. Many more prospects took them up on this offer, compared to the ones who got an email, perhaps because some missed seeing it in their inbox, as we all get hundreds of mails everyday.
Different channels require different strokes
You need to use the advantages of email and text messaging each to get the best out of both. A real estate firm added a keyword based SMS text messaging CTA asking for the preferred location where the prospect wanted to buy a property, in their first email to them. Prospects who texted back were naturally hot leads.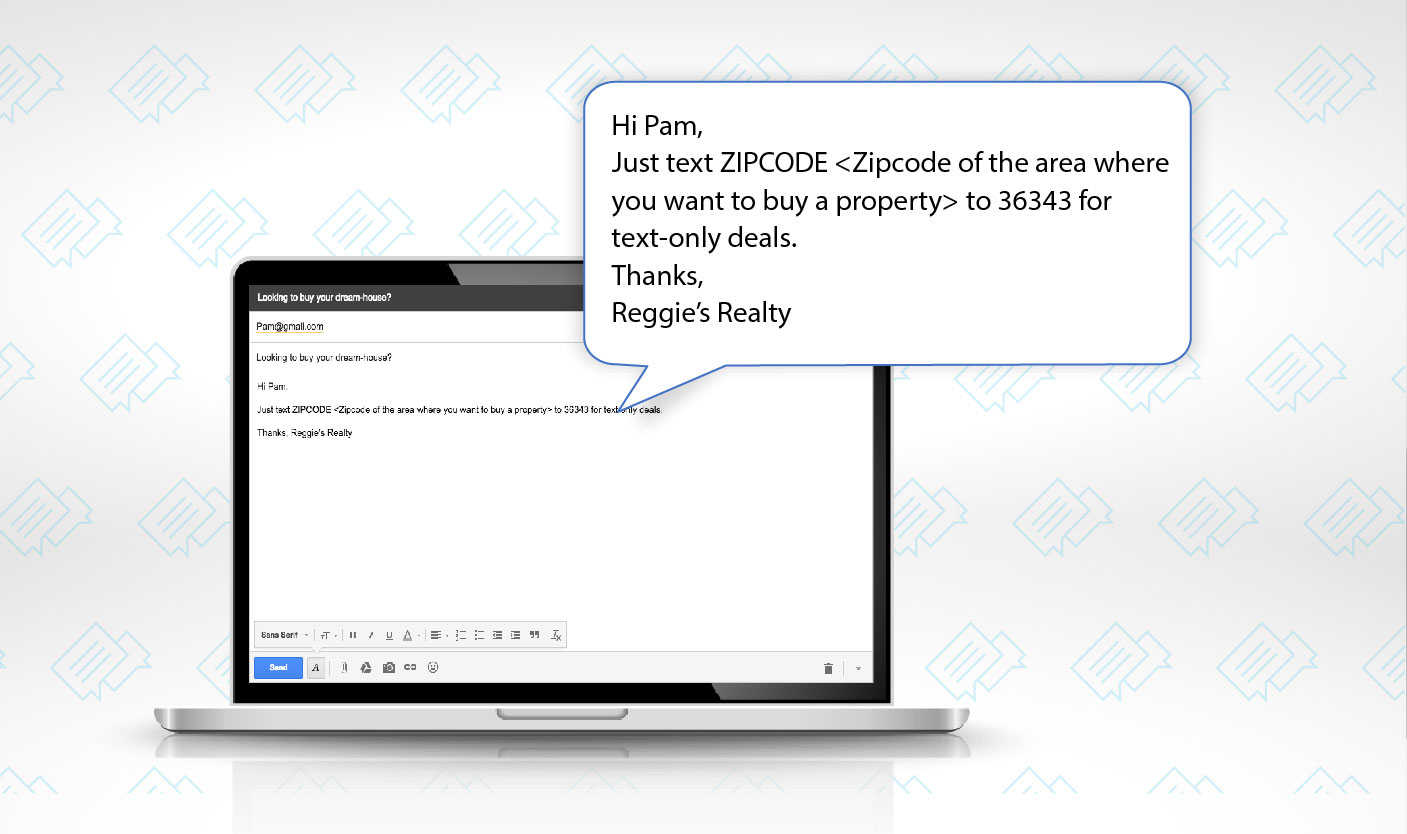 For prospects who don't open that email, it sent a follow up text after a week. It gave a snippet of a report on property prices over the last decade as a teaser, so that their prospects were curious to know more.
Meanwhile, it sent an MMS of a property to hot leads, based on their first response. It ran a promotion in a follow up text, to propel their prospects to respond immediately.
Use marketing automation throughout the customer life cycle
Anticipate your prospects' next move. Create different nurture tracks based on the segments you identified. If your prospects' behavior shows that they are interested in a product related to the one they first looked at, you can send them to the nurture stream for that product.
Your nurture should be flexible, so that as your prospects shift focus, your content is still relevant to them. SMS messages can help you do this more easily then email, through keywords. If a prospect selects an option from a choice of keywords in a text, you can send the next text based on that keyword.
A college admissions team asked students what they planned to major in, and crafted its nurture streams accordingly. Many prospects said they were interested in a subject but browsed another subject on the college website, leading the college to send them a link to material related to the other subject in their next text.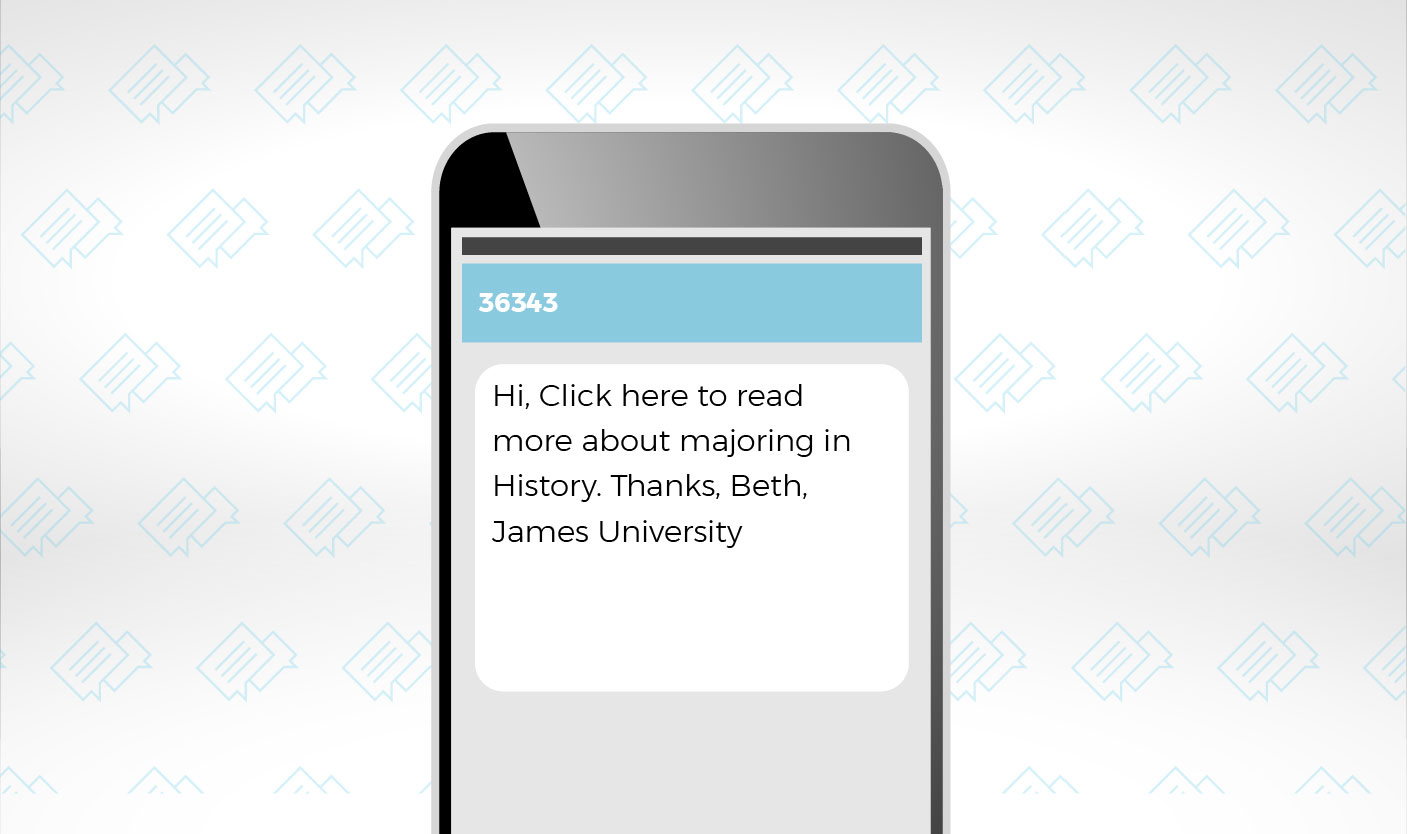 Think long term when it comes to a relationship. You need to get a conversation going with your prospects, whatever be the medium. Rather than putting all your eggs in the email basket, diversifying with communication channels like SMS messages enhances nurturing programs. This way, you'll amplify engagement and momentum towards conversion.
Want to include texting in your lead nurturing?
Text DEMO, Name, CompanyEmailID to
36343 (USA),
61427142795 (AUS),
00447860017097 (UK & Other Countries).
[1] The Numbers Are in: Multi-channel Campaigns Are 37% More Effective
https://www.optimove.com/blog/multi-channel-campaigns-are-37-more-effective
[2] Why consumers are increasingly willing to trade data for personalization
https://www.digitaltrends.com/social-media/why-consumers-are-increasingly-willing-to-trade-data-for-personalization/#ixzz2g8dgrqko