Here are the prerequisites to trigger any SMS:
Make sure your admin has configured objects on which you want to trigger SMS.
Make sure you have required permission sets and custom settings.
Mandatory inputs to trigger any SMS are the recipient's phone number, your sender ID, and text message ( text/media/templates).
You can trigger SMS from the following sources: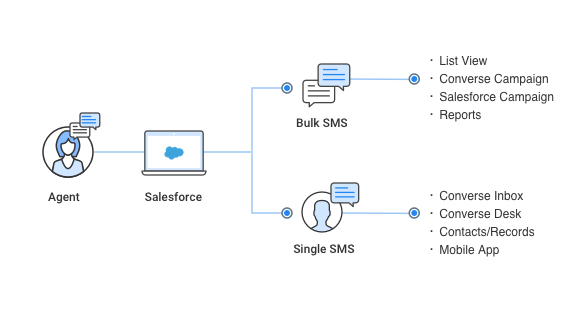 Messaging
Methods
Single SMS

Converse Desk for Sales, Service consoles and Omnichannel.
Record Detail Page Layout (Send SMS Button & Conversation View).
Converse Desk/Inbox for Salesforce1 Mobile App.
Converse Inbox in Lightning Utility Bar for lightning users and Notifications on the sidebar for classic users

Bulk SMS

List View
Converse Campaign Manager
Salesforce Campaigns
Reports
For more information about sending messages, see Send Messages in SMS-Magic Converse.