Register your SMS-Magic Converse Account
After you install SMS-Magic Converse, register the application. It will set up the SMS magic account for your organization users or user groups. Select the right subscription plan as per your requirements. Then configure the remote site settings for the user's Salesforce organization. For more information about registering and selecting the right subscription plan for your SMS-Magic Converse account, see Register your SMS-Magic Converse Account.
You get a free 7-day trial and you have the option to purchase the best plan suited to your business needs.
Trial Steps
First, install the SMS-Magic Converse package on Salesforce and then set up the app in Converse Settings. You will have to register with SMS-Magic before opting for the trial. Post-registration step, you get "Start your Conversation" and "Grow your conversation" plans trial for seven days each. You can switch your trial in between the trial period which starts from the day you register with SMS-Magic.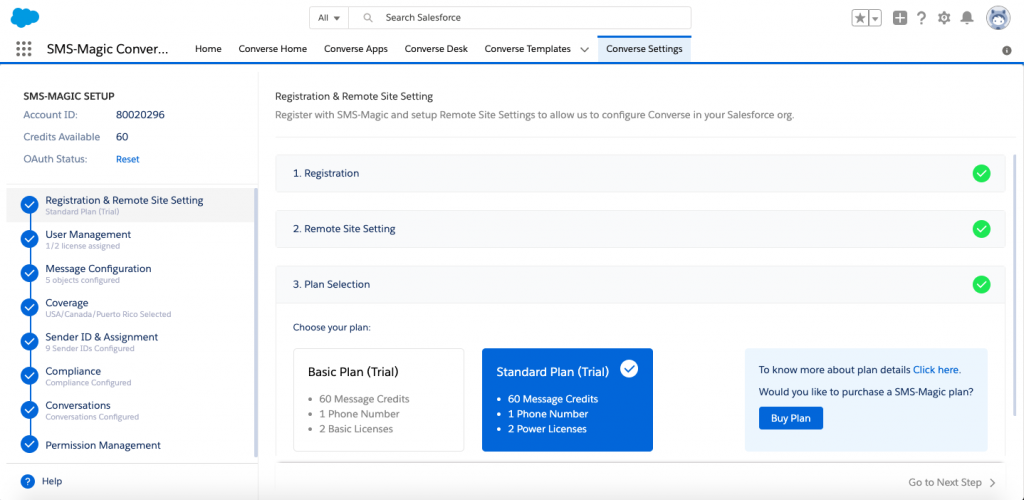 You can manage your plans in Converse Settings. Available plans are Start your Conversations, Grow your Conversations, and Custom Plan.
| | |
| --- | --- |
| Business Requirements | Plan |
| Seema (Marketing) wants to run lead nurture, profiling, and keyword-based automation | Start your Conversations |
| Thomas (Service) wanted SMS software to manage the volume of customer issues | Grow your Conversations |
| Morgan wants to buy additional 500 licenses and needed discount with additional dashboards | Custom Plan (We also provide light licenses such as Converse Desk, Automation, View Only, and more on top of your Start or Grow plans. Please contact your SMS-Magic account manager to know more about custom plans.) |