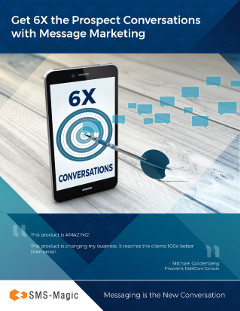 We all know getting prospects to engage with you is harder than ever before. In the digital age, your prospects no longer need to talk to you to get the information they need to make their buying decisions. This means you have to do something to stand out and attract their interest, compelling them to engage with you.
Companies who use conversational text messaging as part of their marketing outreach attract six times the prospect conversations versus any other communications channel.
You'll increase the number and value of prospect conversations.
You'll enhance marketing ROI.
You'll accelerate the overall prospect to customer conversion cycle.
You'll drive value for your organization.
In this whitepaper, you'll learn how to use messaging for your product and technology marketing outreach to get more conversations with your buyers.