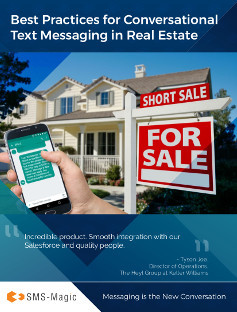 The way people communicate in their personal lives is changing. This is particularly true for millennials and Gen Xers, who by and large keep in touch by texting. They also make up the majority of today's home buyers.
Conversational text messaging will also make your job easier and help you sell more effectively. SMS messaging platforms can automate a lot of your day-to-day inquiries, save you time, help you serve your clients better, and of course, help you close more deals.
In this whitepaper, we'll share how you can make conversational text messaging work for your real estate business by:
Getting buyers to buy in to text messaging.
Guiding clients through the home buying process with messaging.
Writing effective text message conversations.
Automating the tedious documentation process so that you can focus on your buyers.
Real estate agencies that use proven best practices in conversational text messaging increase client satisfaction while becoming more efficient.
This whitepaper shares best practices for real estate, developed and proven with our leading real estate clients.