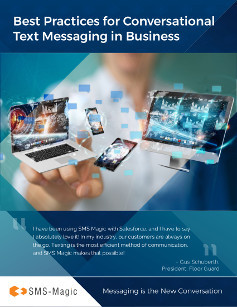 Conversational text messaging is a powerful communications channel. In fact, it's the fastest growing communication channel today. Why? Because it's a form of natural, interactive conversation that 99% of professionals use every single day.
Text messaging can be used by your business to:
Engage more customers. When you blend a natural channel with 6X the response rates, you will engage and converse with more of your prospects and customers.
Create customer loyalty. We all know that repeat customers offer more profitable revenue. Text messaging gives you more repeat customers than any other method.
Improve Marketing Results. Whether you want more qualified leads, a faster trip through your pipeline or a more effective way to automate marketing communications, text messaging is your solution.
Businesses that use proven best practices in conversational text messaging get better results, across the board.
This whitepaper shares best practices for users of text messaging, proven by our 1800+ global customers.