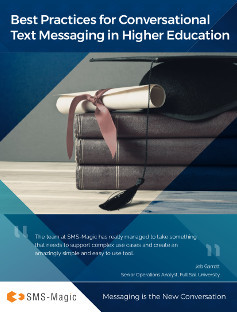 Competition for students is fierce. The last few years have seen declining enrollment rates and reduced government funding, making it even more crucial that universities and colleges become more effective at attracting and engaging new students.
Conversational text messaging gives student admissions officers and directors of alumni relations the advantage because it's a channel your students embrace and use naturally. When you consider that smartphones are used more for texting and browsing than talking, it only makes sense to incorporate conversational text messaging for your recruitment initiatives, admissions process, and fundraising drives.
Text messaging can be used in higher education to:
Recruit students – many of whom are digital natives who have been texting for years
Simplify application and enrollment by automating the admissions process
Keep students' attention and engagement on campus strong
Continue personalized conversations with alumni for more successful fundraising programs
The reality is that messaging is the new conversation, especially for your students. They live and breathe with their smart phones.
This whitepaper shares best practices for higher education, developed and proven with our global education clients.