Building message automation has been simplified in SMS-Magic Converse. The easy intuitively designed interface ensures that you manage to automate your message with a few simple clicks.
The illustration below helps to explain how SMS-Magic handles message automation.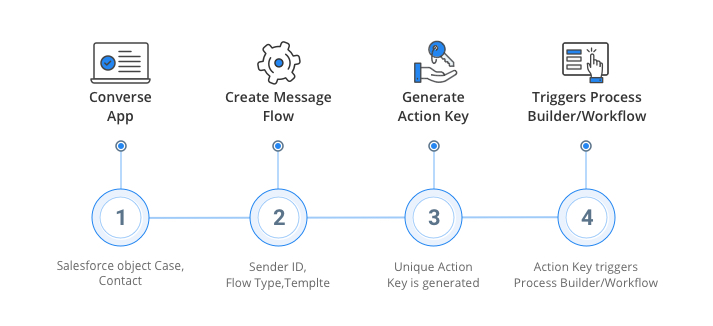 The business users define the automation template for the Salesforce automation tool using Converse Apps. This leaves the Admin free to focus on criteria for triggering messages using process builder & workflows without worrying about templates, SenderIDs, phone numbers, or compliance-related information (Opt-in/Opt-out).
The Action key, generated while creating the automation template, is assigned to the Process Builder for triggering the automation.
Messaging attributes, defined in the Automation Template created using Converse Apps, are sent to the process builder or workflow when the defined conditions are met.