The Campaign Manager is well-integrated with the SMS-Magic Converse modules and helps you create and execute campaigns efficiently.
The Campaign Manager add-on package (for both, the Classic and the Lightning view) can now be accessed via a single navigation panel on the Converse Home page.
You can access the Campaign Manager from the Salesforce Classic header tab row or directly from the global navigation view (for both, the Classic and the Lightning), as shown in the images below:


Log in to Salesforce. Click on 'Campaign Manager' inside the converse apps or on the header tab row.

Click on the 'New Campaign' button to add new campaigns: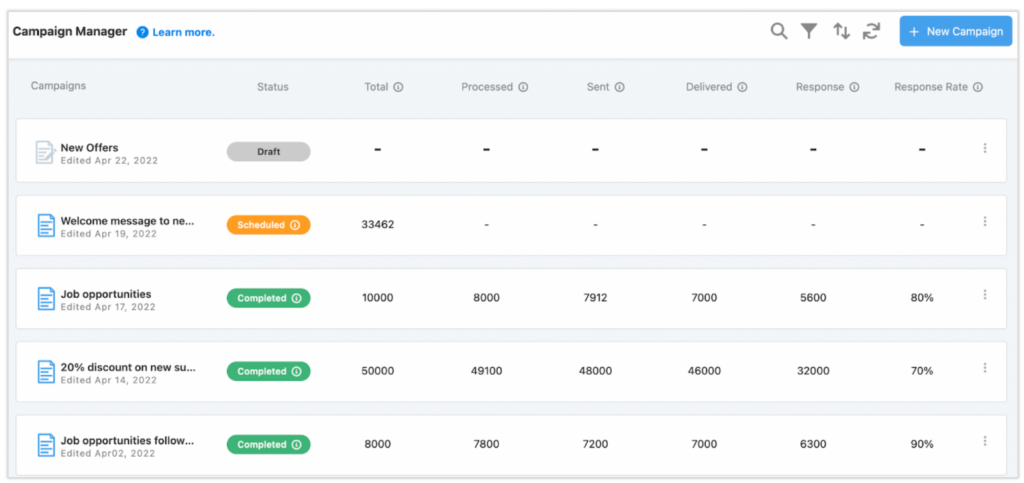 Once the campaigns are added, they will appear in a list view as shown in the image above. Here, you can see campaign details such as Status, Total, Processed, Sent, Delivered, Response, and Response Rate.

Here, users can search, filter, reorder, and refresh the campaigns. Click on the 'View Details' option on the right to view the campaign details. Click on the 'Clone' option to create a clone copy of the campaign.