To create a new Message Template, follow the below steps –
Click on Create New on the Message Templates page to create a new message template. You get 4 sections on this page –
Basic Information
Used for Channels
Compose Message
Channel Specific Info
Basic Information
In this section, enter the below details –
Enter Template Name
Enter a Label, to help you identify templates' use. You can enter a new label or select from an existing label.
Select a Template Type

Automation: These templates are used in sending Automated messages
Campaign: These templates are used in sending Bulk Campaigns
Conversation: These templates are used in one on one conversations
Used for Channels
Select the messaging channel for which the Message Template will be used. (SMS/WhatsApp)
Channel Specific Info
Enter the Channel Specific Information.

For Channel SMS, no extra information is required
For Channel WhatsApp, select the checkbox, if the template is a registered (pre-approved) WhatsApp template.

If the template is a Registered template for WhatsApp, then enter the below information-

WhatsApp Template Name – This name should match the name of the template created in your WhatsApp Business Account.
WhatsApp Template Namespace – This value should match the namespace ID found in your WhatsApp Business Account.
Locale – Select a locale value (language) in which your template is registered with WhatsApp.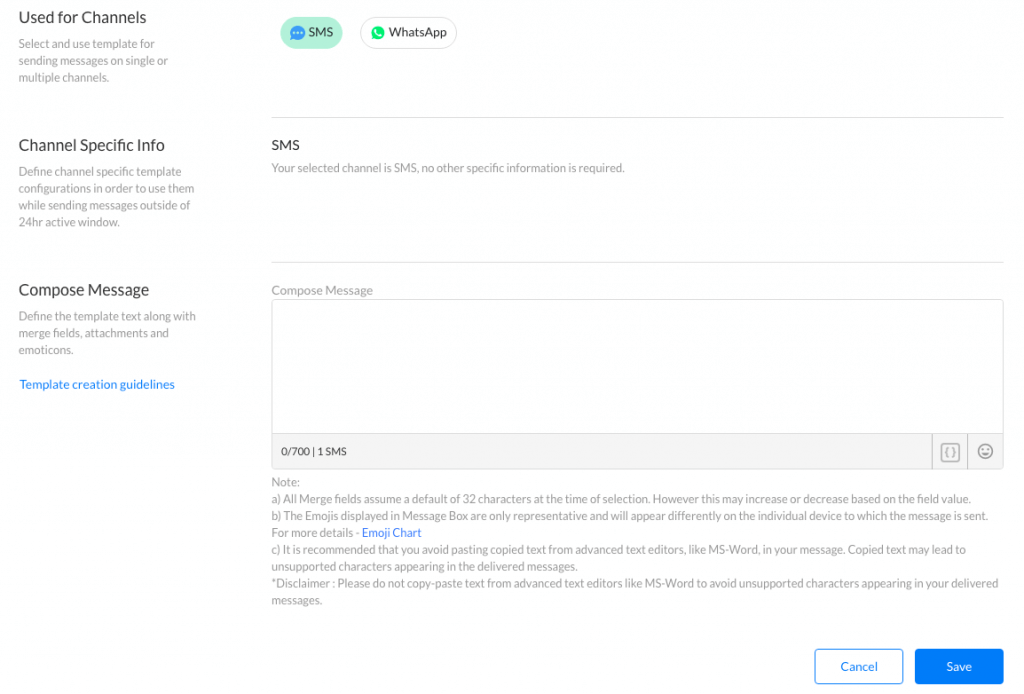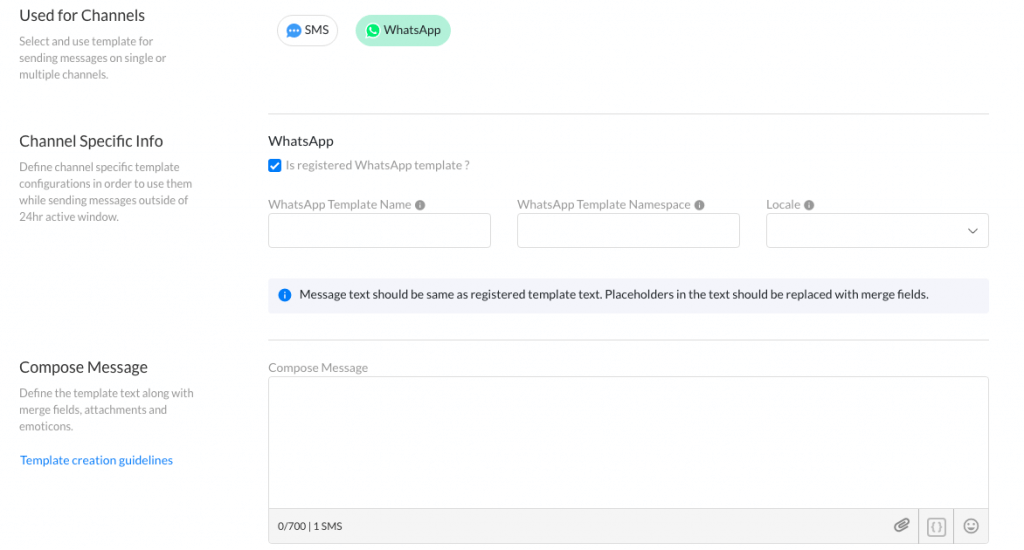 Compose Message
Compose the Template Message. You can add text, merge fields, emoticons, and media attachments.
Based on the channel selected for this template, below are the options available while composing the message –
Enter Text, Emoticons.
Select Merge Fields. The merge fields are placeholders, which get replaced by actual values, for the recipient to whom the message is sent.
Add a media file. This will convert the SMS into MMS. Based on the media formats supported by the MMS provider, you will be allowed to add a media file with a file size limit of 5MB.
For WhatsApp Channel

Non-Registered WhatsApp Template

Follow the same steps of Compose message as for SMS Template

Registered WhatsApp template

Enter text, emoticons, merge fields
If your registered template is of media type, select one of the Media types from Image, Video, Document, and Location
Enter the necessary details for the media type you select
You can add a link to the media file or Browse for the media file on your device
Supported file formats and file size is mentioned for each media type
The message text should be the same as the registered template text. Placeholders in the text should be replaced with merge fields.
Click on the 'Save' button. You can see the template added in the List of Message Templates.