Is customer churn a key performance indicator that you watch closely? Chances are you're paying attention to your existing customers and working to build relationships with them. And that's smart. Small Business Trends found that 65 percent of a company's business comes from existing customers.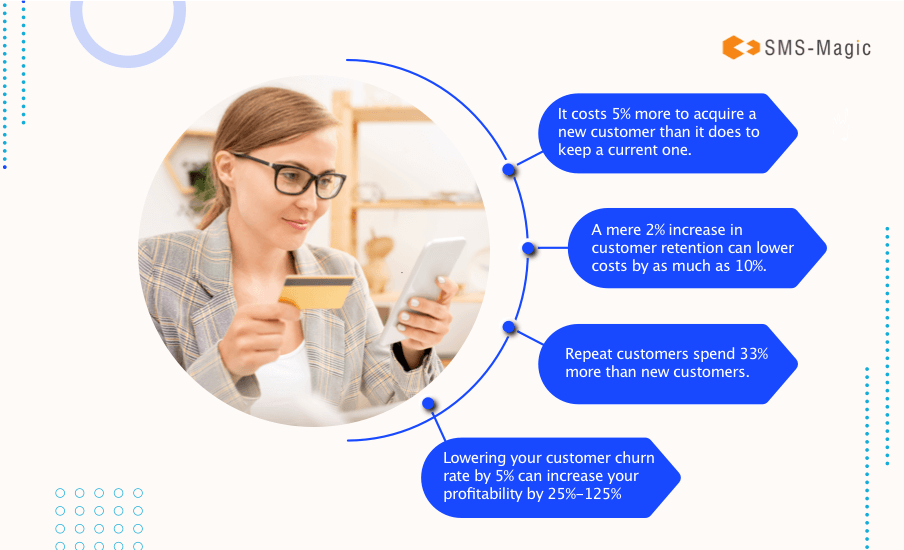 And, the research found, long-term customers spend 67 percent more in months 31 to 36 of their relationship with a business than they do in the first six months. Cultivating customers, it seems, can increase your sales over the long haul.
On the flip side, however, ignoring your existing customers can have major financial consequences. The researchers at SBT found that replacing lost customers is expensive. Their stats show:
It costs 5 percent more to acquire a new customer than it does to keep a current one.
A mere two percent increase in customer retention can lower costs by as much as 10 percent.
Repeat customers spend 33 percent more than new customers.
Lowering your customer churn rate by 5 percent can increase your profitability by 25 to 125 percent.
Realistically, however, if you're a sales pro, this probably isn't new information for you. What might be new, however, is technology that can create and strengthen relationships with your customers using conversational messaging.
Conversational messaging is a two-way communications tool using the SMS technology built into most mobile phones or apps like Messenger and WhatsApp. You can send messages to your customers and they can respond, creating a personalized conversation connecting them to your business. It can be the basis of marketing campaigns, sales initiatives, or customer service responses. You can "speak" to thousands of customers at a time and keep track of the conversations.
Why Use Conversational Messaging?
Because it works.
Succeeding in today's economy means that your business must interact with your customers in personal, memorable ways. To do that, you need to be able to reach your customers consistently.
Fortunately, mobile phones give you perfect access to your loyal customers, and messaging gives you access to those phones. By using messaging, you can reach your customers wherever they are. With thoughtful planning, you can provide interactions that are both helpful and just in time.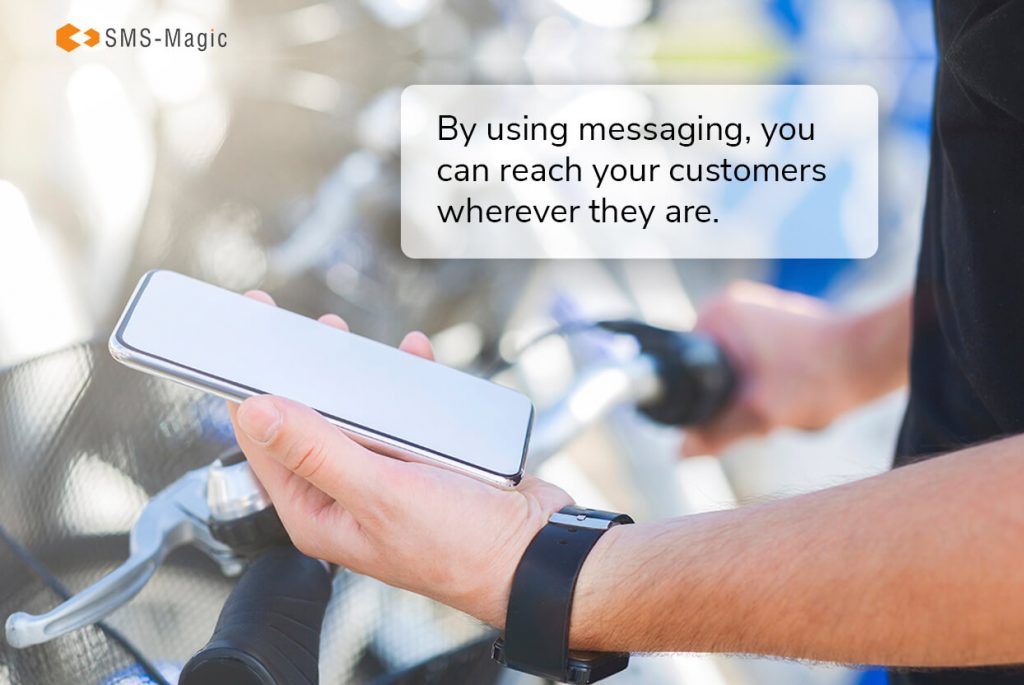 Relying on phone calls and emails means that you might get a response from your customers, but it's more likely that you won't. As a group, we only open emails 22 percent of the time, according to Gigaom. On the other hand, we send more than five billion texts a day globally – not counting other types of messages – and we open 98 percent of them. Research from Asurion shows that we look at our phones 96 times a day or once every 10 minutes.
What to Look for in Your Messaging Software
You have a variety of choices when you start to choose the messaging software that's right for your company. You'll want to choose messaging software that:
Can easily handle traffic from all the available messaging sources. Messaging software isn't exactly new, but its use in the United States is just now coming into its own. We know that people use the native capabilities of their smart phones, as well as apps like Messenger and WhatsApp.
Integrates with your CRM platform or works well without any CRM. A seamless integration with your CRM is ideal for those with a CRM. Products like SMS-Magic Direct, however, are designed to work without a CRM.
Helps you stay compliant with all the U.S. and international regulations like TCPA, GDPR, and "opt-in" requirements, as well as other restrictions for promo and marketing texts.
Doesn't need a team of programmers to launch, but allows customization if you do have a team of programmers.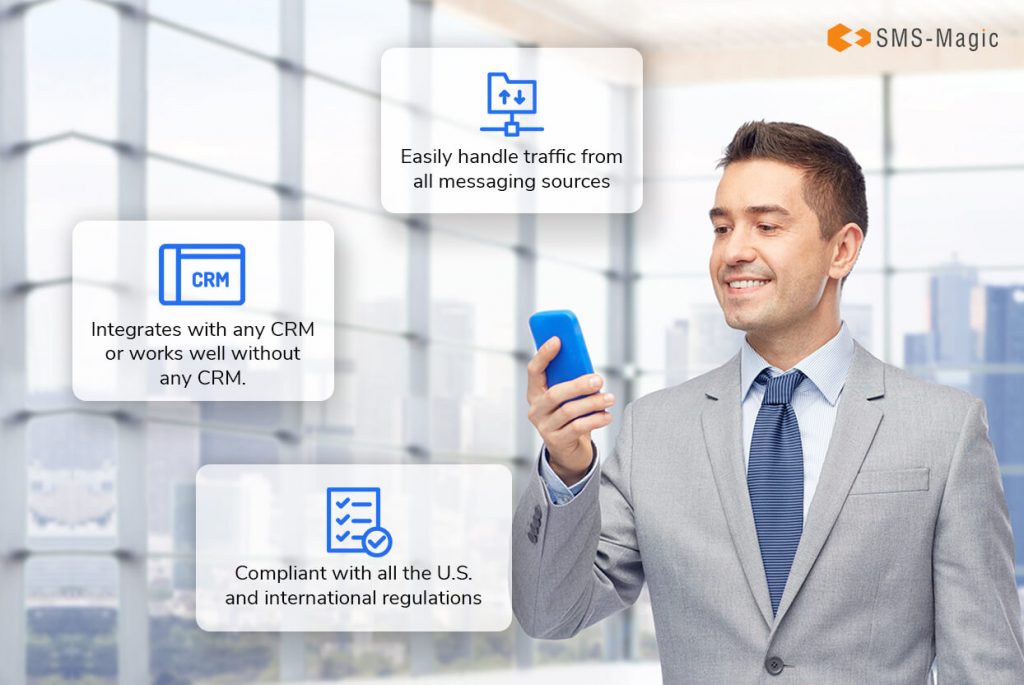 How Can You Get Started?
If your customer engagement is currently based on emails, phone calls, or direct mail, we suggest you try messaging as a new channel because it will work well with the channels you're already using. SMS-Magic offers a free trial so that you can get a feel for our product. If you're as pleased as we think you will be, you can choose the level of service that's best for your company.
If you use a CRM – a customer relation management system, we can integrate SMS-Magic into your system. We work seamlessly with Salesforce and Zoho, and we have the capability to work with most systems. If you don't use a CRM, no worries! You can deploy our stand-alone product that doesn't require a CRM. Our installation is quick, easy, and supported by our experienced technical staff members.
Let's Go!
Does SMS-Magic sound like the answer you've been looking for? We hope so!
Contact us to set up a demo or to start your free trial. Let us show you how we can help you engage your customers in a new way!