SMS messages make it simple for you to reach out to your clients and patients with personalized promotional offers for products, discounted services and more.
Even better, your clients and patients are more likely to read text messages than any other form of promotion, by a factor of 6 or more.
That means you can offer personalized promotions, conveniently delivered to their smart phone. Which makes your clients feel appreciated and special.
A number of our SMS-Magic messaging customers use conversational messaging to send updates and wellness promotions to their clients.
Here are some examples.
Reach More Patients with Wellness Promotions
Whether you're a franchised drug store or a small family-owned health market, you can powerfully promote your wellness products and services using text messaging.
Promote new wellness products. Let's say you have a new line of dermatology products designed just for women over 50. Here's how you can use conversational text messaging to promote them.
Please note: In the conversations below, green represents an automated conversation, yellow represents a 1:1 conversation.
First, segment your client list to include women over the age of 50. Store this list in your CRM.
Next, create the conversational messages you want to send to these women. You can send a straightforward SMS text or include an image and/or video in an MMS message.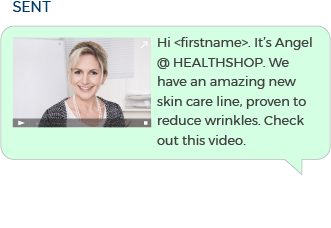 You can send as many messages in the automated flow as you want. At any point that your client replies with a keyword or specific request to your messages, SMS-Magic will alert your sales team for a rapid response.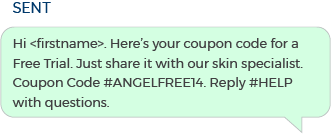 Promote New Wellness Services
Getting your clients' attention to announce new services isn't always easy. Sure, you can put up signs in your office. And your emails don't get much of a response. That's where messaging comes in. Messages get 6X the responses of emails, so your clients will get your announcements.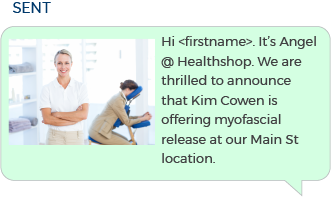 Just as with product promotions, automating new service announcements is easy. You follow the same steps. All you have to do is change the message content. If we take the message flow above, and tune it for a new services offering, here's how it looks.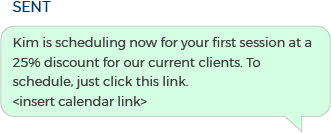 When someone clicks the link to schedule, Kim's schedule is updated, and the following series of scheduling and reminder messages is automatically sent to the client.

Promoting your healthcare related products and services has never been easier, or more effective at driving more revenue for your business.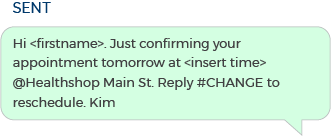 Use SMS Messages to Prompt Automatic Re-orders
You can send automated reminders to your clients for reorders or for annual scheduled events. For example, a compounding pharmacy sends refill reminders to their clients who order 3 month supplies of their pharmaceutical compounds.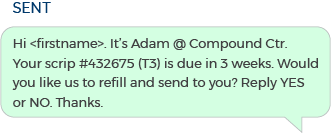 Reminders via SMS messages make it easier for your clients to remember to re-order important healthcare products. You remind them, and that makes them come back to you for more services.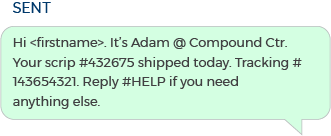 The Bottom Line
Promoting wellness products and services with SMS messages from SMS-Magic makes your clients feel appreciated and special. It also makes it easier for you to create a stronger relationship with each and every client, thanks to a personalized conversation promoting offers just for them.