Text marketing is a fast and cost-efficient way of reaching your customers, especially thanks to its 95%+ read rate. That said, in the US you need to understand the TCPA messages guidelines for compliance before you take advantage of SMS messaging campaigns.
Who regulates text messages in the US?
The Federal Communications Commission (FCC) is the apex body in the US for regulating communications by satellite, wire, radio, television, and cable, so text marketing also falls in its territory.
Why do TCPA Messages Guidelines apply to texts?
Text messages are considered transactions similar to phone calls, so they too fall under the Telephone Consumer Protection Act (TCPA), which is the main anti-telemarketing law in the U.S. short codes, or 5-6 digit numbers which enable companies to send marketing messages to consumers, were created to avoid text spam reaching the levels seen with email spam.
What is spam?
Here's what the TCPA guidelines say:
The term "unsolicited advertisement" means any material advertising the commercial availability or quality of any property, goods, or services which is transmitted to any person without that person's prior express invitation or permission, in writing or otherwise.
How can you avoid your texts being considered spam?
According to the FCC, a company can't send texts to a customer's mobile, unless that customer has previously given consent to receive the text or the text has been sent in case of an emergency.
Getting the customer's consent for text marketing
For commercial texts, the customer's consent should be in writing or digitally. You need to disclose clearly that the customer will be contacted in the future by text messaging, and be sure to assign their consent to a specific type of message content, to protect your ability to continue to communicate with your customers if they should opt out from one type of message campaign. Be sure you store consent for at least four years, which is the statute of limitations given by the TCPA.
This written consent can be in the form of a physically signed agreement, a digitally signed agreement or an SMS opt-in. The terms and conditions should be mentioned prominently and clearly to tell the customers that:
By acknowledging or signing the agreement, the customer is authorizing the company to send a specific type of content via message.
Consent is not a condition to buy any goods, services or property.
A company can obtain a customer's signature in any way that is compliant with federal and state law, such as text message, email, voice recording, website form, or telephone key press. If you're giving a link to a landing page, capture and retain the appropriate check boxes for consent.
Essentials for ads asking for prospect/customer mobile numbers
When you ask for a buyer's mobile number, you need to disclose:
The name of the program, its content and message frequency.
A URL to your complete terms and conditions which includes your privacy policy, help and opt-out information.
For instance, look at this ad: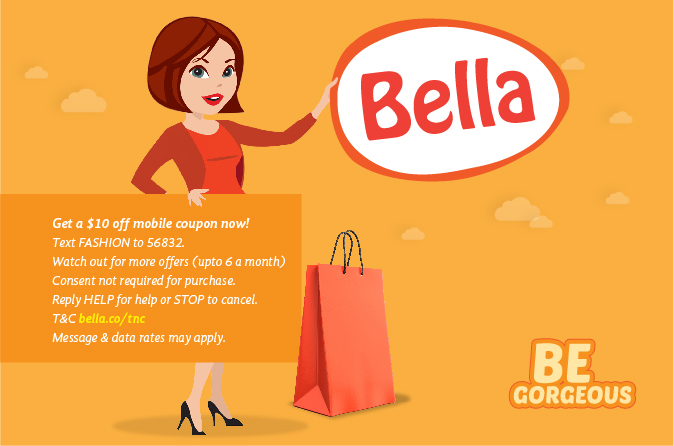 After a customer sees your ad and opts-in by sending a text message to a short code with the required keyword, you have to send a confirmation text message in reply which is also legally compliant.
Example:
BELLA: Here's your $10 off coupon. Code: 43223. Up to 6 msgs/month. Reply HELP for help or STOP to cancel. Msg & data rates may apply. T&C bella.com/tnc
TCPA message guidelines stipulate that you must:
Mention your company name
Fulfill the offer that compelled the opt-in
Mention the frequency of messages
Disclose possible carrier costs and fees
Give an option to ask for help and opt-out of future texts
Other essentials for TCPA compliant texting
Be sure that the content you send matches the content your prospect signed up for. Also, if you don't send a message to a customer within 18 months of their opt-in to your program, your campaign is considered inactive.
Contests, sweepstakes, and lotteries are governed by state laws, which can vary from state to state.  Carriers are not supportive of running contests so be sure to assign a registered short code for these type of campaigns.
What are the exceptions to getting permission for text marketing?
If a customer asked for information, you don't need consent to send that information via text. However, you can only send a single message immediately after this request. Your message should contain only the information requested, without any other marketing or advertising information.
You also get a one text exception to see whether a number has been reassigned to another subscriber.
What are the consequences of text spamming?
There is a potential fine of $500 for each marketing text that violates TCPA regulations. If a customer, or group of customers,  files a suit against you and the court rules that you knowingly violated the law regarding text marketing, you may be fined $1500 for each SMS the court considers spam.
The TCPA guidelines specifically say:
(3) PRIVATE RIGHT OF ACTION.—A person or entity may, if otherwise permitted by the laws or rules of court of a State, bring in an appropriate court of that State— (A) an action based on a violation of this subsection or the regulations prescribed under this subsection to enjoin such violation, (B) an action to recover for actual monetary loss from such a violation, or to receive $500 in damages for each such violation, whichever is greater, or (C) both such actions.
If the court finds that the defendant willfully or knowingly violated this subsection or the regulations prescribed under this subsection, the court may, in its discretion, increase the amount of the award to an amount equal to not more than 3 times the amount available under subparagraph (B) of this paragraph.
As an example, Papa John's paid $16.3 million to settle a class action suit brought against it for sending unsolicited pizza promotion texts.
There's also the obvious downside: violating the terms and conditions of your text program will alienate customers, increasing opt-outs.
What are the SMS best practices that you should follow with text marketing?
Here's a short list of things to think about:
 Mention opt-out instructions at least once a month, in your marketing texts program.
Acknowledge opt-out requests. By doing so, you reassure your customer that you've received the request to opt-out and will act on it.
Keep an eye on your procedures to confirm the opt-out has been completed. You can send one last message to tell your customer that the opt-out has been successful.
Customer care contact details should also be mentioned a minimum of once a month in your text marketing.
More information
Visit these links to learn more
https://transition.fcc.gov/cgb/policy/TCPA-Rules.pdf
http://www.ecfr.gov/cgi-bin/text-idx?c=ecfr&SID=40014949dc5395358082f20e681a8ed6&rgn=div5&view=text&node=47:3.0.1.1.11&idno=47#sp47.3.64.l
https://apps.fcc.gov/edocs_public/attachmatch/FCC-12-21A1.pdf