SMS messages are the preferred communication channel for most people with a smartphone—which is pretty much most of us. It's quick, non-intrusive, and at its best, no nonsense. With an SMS messages strategy, you can take advantage of text messaging attributes by focusing more on quality and less on frequency.
Let's face it; no one wants to be bombarded with messages that aren't relevant. Unfortunately, brands have gotten a reputation for sending boring, repetitive messages that feel more like badgering than valuable exchanges.
The optimal frequency for businesses sending text messages to customers is approximately 4X per month. This should make you stop and reconsider the idea of blasting your audience with any old message.
Instead, you'll want to think carefully about how you plan your SMS marketing strategy.
Take 3 Steps to Planning Your Strategy for SMS Messages
Step 1: Goal Setting
SMS messages can be used in a number of effective ways to enhance marketing programs.
Here are some examples of goals to consider:
Drive uptake on a promotional offer to increase sell through
Direct traffic to other owned channels, such as your website, a webinar you're hosting, or your social media profiles
Improve customer onboarding and adoption
Increase participation in VIP loyalty programs
Learn more about your prospects and customers
Once you've selected your goal, then you'll want to define parameters. Make the goal specific and set outcomes for performance so you can measure success. It's also possible that several of the above goals can be woven together into a long-term SMS campaign.
For example, you might decide that driving attendance to a webinar will lead to asking a survey question to learn more about your prospects to inform the webinar content. Webinar attendance could lead to a promotional offer and those who purchase could become the VIP customers for your loyalty program.
It helps to think about rolling goals that build upon each other to extend the value and the conversation your SMS marketing programs can establish with your chosen audience.
Step 2: Audience Segmentation
Based on the goal you selected in Step 1, who will be the biggest beneficiary of this SMS campaign?
And it's not as easy as choosing customers or prospects. Today's consumers expect relevance, so which segment within your choice of customers or prospects will benefit most?
If you chose "drive uptake on a promotional offer," then you'll need to know which of your customers is a best match for that offer. It could be that they've purchased something in the category before or that they bought a complementary product. Perhaps green is their favorite color or it's perfect for young adults from 16 to 20 years of age.
However, if you chose "increase participation in VIP loyalty programs," then you'll want to choose a segment of your customers that matches your definition of VIP.
Make sure the segment you choose also matches the parameters set for it in Step 1.
Step 3: Design Your SMS Marketing Campaign
Based on Steps 1 and 2, you should now have all the information you need to design the messaging you'll need to execute your program.
Let's say you've chosen to promote attendance at a webinar your SaaS technology business is hosting to target SMB customers.
First, choose two key points that will be made in the webinar:
How to get customers to give you better online reviews
How to use online reviews to get more sales
It's great if your two key points build on each other. This will help you amplify value for your customers.
Please note: In the conversations below, green represents an automated conversation, yellow represents a 1:1 conversation.
Now, create personalized messages for your SMB segment.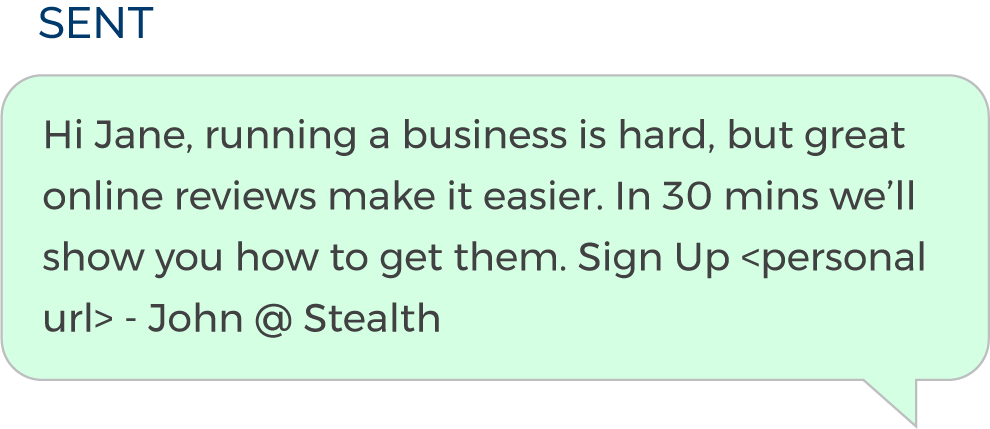 If Jane doesn't sign up, send this message one week later: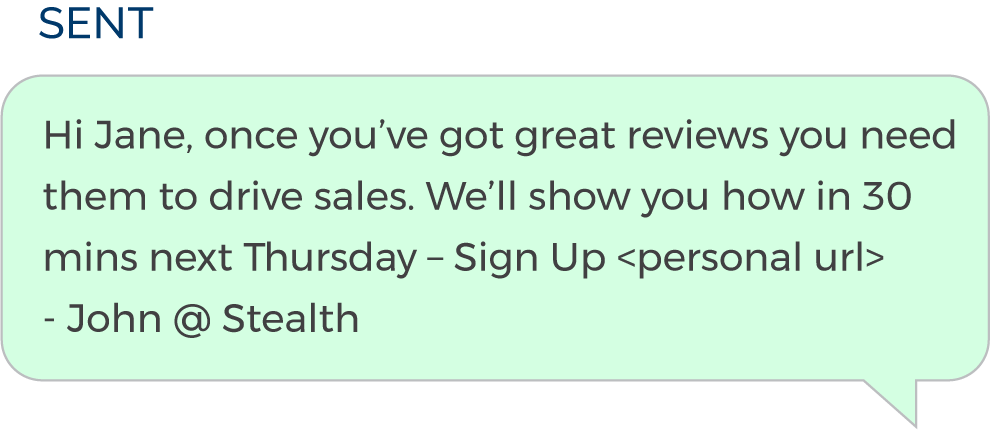 When Jane signs up, send this confirmation and survey by SMS and her event details by email: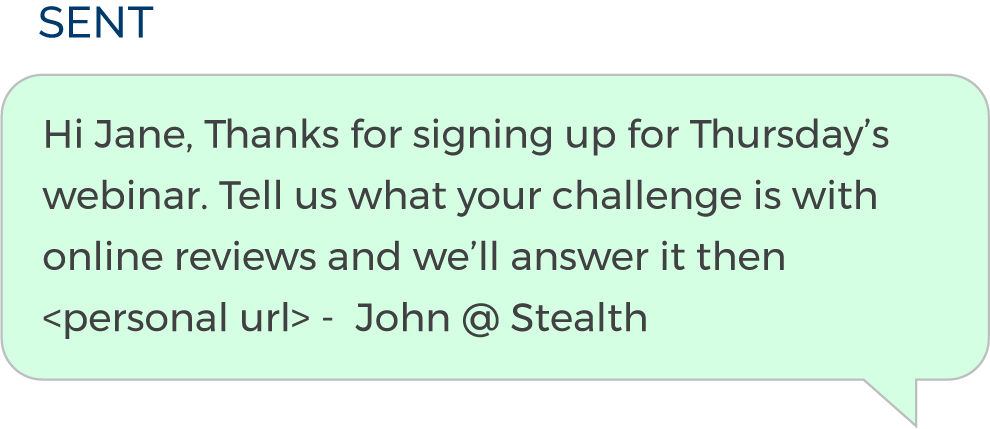 The day before the webinar, send a reminder message: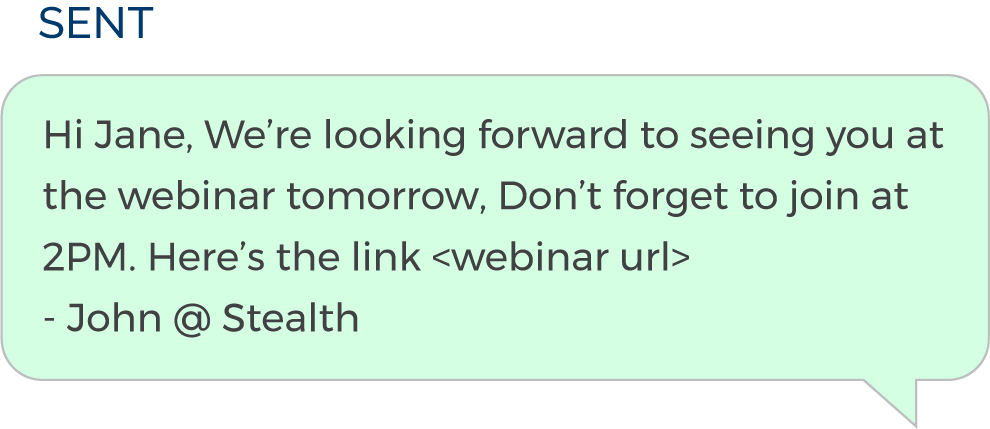 In case you didn't notice, a few things were accomplished in this event promotion. You drove attendance for your webinar, you learned more about Jane when she took the survey and you've reminded her within 24 hours to help ensure she remembers to attend.
The Bottom Line
The best part about this SMS campaign is that it can all be automated with an advanced text messaging platform that provides you with an event scheduling app. Every message—whether sent or received—will be logged in Jane's lead record in both the messaging platform and your CRM.
Based on the number of registrations driven by your SMS messages and the number of those who attended, you've also got a way to measure the performance of the program. When you focus on achieving a goal, it keeps you from sending random messages to your customers. It's no longer a matter of frequency, but of quality communications designed to address what a segment of your audience will find relevant and engaging in real time.
Now you can start thinking about the next thing Jane—and others like her—will be interested in hearing more about via text message. An SMS marketing strategy will help you get the best results from a low frequency campaign your audience won't find intrusive or boring.