In the past, multi-channel marketing was all about marketing through magazines, television ads, and newspapers with store promotions, billboards, direct mail initiatives, and telemarketing. But in today's digital world multi-channel marketing efforts include channels such as podcasts, blogs, and videos which can be easily shared across various platforms, including messages, social media, emails, and websites.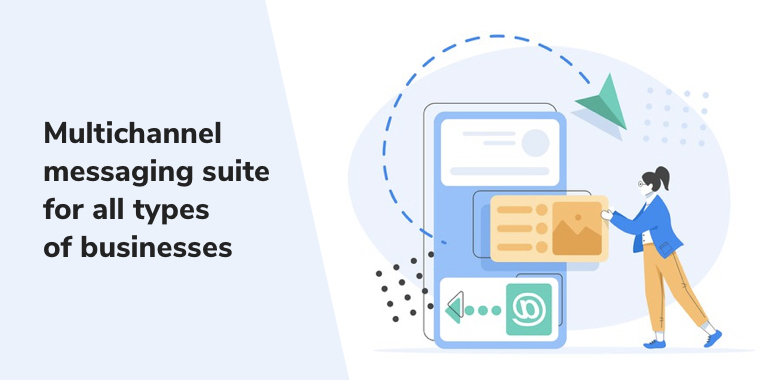 Multi-channel messaging is proving to be a necessary tool to help you organize marketing campaigns across several touchpoints.
Creating Customer Success with Multi-channel Messaging
You likely already understand the channels your target audience is using most often. With this information, you can optimize your audience's preferred channels and move from one channel to the other to create a robust customer marketing experience. By meeting your customers on their messaging channel of choice you are more likely to engage them and create a more positive overall experience.
If you are not already using digital channels to message your customers, now is the time to start. By 2022, 70% of all companies plan to accelerate the use of digital technologies to improve business processes, customer engagement, and employee productivity. Customers expect a seamless experience regardless of the channel they are using, and you can create better support using technology. So why wait?
4 Tactics to Create a Winning Multi-channel Messaging Strategy for Customer Success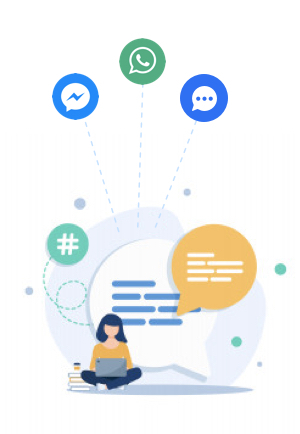 1. Focus On The Customer
Whenever a customer moves from one channel to another they expect brand cohesion from a company. Marketers should ensure their branding and marketing assets are cohesive across all of their platforms and channels.
2. Track Automation
Are you planning retargeting campaigns? Then it is imperative to collect user data and develop unique customer profiles. Retargeting allows you to communicate further with prospects who have engaged with your brand through any of your various channels.
Salesforce is one CRM that offers tracking services, allowing companies to convert their information into customized experiences by following consumers across multiple channels. With the help of Customer Relationship Management (CRM) programs, businesses can easily keep their client interactions in a single location and apply a constant multi-channel marketing approach.
3. Use a Consistent Approach
It is important to create a consistent customer experience across all marketing channels. Irrespective of whether your brand is presented in person, online, or over a phone call, customers will always view your business and services as a whole. With a consistent approach across all channels, you will be able to gather valuable customer data.
4. Redefine Customer Value
Through multi-channel message marketing, customer value can be measured in many forms including comments or reviews given by customers on social media. This is different from traditional ways of measuring value but is equally as important.
4 Tactics to Redefine Customer Value:
SMS Marketing: Personalized SMS messages can make people more receptive to direct sales.
Mobile Optimization: Larger images and call-to-action buttons that automatically resize and fit to mobile phones, encourages customers to share their experience, and also offer them a pleasant experience.
Short Links: Short links with focused content and branded domains often lead to improved customer satisfaction.
Social Media: Effective promotion on social media assists brands to appear more human and also creates trust among customers, encouraging sales.
Solving 3 Key Customer Success Challenges with Multi-channel Messaging
To be successful in using multi-channel marketing, you need to be aware of some of the possible challenges that you may face and ways you can solve them.
As your business grows, here are some of the customer success challenges that you could face while messaging on multiple channels.
1. Cross-Channel Messaging
When it comes to multi-channel, one of the most important customer success challenges that you could face is keeping messaging and branding consistent across all channels. It is easiest to control the traffic on your website. Other channels are not as easy to control but offer a broader audience. Here is what you should do to achieve required customer success with multi-channel messaging:
Tip1: Find out the requirements of every channel that you use and alter the message marketing accordingly
Tip2: Keep your data stored in a Google sheet, or other such online media
Tip3: Prepare a strategy for updating your messaging and branding
2. Customer Support and Experience
When you are sending messages through one channel, creating the right customer experience and achieving customer success is fairly easy. The same can get challenging when you use multi-channels.
3. Growing Enquiries
As you scale up your business and are ready to introduce a new product feature, you should expect to encounter a lot of inquiries and questions from customers across all channels that you are using.
Tip 1: With multi-channel messaging, you are getting more traffic. Be ready to answer their queries on the go on every channel that you use.
Customer success with multi-channel messaging can be tricky but can be achieved if planned properly, in advance. If you are proactive and put your messaging strategies for all channels in place you will be able to build a profitable and sustainable business in the coming months and years.
---
Want to see how SMS-Magic Converse helps clients achieve all of this with text messaging? Reach out and we would be happy to give you a personal tour and share examples from our clients!