Patrick McClure, HeyTutor's director of operations, didn't originally choose SMS-Magic when his company needed a messaging platform. He should have.
That first company said they could provide customization within Salesforce," he said in a recent Zoom chat, "but they really screwed it up.
The chosen company's inability to work in the Salesforce architecture caused HeyTutor to delay their outreach at a critical time and slowed their growth. "We ended up circling back to SMS-Magic
Now, McClure said, everything that HeyTutor wanted to integrate has been integrated. "These guys (the SMS-Magic team) made it effortless and got everything set up right away. It's been a pleasure to work with you."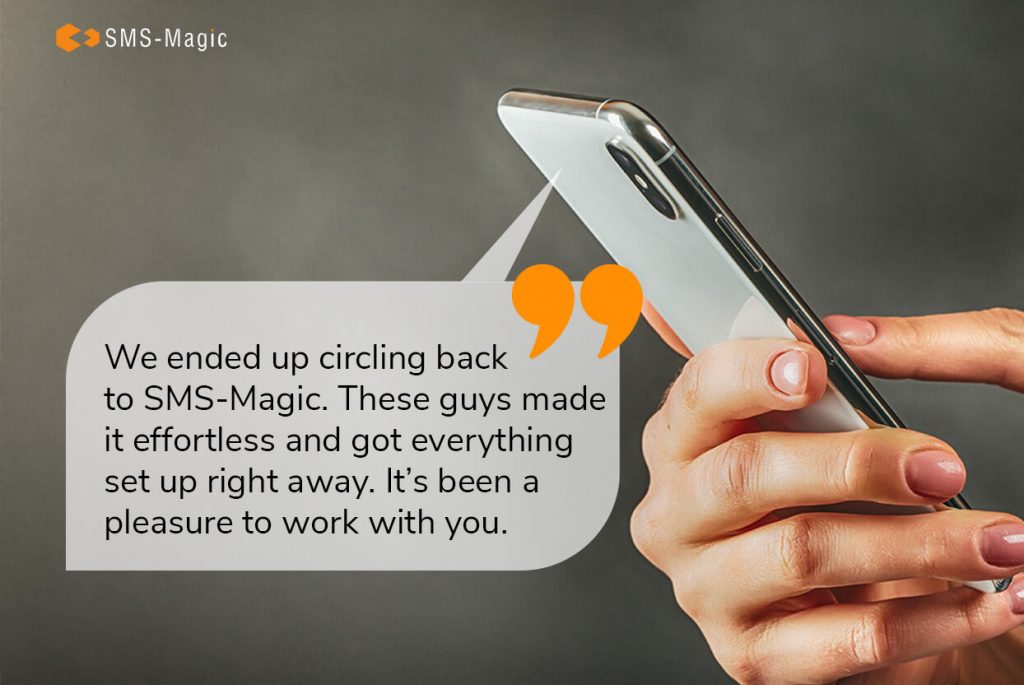 We hear similar stories all the time. Salesforce is a powerful tool, but you need experienced people who understand both the Salesforce architecture and the structure of their own messaging platform. Otherwise, you run the risk of crashing both systems – something no one wants!
No one wants to spend time, money and resources on a new platform just to learn that they don't have what you need. So what should you keep in mind as you search for a messaging integration platfform to use with Salesforce?
1. Hire Experienced Salesforce Developers.
It doesn't matter if you have Salesforce developers on staff or use contract developers; you must ensure you have experienced people at critical points like initial implementation or integration. We hear horror stories of inexperienced people changing security settings and unwittingly shutting down entire systems. Salesforce is very flexible, so your team must have a strong background in the basics.
2. Clarify What Customization Means to Potential Messaging Developers.
There's a difference between "our messaging system can work with Salesforce" and "our messaging system is designed to integrate with Salesforce." You want to choose a messaging platform that is ready to mesh with Salesforce. McClure said SMS-Magic had already built many of the customizations he needed, and quickly created new "stuff" to support the independent use case his company required. Don't be taken in by promises. Ask for references from satisfied customers.
3. Always Test in a Testing Environment.
One of the first tasks your integration team should undertake is to create a testing environment. If something breaks there, no harm done because they haven't made changes to the live system. Experienced developers will tell you that testing in a live environment is very risky, and it hinders trying new ideas. If you get the new idea wrong, it might take your system off line until you can fix it. Delays cost money.
4. Find a Team Already Using Salesforce Best Practices.
Salesforce is a great partner and can help your developers use best practices to get the most out of your system. Check your potential partner's relationship with the Salesforce team. Are they a preferred client? Do they regularly discuss modifications with Salesforce? Do they have an easy working relationship with Salesforce? If not, you'll want to move on to a provider like SMS-Magic that has a great relationship with Salesforce.
5. Ditch the Potential Messaging Vendor and Contact SMS-Magic.
You may want to interview other messaging companies, but we bet you'll end up with SMS-Magic. We are a preferred integration with Salesforce, top-rated on the AppExchange, and enjoy incredibly high ratings with Salesforce customers. You can even give us a test drive without spending a penny. SMS-Magic offers a free trial so that you can get a feel for our product. If you're as pleased as we think you will be, you can choose the level of service that's best for your company.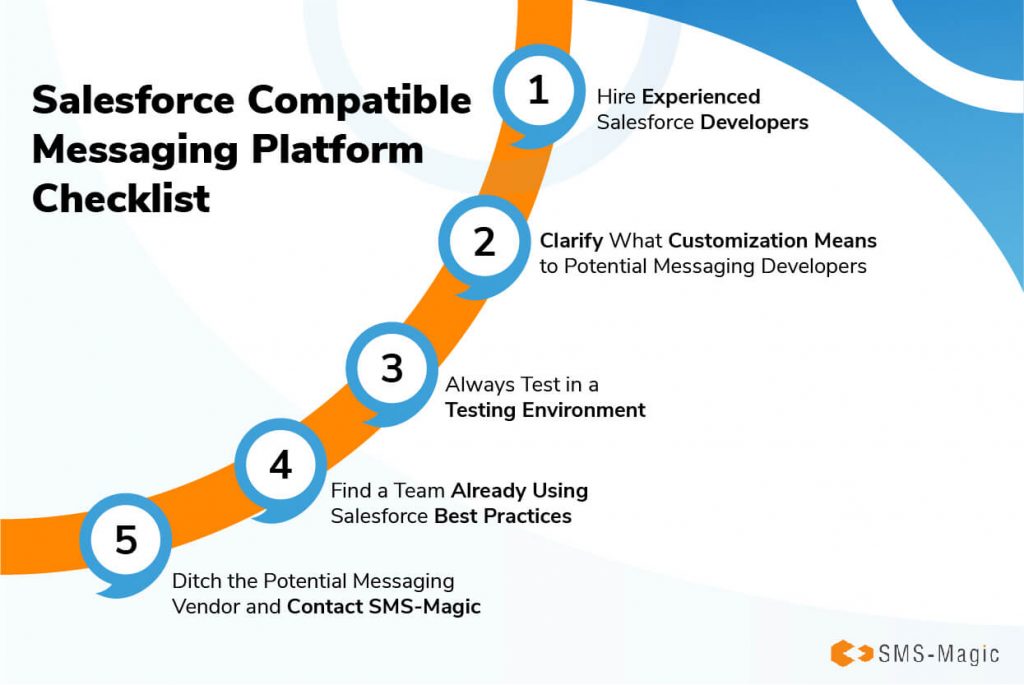 Barsala, another of our customers, has two Salesforce developers on staff. Michael Copley, their chief technology officer, said his developers have been able to access the functionality of SMS-Magic and share it with other developers on their team. Developers working on Barsala's API can ping a simple endpoint to send a message through the SMS-Magic package. It shows up in Salesforce attached to the appropriate records, and shows up in all relevant user interfaces for the support team.
We can provide the same service to you.
Let's Go!
Does SMS-Magic sound like the answer you've been looking for? We hope so!
Contact us to set up a demo or to start your free trial. Let us show you how we can help you make the most of the conversational messaging!