Customer engagement expectations have changed for good. Research shows that 82% of consumers look for an immediate response from brands on marketing and sales questions. Companies that aren't ready to enable seamless, memorable conversations, will fall behind.
To help companies address the need for better customer engagement, we've created communication tools that span across all industries. The SMS-Magic Mobile App specifically allows your employees to make digital conversations as fast and dynamic as in-person communication.
Consider two trends we see in the world today:
Customers are getting used to performing everyday tasks with their phones, from grocery shopping to setting appointments. Your customers' world is dominated by a handful of messaging platforms like WhatsApp, Facebook, and text that they use to communicate with friends and family, and are more comfortable using it for business interactions. Interestingly, research shows us that 55% of consumers want to communicate with a business using messaging apps.
Employees are used to checking email on their phones and are savvy with messaging apps. On-the-go employees depend on their smartphones for work-related activities. They include on-field sales and marketing agents, customer care agents, store workers, service technicians, insurance agents, wealth advisors, and so on. Even while employees are away from their desktop or laptop computers, they need to stay in touch with customers.
The SMS-Magic Mobile App gives you the best of both worlds. It lets you engage your leads and serve your customers with tools like text, WhatsApp, and Messenger. Plus, it keeps the data and the conversation threads in sync with your CRM records. Try it yourself, and experience the power of seamless, personalized messaging!
Now, you can provide a better experience to your customers and representatives every time they connect. Below are five specific ways SMS-Magic Mobile App helps your customers and CRM users:
5 ways SMS-Magic Mobile App improves your sales and customer lifecycle experience:
1. It works across your favorite channels: WhatsApp, Messenger, and Text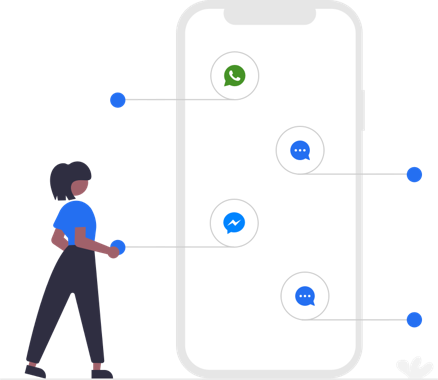 The SMS-Magic Mobile App combines customer messages from three critical channels of WhatsApp, Facebook Messenger, and Text into one inbox. It reduces the effort customers have to make to get in touch with you. As a result, you improve your lead-to-customer conversion rates and customer satisfaction scores. Our messaging app, integrated with the most used messaging channels globally, makes things simpler for your agents.
2. Supports emojis and rich media such as images and videos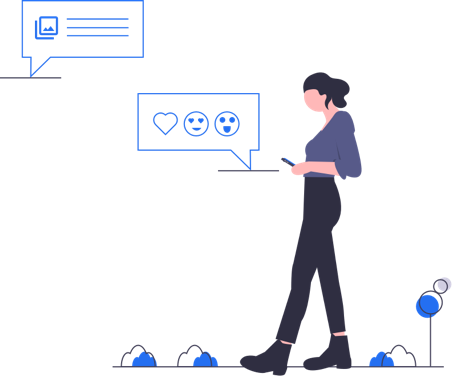 The SMS-Magic Mobile App lets you use emojis, live camera clicks, jpegs, pdfs, and more. These make for a richer, personalized customer experience. Consumers can easily share information critical to the discussion, and ask questions quickly. The mobile app allows you and your customers to go beyond the 'text' in communicating your thoughts. See for yourself how it enhances the quality of interaction.
3. It notifies your customers in real-time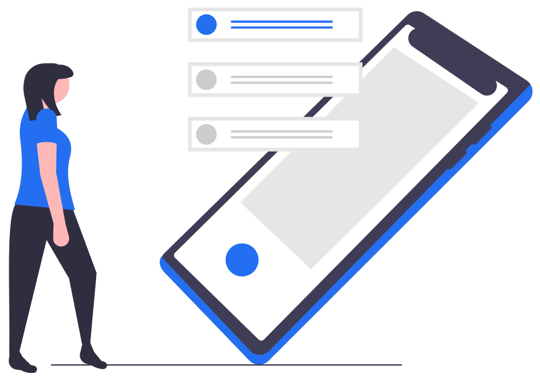 Real-time notifications are an important factor you want your customers to experience through any communication channel. Every day you get different types of incoming messages. People respond to a campaign you launched, or someone inquires about your services from your website. In these cases, you want your agents to respond instantly. Make it happen with the SMS-Magic Mobile App! The app alerts your reps about all incoming messages through push notifications. It also allows them to respond immediately and comfortably from their smartphones.
4. It lets your reps coordinate with each other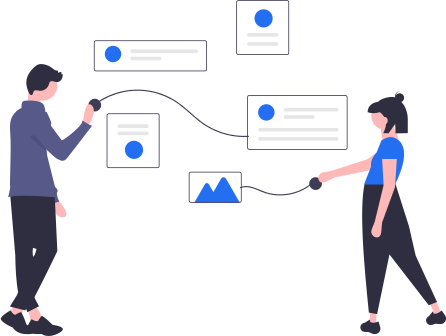 While being in the field, or at the office, reps need to coordinate with each other on a timely basis. Coordinating with each other assures that not a single customer question is missed. Having a CRM integrated multichannel messaging app on your mobile device is always beneficial.
5. It works as a messaging extension of your CRM tool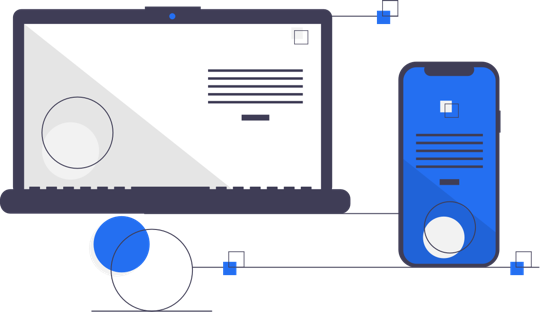 The SMS-Magic Mobile App enables your agents to access CRM records from their device. They can start and tag conversations with any lead or customer anytime, anywhere. Every user activity on the SMS-Magic Mobile App gets automatically logged in to your CRM tool and you maintain a centralized database for reference and tracking.
Conclusion: Stay connected from anywhere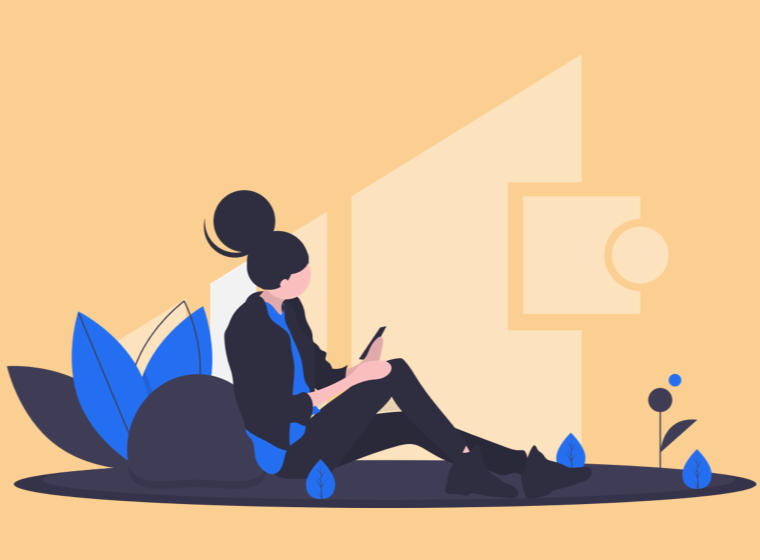 The way we work is changing. The SMS-Magic Mobile App brings a unique customer messaging experience to your on-the-move employees. It's CRM-driven and multichannel. It goes a long way in making your employees' lives easier and jobs more rewarding. What's more, it delights your customers & gives you a strong edge over your competitors.
Learn more about how it can help your business specifically or Check it out in the App Store or Google Play Store.