Prospects and customers are more elusive than ever. As the volume of communications goes up, they're adopting more tools to block out brands competing for their attention. DVRs make it easy to skip TV ads, Caller IDs enable us to skip calls from unknown numbers, Ad Blockers help us avoid online ads, email inboxes have spam folders. Advanced Messaging Platforms (AMPs) provide a way to immediately catch your buyer's attention, with 90% of messages being read in the first three minutes of receipt.
An AMP enables you to send messages to buyers from your CRM the same way you'd send an email campaign from marketing automation platforms. Because every message sent or received is captured, you'll have a complete conversational history so you can create personalized communications they find relevant and engaging.
Use Advanced Messaging Platforms to Achieve Agile Engagement
Attract New Leads: Let's say you own a retail business and want to increase online sales through your website. To attract new leads during a promotional event at a mall, you advertise at your booth:
Text INFO to 35343 for special deals.
Once someone – let's call her Karen – texts the keyword INFO, she receives an automated message to confirm her opt-in, followed by a message triggered by the keyword with an offer and a link to your website.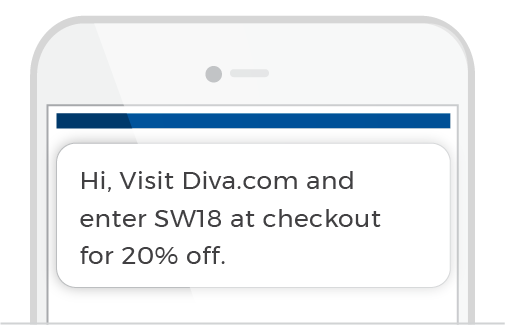 Karen clicks the link and becomes a visitor on your site with an incentive to buy. Even if she doesn't become a customer today, you can periodically send her additional offers, notices of new product arrivals, seasonal promotions, and other offers.
Karen replies to a notice of new arrivals of jackets asking if it comes in green. Your sales associate is alerted to the incoming message so they can respond right away to Karen's inquiry.
After three days, she still hasn't purchased the jacket. You also know other customers who have purchased jackets in the past. You segment a list of all the leads in your database who have shown interest in jackets, including Karen, and create a message for an exclusive offer.
Convert Leads to Customers: Because your message is exactly what Karen wants, she follows through and buys a new jacket. So do a bunch of your other customers.
Turn New Customers into Repeat Buyers: Now that Karen is a customer, an automatic welcome message is triggered as a Lead is converted and an Account is created and she is attached to that as a Contact in your CRM.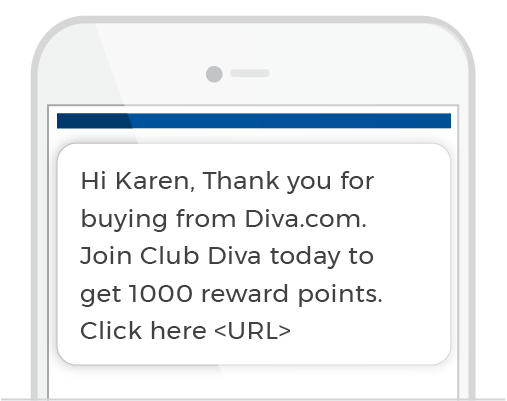 With this time-based offer and other similar periodic messages based on Karen's behavior, she becomes a loyal Diva customer. Diva continues to cross sell and up sell to her, using the data it has on her purchases.
Using dynamic lists, Diva sends customers a message on their birthdays with a coupon for a freebie. Diva creates templates for these types of events making it easy for team members to send messages, based on the segment and use case to continually inspire customers to make additional purchases.
Karen's entire conversational history is available in the CRM enabling sales, marketing, and support to refer to it to get a complete picture of her interactions with Diva. This enables every store associate or service agent to engage with Karen in relevant and meaningful ways.
For example, if Karen has indicated that her preference is text instead of email. Confirmations for transactions can be triggered to be sent as messages – continuing to give Karen just what she wants.
Marketing Automation vs. Advanced Messaging Platforms
| | | |
| --- | --- | --- |
| Functionality | Marketing Automation | Advanced Messaging Platform |
| Templates with merge fields | Yes | Yes |
| One-to-one communication | Yes | Yes |
| Bulk communication | Yes | Yes |
| CRM integration | Yes | Yes |
| Interactions with buyers captured in CRM | Yes | Yes |
| Segmentation | Yes | Yes |
| Dynamic lists | Yes | Yes |
| Automation for behavior triggers | Yes | Yes |
| Link with website | Yes | Yes |
| Notification to sales of new lead when lead takes action | Yes | Yes |
| Analytics | Yes | Yes |
| Auto Opt out | Yes | Yes |
The Bottom Line
Messaging is not just a personal communications channel, but a preferred interaction channel for today's consumers. It's one of the fastest-growing channels available that enables relevant interactions and conversations across the entirety of the customer relationship. Advanced Messaging Platforms mirror the capabilities of marketing automation, enabling you to attract, engage, win and retain more customers – more easily than ever before.