In an economy where many products and services have become a commodity, seamless engagement and frictionless experience is a valuable competitive advantage.
Messaging platforms like text messaging, WhatsApp, and Facebook Messenger are helping companies create engaging conversations with their customers. Research is showing that customers enjoy chatting with businesses through these channels and even prefer it to email and cold calls.
Text messaging has a 98% read and open rate
90% of the messages sent are read in less than 3 minutes
With opt-ins, around 75% of the customers agree to receive reminders, notifications, and other texts from brands
Companies that embrace new communication channels will see more success than those who don't. But as these new channels are adopted, it's important to understand the compliance and regulations that come with it, so you don't run into any bumps in your conversations.
Emails, calls, text messages, and any other digital marketing channels are regulated and controlled by mobile phone carriers, government entities, messaging providers, and industry regulators. Here are some of the common best practices that you should follow to become messaging compliant: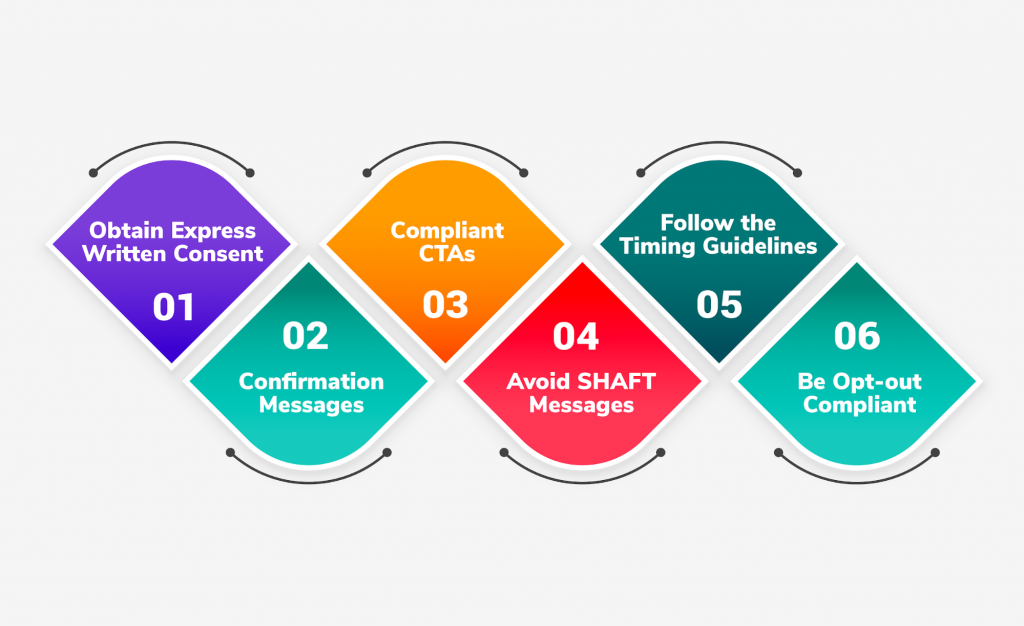 1) Obtain Express Written Consent
It is not advisable to send any type of text message to your customers before you obtain a written consent from your customers. Once your customers agree to or opt-in to messaging you have the green light to move forward with sending them messaging campaigns.
2) Confirmation Messages
As soon as your customers opt-in to receive messages, the first text that you should send is to confirm that they have given their consent and have opted-in. The confirmation message should include the following details:
Your brand or company identity
Message frequency
Data and message rates may apply
Steps to opt-out
3) Compliant CTAs
The words you use to ask your prospects to opt-in for your messaging campaigns contribute to the CTAs. These CTAs must be compliant and include multiple elements including:
The Purpose: Customers must fully be informed about what they are opting-in for including details such as the information, reminders, tips, coupons, etc.
Frequency: The frequency of messages that you will be sending to your customers should be clear.
The Rates: Inform the customers about the message rates if applicable.
Terms & Conditions: Add a link to the terms and conditions including the below information:

Brand's or Company's identity
Customer service contact information
A brief of what your customers are opting-in for
Instructions for opting-out
4) Avoid SHAFT Messages
SHAFT, to be precise stands for Sex, Hate, Alcohol, Firearms, and Tobacco. You never want to send text messages related to any of these topics. If you do, you will be permanently banned, spammed, or blocked.
5) Follow the Timing Guidelines
It is important not to send messages to customers outside of their working hours. Although it is a personalized message, your customer doesn't want to hear from you on a holiday or outside business hours. Adhere to the timing guidelines while sending personalized messages to get the highest message read rate.
6) Be Opt-out Compliant
Business messages are spammed if they don't follow the required protocols or if they are not opt-out compliant. You need to handle the opt-outs smartly:
The opt-out process should be as simple as allowing your customers to reply to your messages with a one-word opt-out. Keep it simple and let them opt-out by texting, for instance, 'STOP to opt-out'.
At the end of your messages, remind your customers, at least once in a month about how simple it is for them to opt-out if they wish to.
Just because your customer has opted-out, you should not ignore them. Instead, acknowledge every opt-out by replying to the customers with a simple confirmation.
Of course, it goes without saying that whenever anyone opts-out or sends a request to opt-out, you should opt them out automatically. Let your software take care of the opt-out requests.
As messaging is growing as a powerful communication tool, it is important to understand country-specific business messaging rules and regulations. Every country will have its own text messaging rules to follow.
SMS-Magic Converse compliance assures that your business text messaging is compliant. Converse supports GDPR, TCPA, CASL, CCPA, and more. Focus more on creating personal conversations with your audience, instead of worrying about delivery failures and fines.