Marketing automation has become a must-have tool for businesses that want to grow and scale quickly, while maintaining solid customer relationships. In fact, 49% of all companies and 55% of B2B companies are currently using automated campaigns as part of their sales, customer support, and marketing strategies. Incorporating automated text messaging is the next step in the marketing automation evolution.
Automated text message campaigns are a popular way to respond to leads anytime, schedule appointments with busy clients and provide important information to customers.
Here are examples of how you can use automated text messaging campaigns across a variety of industries.
1. Automated Text Messaging Means Responding to Leads Anytime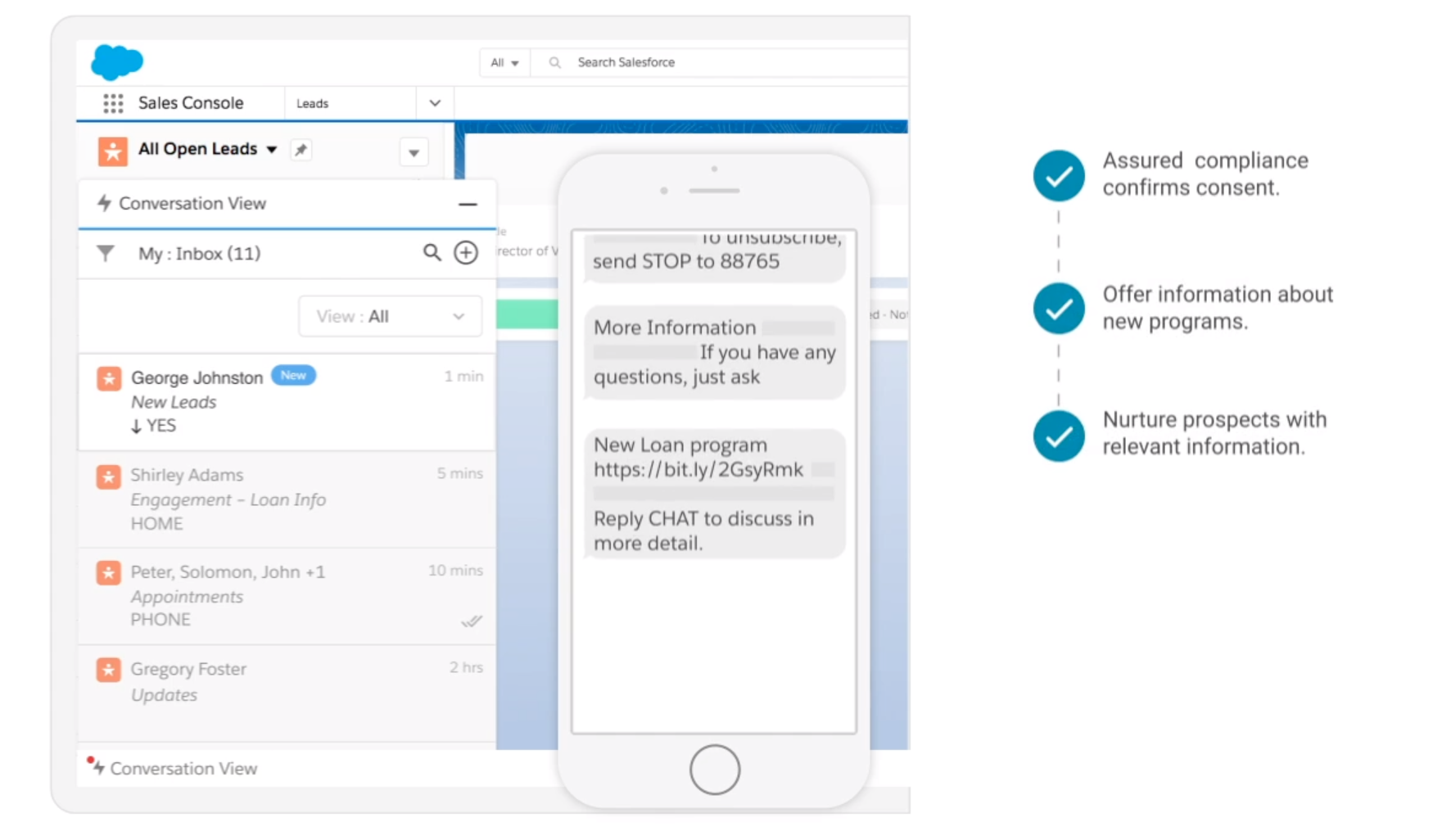 With automation you have the ability to respond to leads right away, no matter what time of day it is. Clients and prospects are no longer left waiting, and you don't have to always be checking to see if there is a new message. You'll be able to communicate and interact with even your busiest clients. You can set this type of automation up to be as easy as:
Confirm consent & stay compliant.
Offer information about new programs.
Continue to nurture prospects with relevant information.
2. Automating Enrollment to Save Time and Resources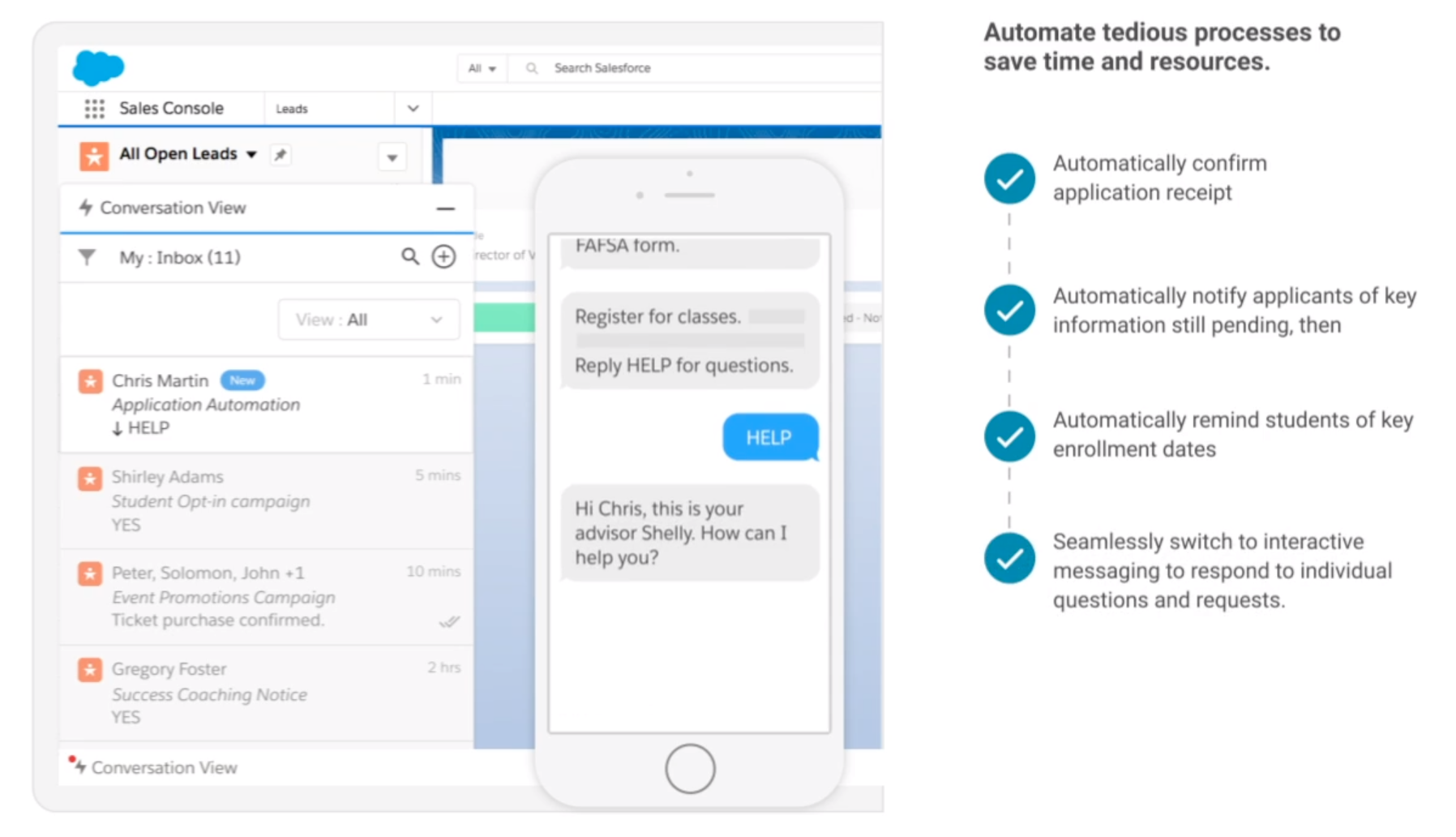 Universities spend insane amounts of time dealing with enrollment processes that can be incredibly tedious. It also takes valuable resources to ensure all of these processes are completed, and most higher education institutions don't have unlimited budgets. That's why universities love automating enrollment with text messaging. This allows them to notify applicants of key information still pending, remind students of enrollment dates, and even switch between automated messages and interactive individual questions and requests.
3. Scheduling Interviews and Appointments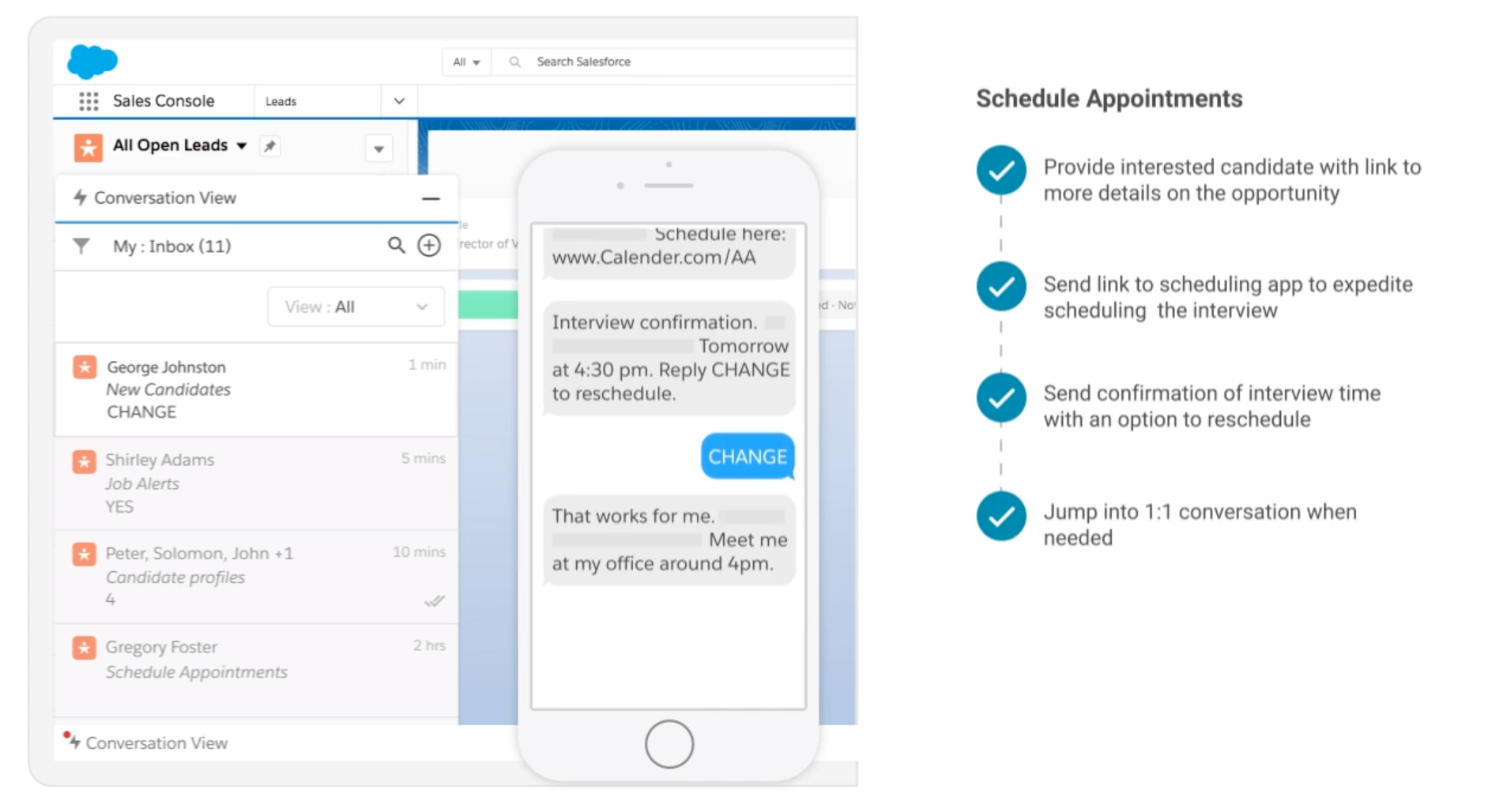 Scheduling interviews and appointments always takes longer than any of us thinks it will. Between finding a time that works for both you and a client, people cancelling appointments, or things getting shuffled around, it's always a dance. Can you imagine the time you would get back if you didn't have to do this all manually? Automated text messaging  campaigns take care of scheduling so you get back valuable time with your clients and prospects.
4. Surveys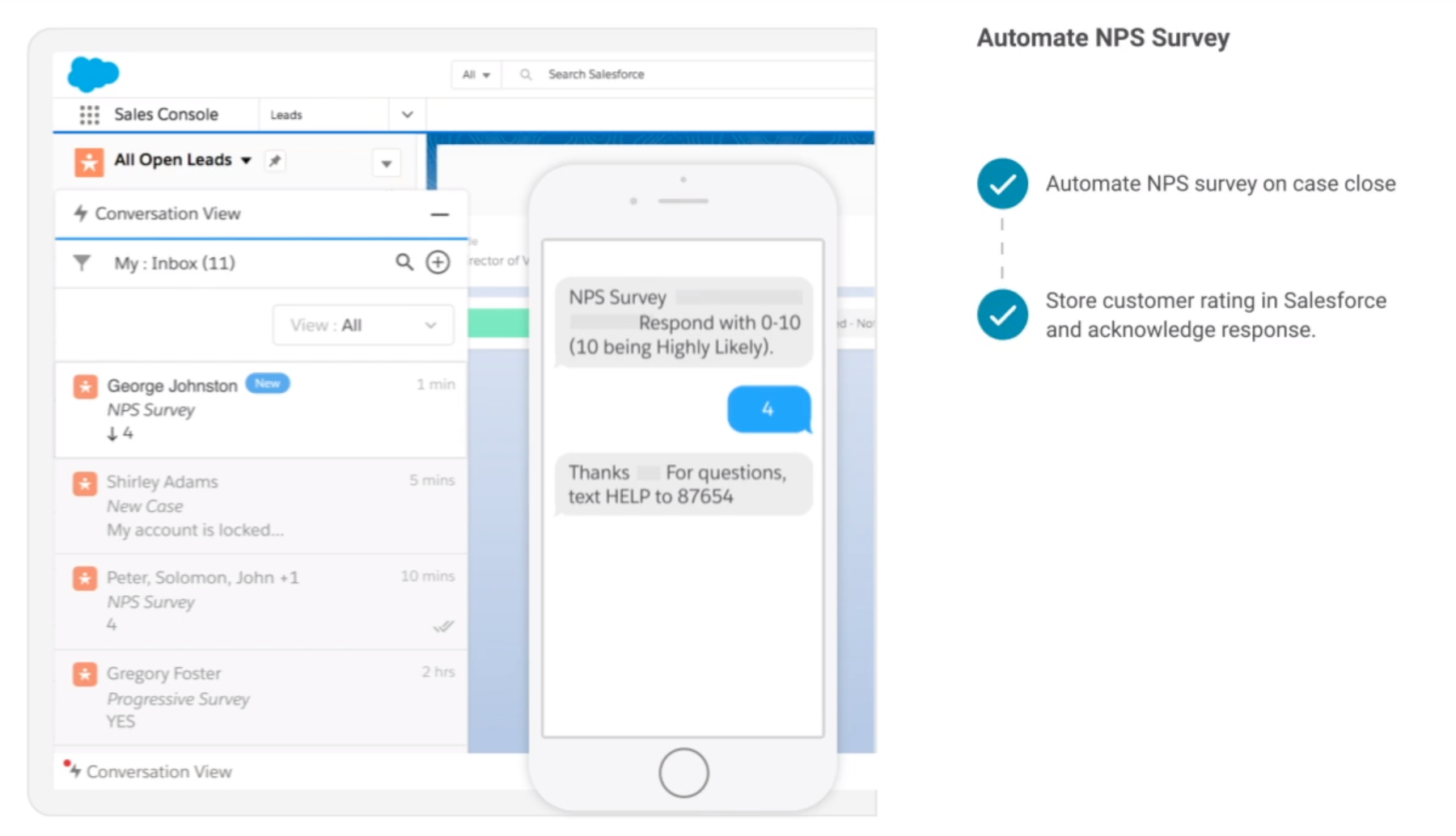 Surveys are a great way to get a pulse on how customer interactions are going or how a customer is liking a product or service. But, building and sending individual surveys can be time consuming. With automation, you can trigger a survey and get a quick response, helping you ultimately create better customer experiences. In the example above a contact center automated an NPS Survey once a case was closed and then automatically stored the customer rating in Salesforce. Such an easy way to continually improve your business.
5. Share Tips and Updates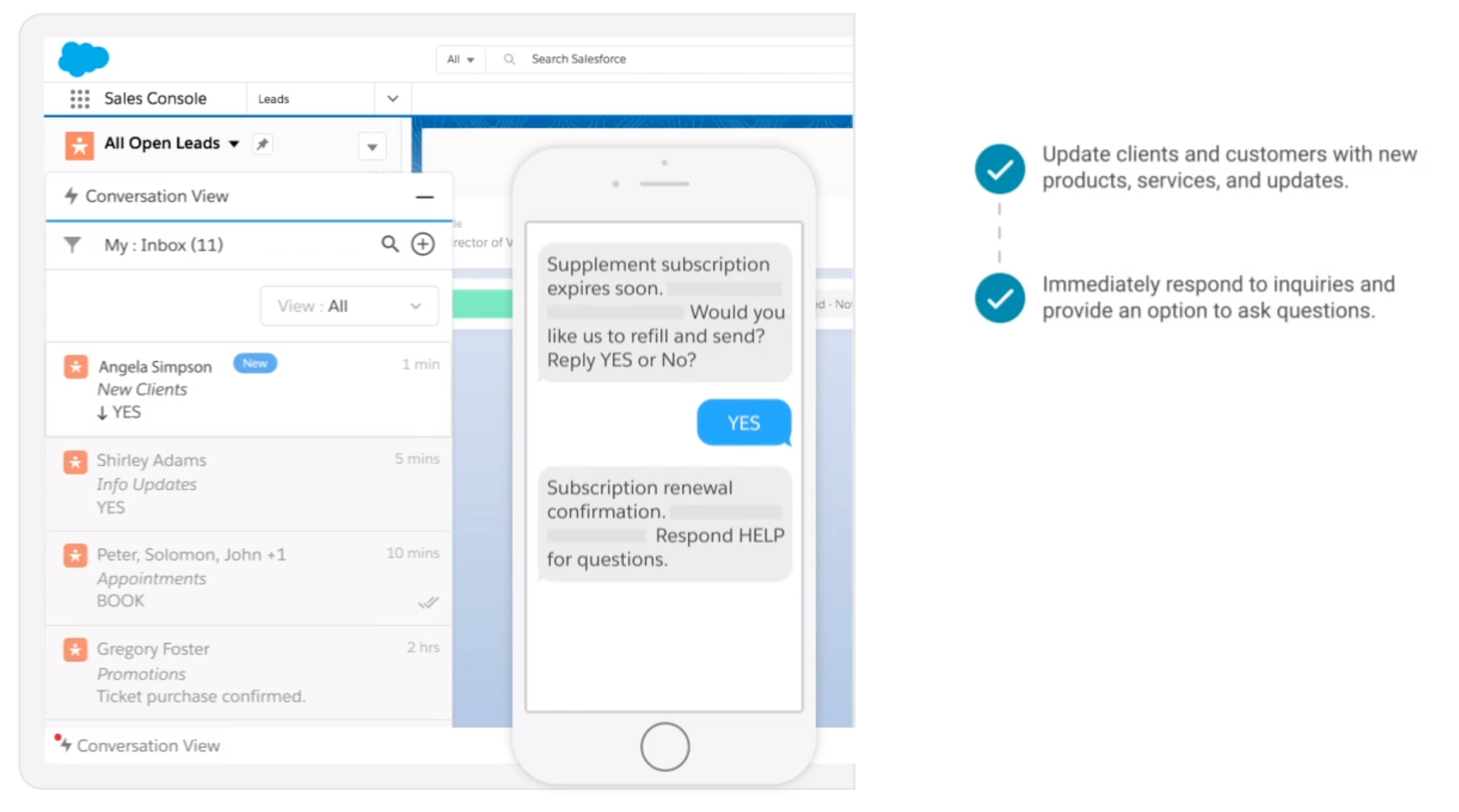 Engaging with customers and prospects on a personal level is more important than ever. And with everyone obsessively checking their phones, text messaging is a great channel to reach your audience. Automating tips and updates can be an easy way to connect with customers and leads. And you can provide an option for them to ask a question or reply back, starting a conversation that may not have happened otherwise.
The Bottom Line
Automated text messaging campaigns can put you ahead of your competitors and help you gain loyal customers. Texting provides the ability to easily engage and interact with your audience, and your customers will appreciate the convenience and personal touch they receive with this type of communication. It'll give you the competitive advantage you've been looking for. 
Want to see how SMS-Magic Converse helps clients achieve all of this with text messaging? Reach out and we'd be happy to give you a personal tour and share examples from our clients!